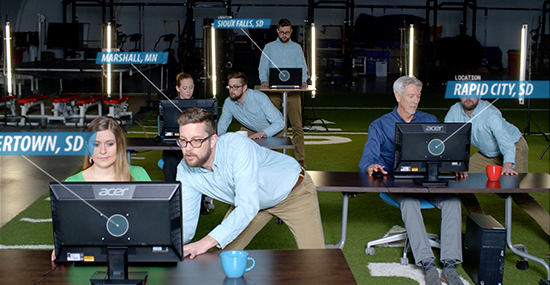 In addition to gathering with friends and family, many enjoy watching the NFL's biggest game of the year for the debut of new TV commercials.
The Big Game is the premier unveiling event for TV ads. The massive audience that gathers in homes and businesses inspires national and local advertisers to put good work on display.
If you followed the ads as well as Sunday's championship game, you saw the newest installment in a SDN Communications' sports-themed promotion. The high-quality, 30-second ad fit well with event.
What, you might ask, is one of the biggest sporting events in the world got to do with a leading regional provider of broadband connectivity and cybersecurity services? Quite a bit, actually.
For starters, football and broadband services for businesses appeal to a similar core audience. IT professionals in decision-making positions tend to be men between the ages of 35 and 64. That also happens to be demographic group that really enjoy watching sports.
In addition, like sports, dealing with cyber challenges can be highly competitive. IT professionals must avoid a lot of potential obstacles to keep networks running smoothly and securely. SDN's sports-oriented campaign reflects the challenges that IT pros face and the help SDN can provide.
The SDN ads are built around the closing line: "Even IT pros up their game when they partner with SDN. Enjoy the UPTIME!"
The fourth ad in the sports science series, which debuted at the end of the third quarter during Sunday's game, features an IT pro named Hank.
"When it comes to servicing remote offices, Hank is amongst the industry's best," a voice in the background says.
The ad shows Hank moving quickly and efficiently from one computer work station to another – pointing, clicking and figuratively solving problems. Fittingly, the work stations are on an indoor football field with exercise equipment vaguely recognizable in the background.
"His unrivaled agility allows him to solve problems instantly, virtually bounding between remote offices at an average rate of 2.5 seconds," the voice continues. "Plus, his managed cybersecurity services from SDN Communications protect his business, delivering the most reliable broadband network to his team, making Hank the IT MVP."
Prior TV ads in the SDN's sports series promote the vast reach of the company's broadband network as well as cybersecurity services such as Managed DDoS Protection and Managed Firewall Service. All of the ads can be viewed on SDN's YouTube channel.
The sports series has generated good feedback from viewers, says Vernon Brown, SDN's vice president of marketing and community relations.
"It's done very well for us. People have really identified with it," he says.
Sioux Falls-based SDN worked with local firms Fresh Produce and PixelBox Productions to make the ads, which also feature local actors. Frankly, the ads stand out in terms of quality compared to a lot of locally produced ads.
The underlying message of the ads is especially refreshing and increasingly accurate: IT pros are heroes in the workplace, not nerds who operate invisibly in back rooms. IT pros have enormous responsibilities, and their jobs keep getting bigger.
Businesses are creating, moving and storing an ever-increasing volume of electronic information on their networks, and the data is attracting cyber criminals who use increasingly sophisticated tactics and tools to get at the information. Businesses need to partner with a good broadband and cybersecurity provider. SDN should be on their call list.