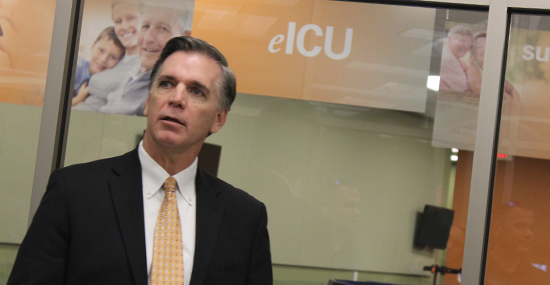 ---
A person seeking medical attention occasionally wanders into the Avera eCARE center in the industrial area of northern Sioux Falls. It's an understandable mistake. While Avera eCARE professionals provide world-class medical services, they only serve patients remotely.
They use interactive and computer technology to provide high-quality services to about 125 health care facilities in 10 states, and the numbers are growing.
Avera's e-services are housed in the eHelm, a virtual hospital at 4500 N. Lewis Avenue named in honor the Leona M. and Harry B. Helmsley Charitable Trust. It's provided millions of dollars in funding assistance to Avera eCARE and client facilities in rural areas.
The eHelm, which opened in 2012, is the home base for several electronic services designed to assist rural health care facilities and residential institutions that seek services. The services that are available include:
eICU CARE to assist with patient care in intensive care units.
eEmergency to assist emergency departments.
ePharmacy to provide pharmaceutical oversight of medication use.
eConsult to allow specialty providers to see more patients and save travel time.
eLongTermCAre to assist with health services in long-term care facilities.
eCorrectional Health to assist with care in correctional facilities.
The eHelm is only a few years old, but Avera has been providing virtual care for more than 20 years. The organization's interactive technology has served hundreds of thousands of patients and helped reduce health care costs by tens of millions of dollars.
Rural hospitals and other client institutions use the advanced technology to provide live, two-way, oral and visual communication. Nurses and other health care experts staff the eHelm 24 hours a day to assist rural hospitals and other institutions. They can bring doctors, pharmacists and other medical experts into treatment discussions as needed.
The Avera's own system includes more than 300 locations in South Dakota, Minnesota, Iowa, Nebraska, and North Dakota. So it has a lot of medical expertise.
Sioux Falls-based SDN Communications takes pride in assisting Avera eCARE. The telecommunications company provides some of the high-speed, broadband connectivity necessary for this national model of delivering health care services.
A group of SDN employees recently toured the eHelm. They got an up-close look at the role broadband technology plays in helping efficiently deliver health care services to institutions that often are tight on staffing and lack specialists.
"The fiber you folks provide saves lives. That's the bottom line," Troy Clavel, vice president of information technology for Avera eCARE, told the SDN visitors.
Good connectivity can help raise the level of care available in small communities, said Deanna Larson, CEO of Avera eCARE.
For example, specialists in Sioux Falls can immediately support health care professionals treating a person in a rural emergency room for a heart attack or a stroke. The goal isn't to encourage more patients to travel to Sioux Falls; it's to help rural areas maintain good services, Larson said.
Treating people in their home area when possible is good for patient care, she said.
SDN appreciated the opportunity for its employees to see firsthand some of the innovative and lifesaving work that takes place every day, with little fanfare, at the eHelm, said Carrie Johnson, manager of government and external relations at SDN.
"We want doctors and nurses to be able to focus their attention on their patients, not worrying whether there will be a network glitch," Johnson said. "SDN takes pride in providing continuous UPTIME that supports quality telehealth services and gives medical professionals peace of mind that the system will work with a single click of a button."
SDN is the leading provider of broadband connectivity and online security services for businesses and institutions in the region. The company's network of more than 30,000 miles of fiber directly connects businesses in eight states.