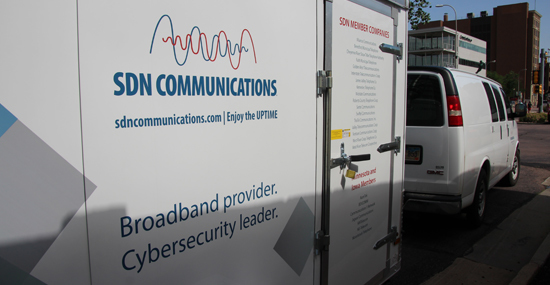 ---
SDN Communications' new Wi-Fi Trailer was a popular attraction at community gatherings around South Dakota during its first event season. The trailer is in even greater demand for 2019.
"For the summer months, it was pretty popular," said Jake VanDewater, SDN's director of network operations. "We had received a request last fall to reserve it for the Fourth of July."
The Wi-Fi Trailer promotes SDN as a provider of broadband connectivity and cybersecurity leader. The SDN member companies are also listed. They're also encouraged to promote themselves when providing service at community events.
The trailer is more than a rolling billboard for SDN and its member companies, however. It has a 30-foot, pneumatic tower that is raised when the trailer is parked. If there are no obstacles blocking reception, the tower can provide 360-degree coverage for two or three blocks. The tower has three Wi-Fi access points on it that collectively can serve roughly 1,500 users.
Typically, the trailer is parked near the hub of event activity and stabilized. Just plug the equipment into a good power source and an internet connection provided by SDN or its member company, and it's ready to go. The trailer usually can be parked and ready for business in about 10 minutes, VanDewater said.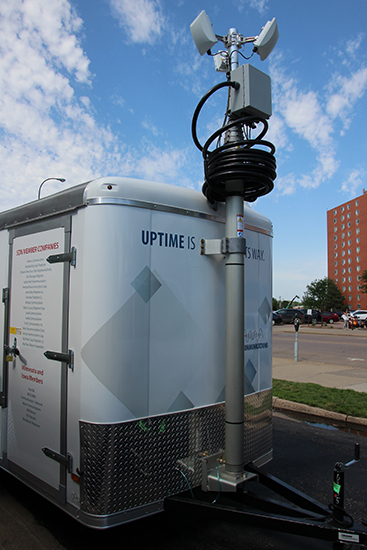 SDN member companies and SDN brought the trailer to sponsored community events around South Dakota last summer. The events included:
Brown County Fair in Aberdeen
Dog Daze in Clear Lake
Gala Days in Bison
Race for the Cure and ProAm Jam in Sioux Falls
Sports Days in Canistota
Water Festival in Woonsocket
Wheels 'n Squeals Festival in Beresford
CEO Mark Shlanta came up with the idea to design, outfit and decorate a new trailer to permanently help promote connectivity and other services that SDN and its member companies provide, VanDewater said.
Work to prepare a new trailer began last spring. Several SDN employees assisted with the technical design, installation and configuration of equipment, including Jason Kolda, Josh Paulson, Mike Harris, Joel James, and Scot Peskey. Amanda Bormann, Shlanta's executive assistant, handles the trailer's schedules for events.
Typically, it's ready to go. Member companies pick it up in Sioux Falls, haul it to their event and return it. You might have seen the two-wheeled trailer being pulled along a state highway or parked at a community festival.
In past years, SDN occasionally would equip a trailer to help improve connectivity at gatherings. A makeshift trailer might be used twice a year. Use of the permanent trailer is up substantially, VanDewater said.
"It's been good for us," he said. "And we're hearing more from our members for 2019 events now that they know about the trailer and what it can do."
Participants and others attending the Avera Race Against Cancer in Sioux Falls can connect to the SDN Wi-Fi Trailer during the event on May 11.
Other scheduled sponsored community events this summer include:
RASDAK - Ride Across South Dakota
Friendship Days in Hills, Minn.
Mobridge Rodeo
Baseball Events
Freeman Chislic Festival
SDN has 17 member companies in South Dakota, seven partner companies in southern Minnesota and a partner company in northern Iowa.