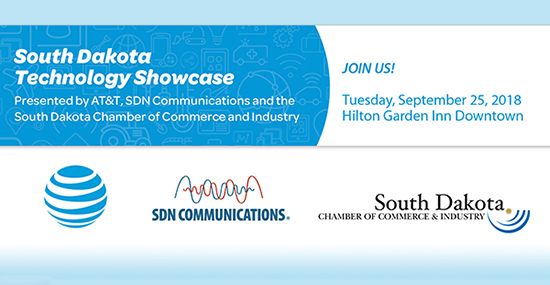 Home
---
No one makes wagon wheels for a living anymore, and data entry is no longer a growing profession. Advances in technology steadily create new business and job opportunities, then gradually replace them with fresher opportunities.
"You've always got to be thinking of the next new industry," said Rich Naser, president of the USD Discovery District in Sioux Falls. "There are always industries being disrupted."
Naser will be among the speakers at the 2018 South Dakota Technology Showcase in Sioux Falls. He will lead a panel discussion that will feature innovators from three emerging, biomedical companies in South Dakota. The free conference also will address other technologies that are changing or creating opportunities in businesses, organizations and communities.
The third annual Technology Showcase will be held from 7:30 a.m. until 1 p.m. on Tuesday, Sept. 25 at the Hilton Garden Inn in downtown Sioux Falls. The first speaker will begin at 8 a.m.
Anyone who is interested in how technology is transforming the commercial and civic landscape of South Dakota is welcome to attend, but space is limited.
Keeping communities competitive in developing businesses and creating job opportunities for people require constant effort, Naser said. The USD Discovery District, which he oversees, is an academic and corporate research park being developed in northwestern Sioux Falls.
The development of such facilities matters because the businesses they nurture or attract help maintain a bright and engaged population, Naser said. In addition, resulting jobs pay well and capital investment by new companies generate tax revenue.
The panel discussion that Naser will lead will feature representatives of three innovative companies with ties to the Discovery District. They are:
Dr. Dan Engebretson of Tailored Medical Devices Inc., which develops products for treating blocked arteries in legs.
Dr. Ron Utecht of Alumend, a research company that has developed a drug and device treatment for treating peripheral vascular disease.
Dr. Eddie Sullivan of SAB Biotherapeutics, which is developing technologies to treat and prevent diseases ranging from influenza to cancer.
Other presenters at the conference will include Jaret Heise, science liaison director at the Sanford Underground Research Facility in Lead, S.D.
For 125 years – until 2006 – the underground laboratory site in the northern Black Hills was the Homestake Gold Mine, which once was highly productive. Now, the former mine site hosts cutting-edge research in physics, biology, geology, and engineering.
Heise will provide an overview of the Sanford Underground Research Facility, including the benefits an underground lab has to offer a wide range of research. He also will highlight technologies associated with some of the main experiments taking place at the lab.
Other scheduled speakers at the half-day conference include:
Ed Parkinson, director of government affairs for FirstNet, an independent, federal authority that is developing a nationwide broadband network to assist public safety communications among first responders.
Adam Gilliland, product manager at Brookings-based Daktronics, a prominent manufacturer of products that include scoreboards, digital billboards, message signs, and sound systems.
Mark Shlanta, CEO of SDN Communications, a leading regional provider of broadband connectivity and cybersecurity services for businesses. He is expected to talk about how broadband technology is evolving.
In addition, Jodi Schwan, founder of the popular, local business-information service, SiouxFalls.Business, is scheduled to moderate a discussion with keynote speaker Evan Culbertson of AT&T about smart cities.
Some conference details still are being worked out. But obviously, a highly informative lineup of speakers is coming together for the event. Collectively they will provide fascinating insight into the evolving state of technology in South Dakota.
The conference is presented by AT&T, SDN Communications and the South Dakota Chamber of Commerce & Industry. Registration for the event closes at 5 p.m. Tuesday, September 18.