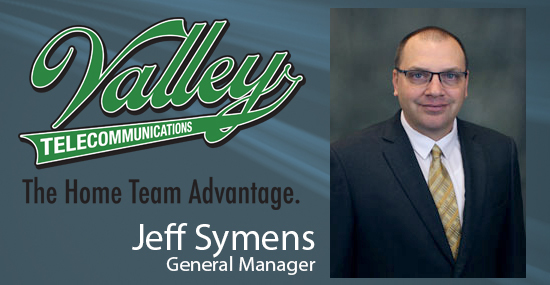 The unblocked skyline and miles of farmland reflect challenges as well as a scenic attributes for Valley Telecommunications Cooperative in north-central South Dakota.
Herreid-based Valley serves a 2,448-square-mile, rural service area that includes nine small towns and parts of four counties. With about 1,000 residents, Ipswich is the largest community in the market.
There are no especially large businesses or colleges in the service area. However, Valley's broadband network is now 100 percent fiber, so the cooperative's customers enjoy access to high-quality services.
Valley offers telephone, Internet, digital TV and other services to residents of the Herreid, Ipswich, Pollock, Mound City, Glenham, Eureka, Long Lake, Leola and Hosmer areas. The service area includes parts of Campbell, McPherson, Walworth and Edmunds counties.
The co-op serves 2,920 access lines. It also offers cellular service through Telespire, a mobile virtual network operator owned by the National Rural Telecommunications Cooperative.
Valley also offers services such as security systems for homes and businesses, which the co-op initially referred to as "cow cams" because remotely controlled cameras are a great way to monitor cattle during calving season. Of course, such systems have many other practical uses for homes and businesses.
Valley also has new leadership. Jeff Symens became general manager and CEO in April. He succeeded Darin LaCoursiere, who stepped down last December.
Symens is a native of Britton. Most recently, he worked for four years as the assistant operations manager for Reservation Telephone Cooperative in northwest North Dakota. He also worked for 18 years for BEK Communications in Steele, N.D., where he was first hired on the plow crew and finished as plant manager.
His initial impression of Valley is that it is a fiscally responsible, well-run business.
I was pretty impressed with that and with the skillset of the employees, being that it's a small company in a small town 100 miles from anywhere," Symens says. "That had been one of my anxieties coming in."
Valley and its customers benefit from working with other progressive telecoms. Valley is among the 17 independent phone companies that own Sioux Falls-based SDN Communications, the premier regional provider of broadband connectivity and related services. SDN's network extends to more than 300 communities in South Dakota and seven other states.
Valley predates the 1989 creation of SDN by a few decades. It's been a reliable, local provider of telecommunications services since 1956, initially providing Glenham, Herreid, Mound City, and Pollock with improved phone service. Through the years, the co-op's service area, as well as its product offerings, have expanded.
In 2008, Valley launched a "Fiber To The Farm" project to bring fiber-optic connectivity to all of its customers. The co-op finished upgrading all of its customers' lines this past spring. This autumn, the co-op plans to offer revamped high-speed Internet service that will include more tiers of service levels and higher speeds. Up to a gigabit of Internet service will be available.
Regional hubs such as Aberdeen and Pierre, S.D., and Bismarck, N.D., are all about 100 miles away, but that's not a problem. Valley has the telecommunications products, services and staff to serve customers well.
"The biggest challenge is getting our customers to think of us first for anything technology-related," says Kaye VanderVorst, marketing and cellular coordinator at Valley. "If they haven't been to our headquarters office for a while, they are usually surprised to see what we have on hand."
The front of Valley's main office in Herreid serves as a Technology Store. It carries products ranging from iPads and Kindles to external hard drives and keyboards.
Valley has 15 full-time and three part-time employees. Its workforce includes technicians based in Eureka, Leola and Ipswich.
The co-op also periodically brings office services from its headquarters directly to other communities with its Mobile Command Center ­– a 22-foot trailer the company uses to make scheduled stops for a day at a time.
It gives customers in other towns the opportunity to drop by with questions or get tutoring help with a technology product. Despite its rural market area, the co-op competes with several big-name providers. It enjoys the advantage of being locally based and, as a cooperative, is owned by its customers.
Long term, the co-op will be looking to grow.
"What I see long-term is finding areas to grow, whether it's new services to our existing customers or new customers outside our service area," Symens says.