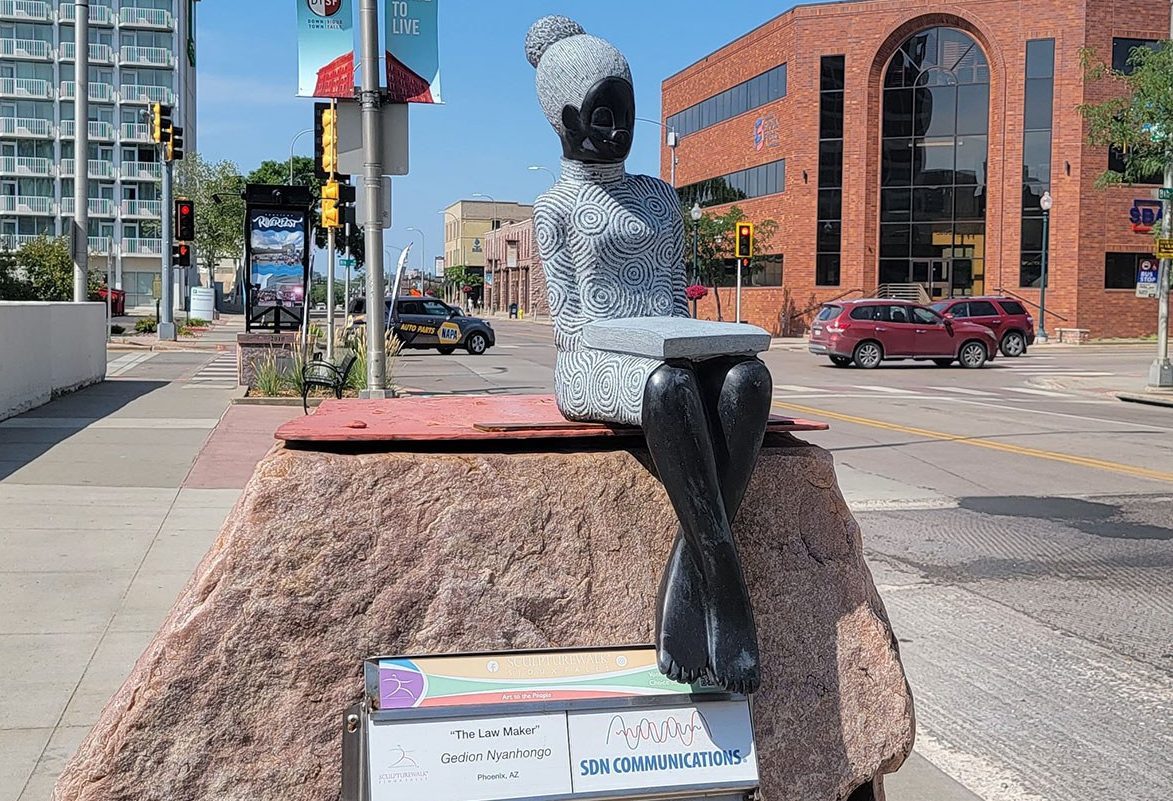 For the past 20 years, SculptureWalk has turned downtown Sioux Falls into an art gallery. Community members, art enthusiasts and tourists flock to the area to explore what SculptureWalk says is the largest annual public display of sculptures in the world. This year's display contains 67 pieces from 46 different artists.

And once again, SDN Communications is a proud sponsor of SculptureWalk.
SDN's 2023 sculpture is "The Law Maker" on N. Phillips Avenue just north of the Wells Fargo building, and it portrays a woman 32-inches high with a slab in the shape of a book on her lap. She is carved from stone from Zimbabwe, and her skin is stark black against the pink tones of the rock she sits on.
Take a closer look: she sits straight up with her ankles crossed, and her long-sleeve turtleneck dress is decorated with consecutive white gray circles. She wears no shoes, and her hair, also white gray, is pulled back into a high bun. Her facial features are made from simple lines carved into the stone and her eyes are closed.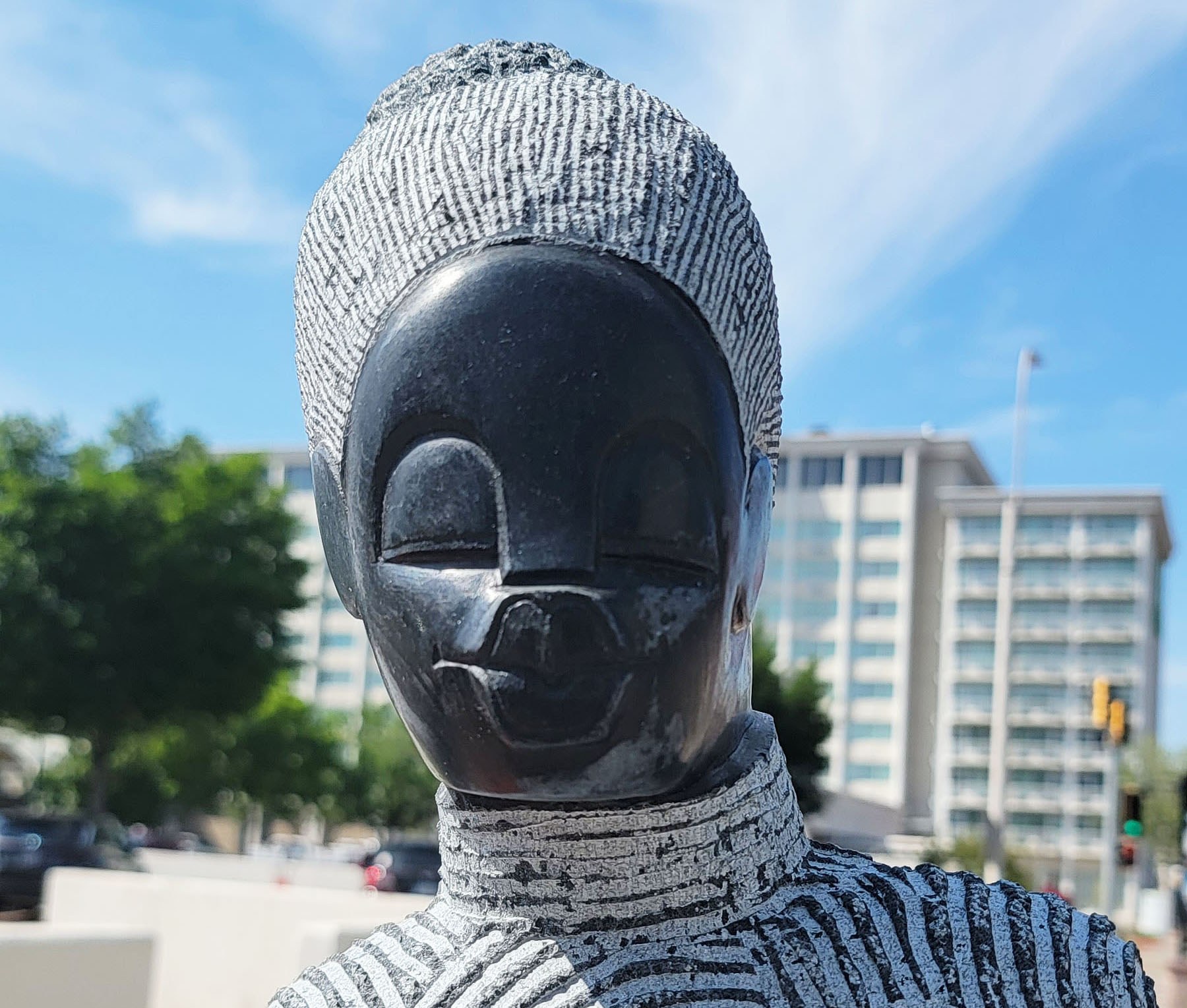 The piece was created by Gedion Nyanhongo from Phoenix, Arizona. According to his website, Nyanhongo uses the traditional artistic style of the Shona Sculpture art movement. He uses a basic hammer and chisel to carve his stone pieces. Nyanhongo says he is inspired by "life, love, and the sensations that define us all."
Nyanhongo also has three other pieces in the SculptureWalk. "Preening Heron", "African Queen" and "Happy Family". "Happy Family" was recently announced as the top sculpture of three Best of Show winners. The sculpture depicts a woman and three children of varying heights carved in the same artistic style as "The Law Maker". For winning, Nyanhongo will receive a $3,000 cash prize.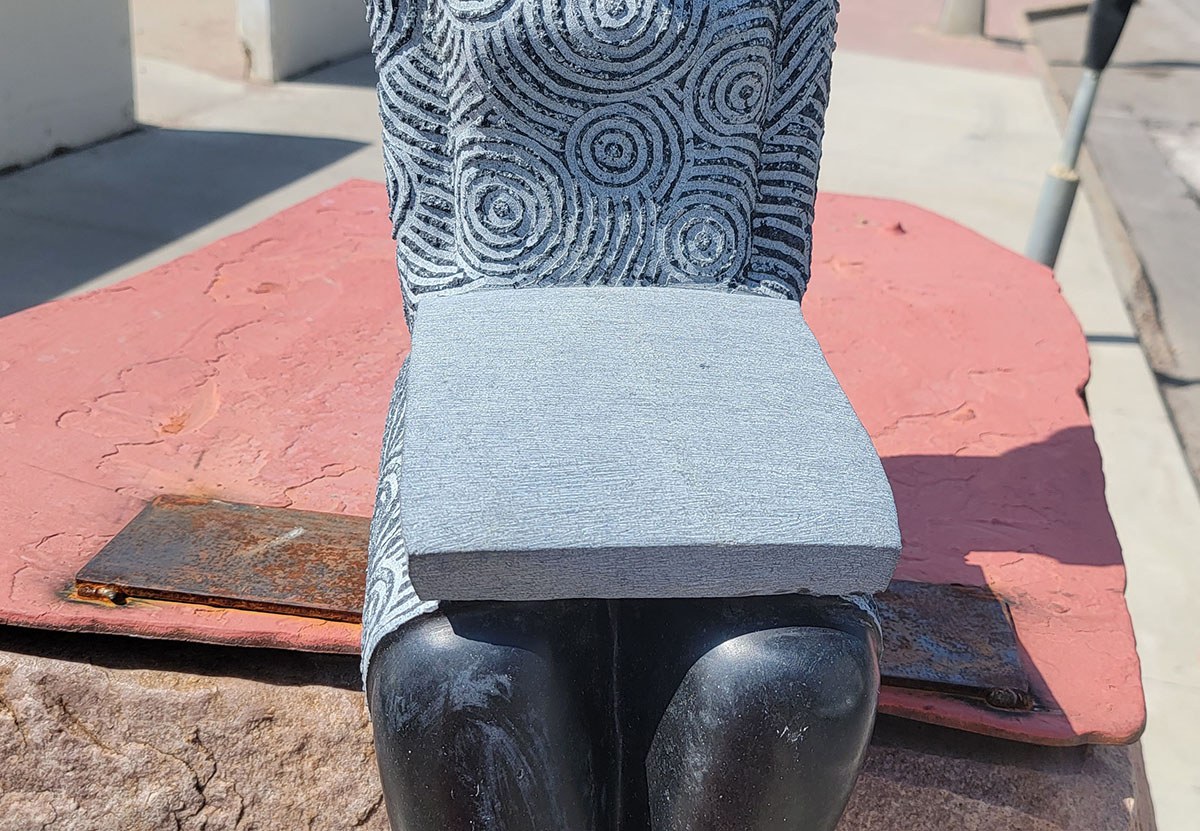 The Sioux Falls SculptureWalk is curated by a blind jury composed of local dignitaries and art enthusiasts. Those interested in seeing all the pieces can start their journey at the visitor center located on the second-floor lobby of the Washington Pavilion. From there, art lovers will complete a loop following Phillips Avenue, continuing along Eighth Street, stopping at the Arc of Dreams, and then back down Phillips Avenue to end back at the Washington Pavilion.
Voting for this year's People's Choice Award is open until Sept. 30. The sculpture that wins will be purchased by the city to become part of Sioux Falls' permanent collection. Those interested in voting can do so online at the Sioux Falls SculptureWalk website, or brochures are available downtown to fill out and place in one of the ballot boxes located on the SculptureWalk loop.