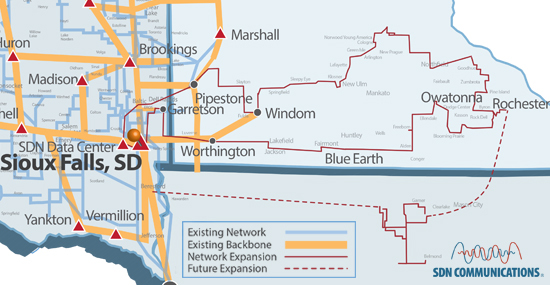 Within a few months, direct access to SDN Communications' fiber-optic network and services will reach more deeply beyond South Dakota's eastern border and loop around the entire southern third of Minnesota. Opportunities for new and better broadband services will be significantly enhanced for thousands of businesses in the region.
SDN's extended reach is being made possible by the creation of SM Broadband LLC, a partnership of South Dakota-based SDN, six independent phone companies in Minnesota and one phone company in Iowa.
SDN is managing the new network.
Completing the 800-mile ring in Minnesota requires the addition of 200 miles of new fiber-optic line. Construction is nearly complete, says Marc Mathis, a network engineer at SDN. The new loop is expected to become operational during the first quarter of 2016.
It marks a significant advancement in the regional telecommunications infrastructure. People in Minnesota, South Dakota and neighboring states can expect to hear more about it in the coming months.
The Minnesota loop will touch and more closely link many population bases across southern Minnesota, says Thomas Durfee, director of business development at SDN. Opening of the network will give SDN great opportunities to offer its commercial and wholesale telecommunications products and services in a new market, he says.
In addition to helping other partners serve their local customers better, the new network is expected to help them attract clients such as national wireless carriers.
In addition to SDN, partners in the SM Broadband project are:
AcenTek of Houston, Minn.
BEVCOMM of Blue Earth, Minn.
Communications 1 Network of Kanawha, Iowa
Jaguar Communications of Owatonna, Minn.
KMTelecom of Kasson, Minn.
NU-Telecom of New Ulm, Minn.
Woodstock Telephone of Ruthton, Minn.
Communications 1, which is in northern Iowa, is an investor in the project but will not immediately be tied directly into the network.
Some of the other Minnesota cities along the network include Luverne, Pipestone, Worthington, Jackson and Rochester.
SDN planned and worked on the project with participating companies for more than a year. Some of the partner companies don't have the wide range of telecommunications products and services that SDN offers. So, opening the network will create opportunities for SDN, especially in areas such as managed services. Those include:
Managed Firewall
Managed Routers
Remote Network Monitoring
Managed DDoS Protection
Subscribing to a managed service allows a business to focus on its specialty while industry experts maintain important networking hardware.
SDN was called upon to assist the Minnesota group because of its experience and success in uniting independent phone companies for their collective good.
That's SDN's foundation. Its network links 17 member companies that serve 80 percent of the state's geography. The 30,000-mile network began forming in 1989 when independent phone companies started connecting their networks to offer better long-distance service options to customers. Twenty-six years later, it's proven to be a successful business plan.