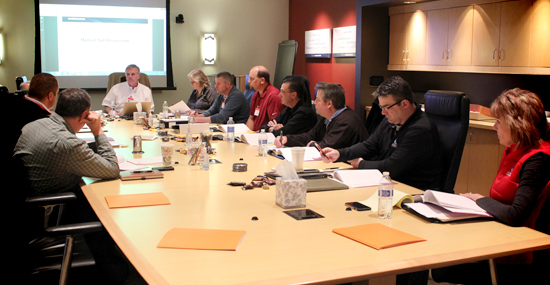 Representatives of SDN Communications and several of its member companies planned to get together last winter for a round of disaster training. Ironically, a real-life disaster interfered. A winter storm forced the training session to be postponed until April.
That's the nature of natural disasters and human-caused emergencies. They don't cooperate with business or personal schedules.
To successfully survive disasters, companies must be prepared in advance and need to update strategies regularly, says Dennis Rose, a national expert on business continuity. Rose, who is with Moss Adams LLP in Austin, Texas, considers Sioux Falls-based SDN a great example. He has been assisting the company with emergency preparedness for several years.
"SDN is ahead of the industry in its commitment to resiliency," he says.
Planning and practice should continue, however, Rose says.
"You've got to keep ahead. Keep talking about it. Keep working it," he says. "Once you stop, it's like anything else. It gets old."
Rose has traveled around the United States for nine years to help companies in the telecommunications and electricity industries draft, test and improve their business continuity and disaster recovery (BCDR) plans.
SDN's training session in April was especially noteworthy because representatives of several SDN member companies and state officials participated in the table-top exercise, Rose says.
"This is the first time that' I've had that many companies sitting at one table talking about how are we going to get through a future disaster. That was exciting," he says.
In addition to SDN, companies that participated in the half-day training drill included:
Alliance Communications, Garretson
Golden West Telecommunications, Wall
Interstate Telecommunications Coop, Clear Lake
Roberts County Telecommunications Coop, New Effington
Santel Communications, Woonsocket
Representatives of the South Dakota Telecommunications Association and state emergency services also took part.
They worked through a winter storm scenario, which this time was imaginary.
"By exercising your emergency response plan, it opens your eyes that you're weak in some areas. All organizations are. You've got to identify those gaps and fill them," Rose says.
One common mistake that business managers make is to try to carry their day-to-day roles over into crisis management. That can create confusion among staffers. Companies should pre-assign incident-management duties and have a depth chart for each major duty area, Rose says.
At SDN, CEO Mark Shlanta - assuming he's available – is first in line to serve as incident commander. But business continuity and disaster recovery is included in every employees' job description.
Cassie Baldwin, contact center manager for SDN, also serves as the company's business continuity manger. That makes her the day-to-day point person for disaster planning. It's been part of her job for four years.
"Business continuity is a big beast, and it can be overwhelming," says Baldwin, who has earned initial-level certification from the Business Continuity Institute. "I'm very fortunate that SDN recognizes its importance. You really have to have buy-in from your management team, if this is going to work."
In the business world, business continuity has emerged as a greater concern than disaster recovery, Baldwin says. That's because many customers don't care what kind of disaster is challenging a company. They don't want their service to be interrupted, she says.
As a regional provider of broadband connectivity and telecommunications services for, a lot of organizations count on SDN and its members to keep electronic lines of communications open. And doing so is important regardless of whether a tornado has touched down or a gunman is terrorizing a community.
"Preparation is the key to make it through tough times," Baldwin says, "and preparation really starts at employees' homes."
Every home should have a personal plan for coping with disasters and keeping family members safe.
"Then it's easier to be at work, taking care of business," Baldwin says.
Companies should begin planning somewhere, then review and improve their strategies on a regular basis, Baldwin says. A good place to start is Ready.gov, a U.S. Department of Homeland Security website with free information about emergency preparedness.