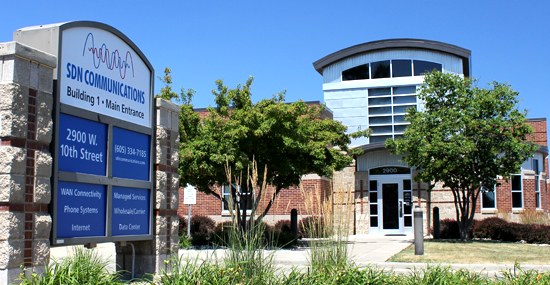 Without good customer service, great products can lose value. Even the best offerings might go unused.
The development of positive and trusting relationships between customers and representatives of a company's sales and technical teams are crucial to the smooth delivery of telecommunications products.
Even after a company achieves a reputation for offering top-notch customer service, it has to regularly review its performance on an objective basis and constantly look for areas in possible need of improvement. That's how SDN Communications goes about it.
Sioux Falls-based SDN works hard to maintain its status as the region's premier provider of broadband connectivity and related telecommunications services for businesses. The company subjects itself to a survey of its customers by an outside company about every other year to help stay at the top of its game.
The most recent customer review of SDN was conducted in late 2015 by Cronin Communications. Here are some highlights of survey findings:
90 percent of SDN's customers are completely satisfied with the company.
78 percent of SDN's customers are completely satisfied with the responsiveness of the sales staff.
86 percent of SDN's customers are completely satisfied with the responsiveness of the technical staff.
"I think the thing that excites me most is the 90 percent customer satisfaction rate. That's the kind of trend we like to see" says Vernon Brown, SDN's vice president of marketing and community relations.
Customer satisfaction increased three points from the 2013 rate of 87 percent to hit the 90-point mark. That might be statistically insignificant, given the margin of error in surveys, Brown says, but at least the trajectory is in the right direction.
Customer satisfaction might explain the increasing loyalty of SDN's clients. Seventy-two percent of the company's customers reported having no interest in switching providers. Many companies probably would envy that customer-loyalty rate.
Most companies probably also would envy customers' high rates of satisfaction with SDN's sales and technical staff.
An area to work on, as indicated by survey results, might be the time required to deliver job quotes, Brown says.
Providing estimates for jobs can be complicated by factors such as the need to work to work with outside parties, such as other carriers, and third parties might not be as motivated as SDN to complete a task quickly.
"Finding out how we can maneuver more quickly is probably the area we'll focus on most in improving," Brown says.
Despite potential complications in the process, SDN customers expressed 64 percent satisfaction with the timeliness of the quote process.
In addition, 72 percent of customers are satisfied with SDN's ability to meet deadlines and 71 percent are satisfied with the company's provisioning and set-up process. Those numbers were similar to 2013 survey results.
Quality of service is the biggest single reason for customers' overall satisfaction with SDN (59 percent), followed by the company's responsiveness to customer needs (37 percent). A significant portion of customers said they were satisfied because they had no problems (21 percent).
It was a good report card, overall. But SDN knows it will have to work hard to retain existing customers and keep attracting new business, Brown says. There is lots of room for growth, particularly in new service areas in which prospective clients might not be familiar with SDN. So SDN has reasons stay motivated.
Offering top-notch products and services is the key to expanding business, of course. But providing good customer service is also critically important, and survey numbers indicate that SDN knows how to excel on that front.
"We put a huge emphasis on customer satisfaction," Brown says. "Each and every day we try harder and harder as a team to make sure our service is the Cadillac of services."
Get to know SDN's experts, products and services better by signing up to receive this blog via email. Use the button below to subscribe.