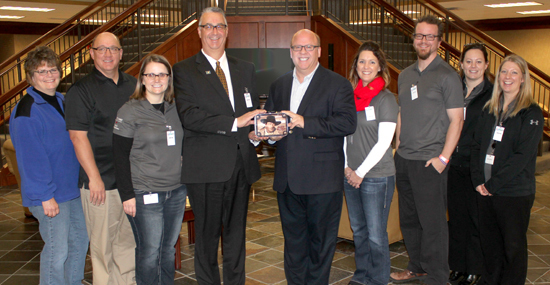 The first Lunch Box Challenge generated a lot of laughs and winners.
SDN Communications won bragging rights and lunch for more than 100 of staff members by signing up more Heart Club members for the Sioux Empire United Way than SONIFI Solutions.
The competition, dubbed the Lunch Box Challenge, helped each of the two Sioux Falls businesses increase employees' contributions to the United Way, which helps fund charitable programs that benefit tens of thousands of people in Lincoln, McCook, Minnehaha, and Turner counties.
Tom McAdaragh, senior vice president of operations at SONFI, initiated the challenge by issuing a light-hearted challenge to Mark Shlanta, chief executive officer at SDN: The company that signed the fewest Heart Club members would have to buy lunch for the other company's Heart Club members.
Shlanta eagerly accepted the challenge, which McAdaragh wrote out and delivered to SDN in a John Wayne lunch bucket.
Despite being the smaller company in terms of employees, SDN probably entered the competition as the favorite. SDN signed up 74 Heart Club members in 2013 compared with SONIFI's 64. The formalized 2014 competition was close, but SDN won the inaugural Lunch Box Challenge 101 to 98.
Heart Club status is available to any donor who gives at least $250 to the United Way. Rising Heart members contribute $250 to $499, for example, and Gold Heart members give $500 to $799. The top category, the Alexis de Tocqueville Society, is for donors who give $10,000 or more.
McAdaragh was gracious in defeat.
"No lobster," he said, jokingly. "It was a friendly competition. In the end, it was the United Way who won. It was a lot fun."
Abby Vostad, who chairs SDN's Great Ideas Group, an employee committee, agreed that the United Way and programs it supports were the real winners in the competition. She hopes that the Lunch Box Challenge inspires other companies to conduct similar contests for the benefit of the United Way.
As Vostad pointed out, more than half of SDN's 180 employees are now Heart Club members. That's "pretty awesome," she said.
Richard Callahan, a network administrator in IT at SDN, is one of those who are happy to contribute to the United Way. He especially appreciates programs that encourage kids to be active and helps them eat.
"Being someone who, growing up, didn't have it the easiest, I see a lot of benefit in what the United Way does for the community," Callahan said. "Now I'm in a position that I can give back to the community."
Both SDN and SONIFI succeeded in raising employee participation in the Heart Club.
SONIFI and SDN have business similarities - they're both high-tech companies that provide services to businesses - so they are natural rivals.
SONIFI provides connectivity and entertainment content nationally to hotels and the hospitality industry. SDN is the premier regional provider of broadband connectivity and related services to businesses and institutions.
The Sioux Empire United Way has promoted the Lunch Box Challenge as a "Bright Idea" that other companies might want to deploy.
In September, the Sioux Empire United Way announced a fundraising goal of more than $10 million for 2014. To be precise, the goal is $10,118,695. Paul Bruflat, vice president at CNA Surety, is chairing this year's campaign. More than 800 volunteers are reaching out to about 700 local businesses and 27,000 prospective donors. The local United Way partners with 44 agencies and provides funding help to 88 programs.
Organizations ranging from Active Generations to the Volunteers of America, Dakotas are among the nonprofits that benefit.
For more information about the local United Way and its efforts, visit the Sioux Empire United Way's website.