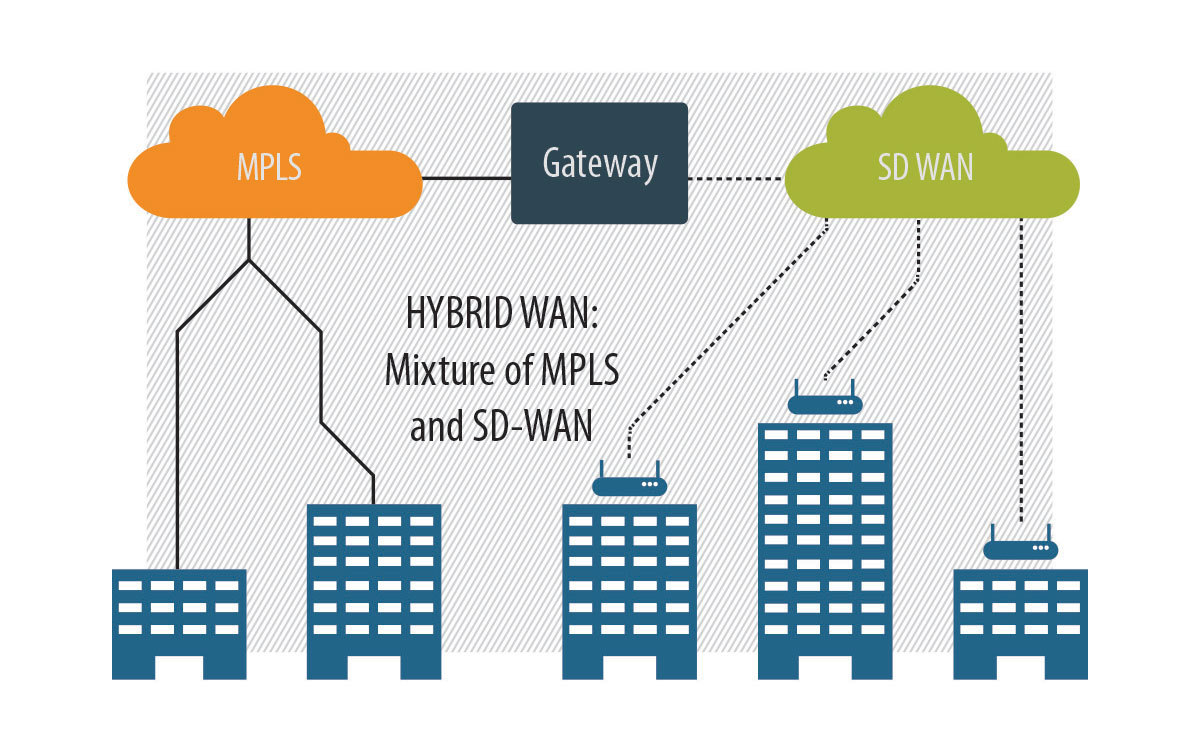 ---
We often forget how fast technology is evolving. But if we could stop time to reflect on the past recent years, you'd see it is amazing how cloud-based applications have changed the game for IT.
Traditional wide area networks (WANs) have been great with reliable delivery of packets, thanks to MPLS and Ethernet. But there are other ways to scale the network and do more with less hardware while meeting cloud computing needs and business requirements.
That's when software-defined technologies come to play. Software-Defined Networking (SDN) was first designed to solve this growing dilemma in modern computing. It provides a centrally managed platform that separates the control plane from the data (forwarding) plane. SDNs can also support virtualization of additional network functions such as a firewall or WAN optimization. Its goal is to develop scalable, dynamic connectivity for local area networks (LAN) and service providers' core networks.
What is SD-WAN?
Built on its technology parent, SDN, a software-defined WAN (SD-WAN) uses software-defined infrastructure to connect a company's networks that are geographically distributed and oftentimes difficult to manage.
Consider a business setting up a connection at a remote location. Will the team have to travel to the location and spend countless hours at the site setting up and checking the hardware?
SD-WAN solves that problem. It simplifies the deployment in the branch office and seamlessly establishes connectivity among headquarters, branch offices and data centers with an easy-to-use set of tools and analytics to help manage the network. SD-WAN also provides a virtualized routing system across multiple WAN connections ensuring unparalleled performance and UPTIME.
SD-WAN providers can package offerings in a variety of ways, but according to Gartner, there are four key characteristics to look for in a solution:
A lightweight replacement for traditional WAN routers that are agnostic to WAN transport (i.e., support MPLS, internet, LTE, etc.) and can physically terminate carrier circuits.
Support for load sharing of traffic across multiple WAN connections in an efficient and dynamic fashion that can be based on business and/or application policies.
Dramatic simplification of the complexity associated with the management, configuration and orchestration of WANs.
A secure VPN and the ability to integrate additional network services such as firewall and WAN optimization.
Why Should I Consider SD-WAN?
There are many reasons for businesses to consider an SD-WAN option. Some of the benefits include:
Reliability: The technology uses a routing system which provides improved reliability through multiple connections and intelligent fast failover.
Scalability: SD-WAN allows businesses to augment bandwidth with any connectivity combination available at the location, whether it's MPLS, wired internet or 4G/LTE.
Security: With SD-WAN, data security is delivered through end-to-end encryption over a virtual private network. All devices and endpoints are authenticated with software-defined security.
Centralization: SD-WAN simplifies WAN management by providing a centralized portal platform where policies can be managed for the entire WAN.
Lower costs: Depending on business needs, some may experience cost savings by deploying internet connections at remote sites where deploying a dedicated fiber circuit may be impractical.
SD-WAN is a notable technology that can enhance and compliment features in your network such as increased agility, security, and simplicity of management.
Businesses should stay informed about it. SDN Communications will help. Check out this site for more blogs about SD-WAN in the future.