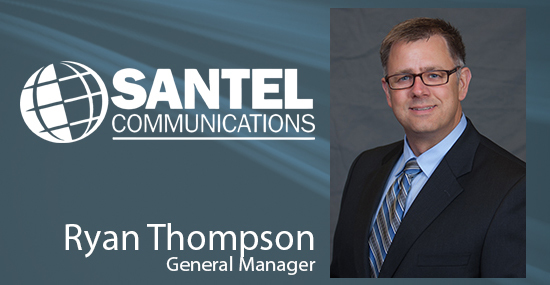 It's not unusual for Tony Kinneberg and his student crew to hear from TV viewers in other states or even other countries when they're broadcasting a Parkston High School sporting event.
Remote viewers are especially likely to tap into an online service to view local cable coverage when the school district's TV channel is carrying a significant basketball game, says Kinneberg, who is the school technology coordinator and a teacher at Parkston.
Kinneberg is proud of the work students do, and he appreciates Santel Communications for providing a channel for educational use.
"It's been a very successful for both us and Santel. I just know if we ever stopped doing it, people wouldn't be very happy," he says.
The Parkston School District in southeastern South Dakota was the first school in its area to have its own cable channel, and it uses the resource well. The program, now in its seventh year, has been studied by other schools.
Kinneberg teaches a media class. The school also has a Media Club whose members help put together broadcasts and even sell commercial time. In addition to live sporting events, Parkston televises educational programs, School Board meetings and community events. Many events are broadcast live.
Parkston Superintendent Shyne McIntosh says the community strongly supports the school's TV channel and that Santel has been a great partner.
"Every child has a niche. Some are athletically gifted, some are musically gifted or academically gifted. I think what this (media program) has done is provide another outlet for kids," McIntosh says. "It's another way to provide opportunities for students and allow them to excel."
Santel, a telecommunications cooperative based in Woonsocket, provides similar channels to other schools in its service area. It also provides a channel to Mitchell.
"They have been very high-demand channels. It adds to the regional value for us," says Ryan Thompson, general manager of Santel.
Santel's interest has been to empower the schools to offer curriculum that benefits students, says Thompson, who has been the general manager at Santel since 2007,
Santel got its start in 1952 as the Sanborn Telephone Cooperative. In 2002, Sanborn and its subsidiaries merged to become the Santel Communications Cooperative.
In addition to Woonstocket, Santel offers phone, Internet and TV services to Alpena, Artesian, Ethan, Forestburg, Letcher, Mount Vernon, Parkston, Tripp and Wolsey. Santel also owns Mitchell Telecom, a subsidiary that provides telecommunications services in Mitchell.
Santel also provides fixed wireless service in the Mitchell and Huron area. The potential marketing area spans roughly 1,000 square miles. The co-op also owns Tech Solutions, a service business in Mitchell.
Santel's ownership of Tech Solutions sets it apart from many rural telecoms. Santel acquired the business in 2008. At the time, the store provided computer and network sales and services. Santel added phone services.
In recent years, Tech Solutions has evolved from an equipment-centered to service-based business. Its offerings include, for example, managed equipment and data backup services.
"For us, that's been a big growth area," Thompson said. "It's been working really well."
The store's market is not limited by geography. Because of the capabilities of technology, services can be provided virtually anywhere. Tech Solutions had two employees when Santel acquired it. Now it has nine.
Santel has 42 employees and is one of the 17 cooperative, family-owned, municipal or tribal phone companies in South Dakota that own SDN Communications, which is the premier regional provider of broadband connectivity and related communications services to businesses and institutions. SDN member companies serve 80 percent of South Dakota's geography.
Santel is in the process of upgrading its network from copper to fiber. About 40 percent of the network, including Mitchell, have been upgraded, Thompson says. In addition to leading Santel, he serves on the Board of Directors of Sioux Falls-based SDN.
For more information about Santel and its services, visit the Santel website.