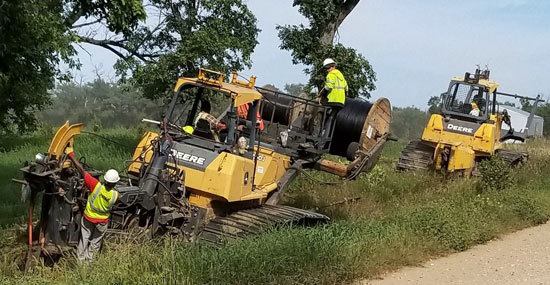 ---
Santel Communications of Woonsocket, S.D., is finishing work on the first phase of a $24 million network upgrade. The project is bringing world-class fiber connectivity to Santel's business and residential customers who don't already have it.
Crews are replacing about 165 of 575 miles of copper cable during the first construction season, which began in August. Customers are expected to be connected to the high-performance network by March 1, 2019.
The upgraded service will give all of the cooperative's members access to a fiber optic network capable of handling data-transfer speeds up to a gigabit per second.
"Our goal is to connect farms, homes and businesses within our service area to a fiber network able to move data as quickly as any big city in the U.S.," said Ryan Thompson, Santel's general manager and CEO.
---
Related Blog: Rural Broadband Deployment in South Dakota Ahead of National Average
Visit the article to download the 2018 Broadband Report for South Dakota.
---
Roughly 1,500 miles of Santel's rural network was fiber before the five-year extension of FiberMaxx service, or maximum internet service. The fiber upgrade will improve services for the remaining 60 percent of Santel's customers.
"We've gotten as much as we can out of our copper-based networks. Now we need to switch to fiber optics. Using fiber optics is the best long game because we know we won't have to go in and replace any cable for the next 30 or 40 years, however long the lifetime of the fiber is," Thompson said.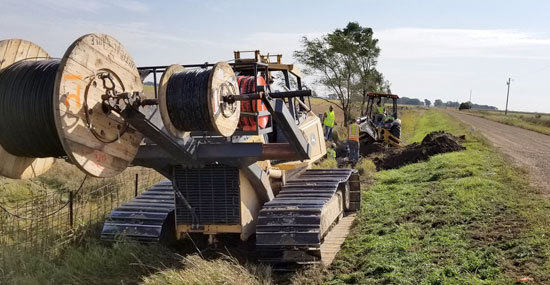 Despite some weather-related challenges, first-year construction, generally, has gone well, he said.
Construction work began in the Letcher area and is expected to move next year to the Mount Vernon and Tripp areas. The headquarters community of Woonsocket was among the areas that already had fiber service.
In addition to the Woonsocket, Letcher, Mount Vernon, and Tripp areas, Santel serves the towns and rural areas near Alpena, Artesian, Ethan, Forestburg, Parkston, and Wolsey with phone, internet and TV services - approximately 4,000 customers.
In 2016, Santel sold a subsidiary that provided telecommunications services in Mitchell. However, it continues to provide fixed wireless services in the rural Mitchell and Huron areas.
The co-op also owns Tech Solutions, a managed IT service provider based in Mitchell. Tech Solutions, which Santel acquired in 2008, is an element of business that distinguishes it from many rural telecoms.
Through the years, Tech Solutions has evolved from an equipment-focused enterprise to one that offers services such as managed IT and cloud computing services. The technology gives it the capability to serve customers virtually anywhere
"It's still one of our top growth areas," Thompson said.
Santel's regular service area extends north and south through parts of several counties in south-central South Dakota. The co-op has 33 full-time and part-time employees.
Today, its mission focuses on positively impacting communities it serves and its members by providing advanced of broadband technology. Customer satisfaction is its highest priority.
Santel is one of the 17 cooperative, family-owned, municipal or tribal phone companies in South Dakota that own SDN Communications. SDN helps connect Santel's member-customers to the rest of the world and is a leading regional provider of broadband connectivity and cybersecurity solutions for businesses.
Check out the Santel website for more information about the company.
Photos courtesy: Santel Communications Facebook