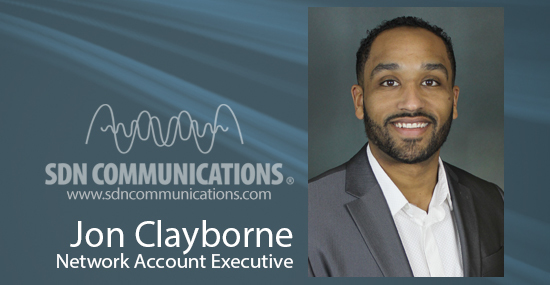 Jon Clayborne enjoys the mix of interpersonal and high-tech duties that are parts of his job at SDN Communications in Sioux Falls - especially the human interaction.
He works at a company in which understanding and keeping up with technology are important. However, he also gets to work with people.
"In my job, I get the best of both worlds. I work at a place where technology is important. But the other side, the human side, the human interaction, that's really important," he said.
Clayborne joined the staff of SDN in November 2017 as a network account executive. His responsibilities include explaining and selling fast, reliable, broadband connectivity, cybersecurity services and other telecommunications solutions to businesses.
He previously worked for four years in auto and insurance sales in Sioux Falls.
"I always liked working with people. That kind of led me to my sales career," he said. "I wanted to be able to work with people."
Clayborne was born and raised in Sioux Falls. So he knows the city and the area well. That familiarity will help him cover a territory that includes southeastern Sioux Falls and extends south well into northwestern Iowa.
"I've watched the city grow. A lot of people see opportunities in other places, and that's great. I see a lot of opportunities right here. I want to stay and take advantage of them," he said.
After graduating from Washington High School, Clayborne attended the University of South Dakota. He left college after two years to begin his sales career. He initially worked for a prominent auto dealership. He also tried the insurance business but returned to auto sales.
Then he heard about a job opening at SDN. He checked it out and was impressed by the company and its staff. He is excited to be working for a company that provides communications services for businesses and institutions.
"It's definitely one of the leading, growing industries. Cybersecurity and broadband connectivity are huge right now. I wanted to be part of that movement," he said. "That's why I got onboard."
At SDN, he's part of a sales team that also includes experienced staff members J.J. Anderson, Ryan Dutton and David Fehrs.
He communicates with customers and prospective clients electronically or by phone, whatever the situation calls for. He prefers to meet with people face-to-face, though. That's probably a good trait to have in a complex business. Cybersecurity options, for example, can be difficult to explain remotely or in an easily understood way to representatives of companies who might need to launch or improve business security.
Overall, business needs in the cybersecurity realm are big and growing. Well-publicized data breaches at big-name companies provide plenty of evidence. However, some small and midsize businesses still delay improving the security of their electronic information and networks.
"It's one of those things that you don't feel the severity of until it's happened to you," Clayborne said.
Away from work, he enjoys the outdoors. He likes to bike, hike, camp and play golf.
"Anything that gets me active," he said.
He also likes to travel, experience new culture and make new connections. He's made one especially important personal connection: Ashlee Wilber, his fiancée. She's an interior designer at Lenae Design in downtown Sioux Falls.
Although she works in interior design, she also enjoys the outdoors, he said, smiling.
You can email Clayborne or reach him at (605) 978-2222. For more information about SDN or other team members, visit the SDN Communications – Our People page.