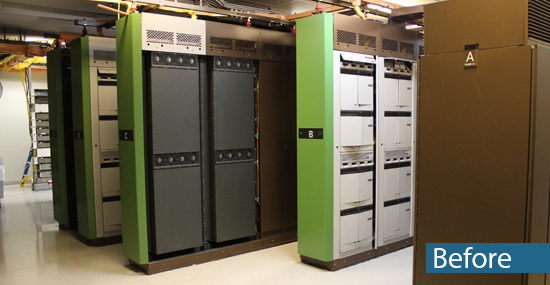 ---
A significant upgrade in telephone switching equipment at SDN Communications provides striking visual evidence of how the tools of technology are getting smaller as well as better.
Switching equipment that used to occupy most of a large room in a data center on SDN's main campus in west-central Sioux Falls now is tucked off to the side in a couple of server racks.
The reduced space needed for the new telecommunications equipment belies the significance of the milestone that SDN recently achieved with the upgrade and the smoothness of the transition.
One misconnected wire could have caused big problems. However, SDN employees in the engineering and network operations departments finished the long and complicated job of installing and switching over the new equipment without an interruption in service.
"We did everything in-house, which I think speaks to the level of talent, commitment and experience we have here," said Mike Haskins, vice president of network engineering and operations. "It truly takes a team to pull this off."
The team replaced a massive TDM electronic transport system that had been in operation since the early 1990s with a soft switch from Sonus Networks Inc. The new system, which uses Session Initiation Protocol, or SIP communications technology, offers greater capabilities for telecommunications services, said Lyle Zoerb, a switch technician in Network Operations.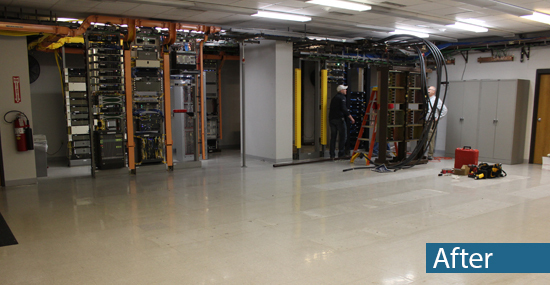 The new equipment, which uses IP technology, will significantly enhance the quality and flexibility of telecommunications solutions that SDN member companies and national carriers can provide their customers.
To help guarantee continuity of service in the future, the new equipment is backed up in another SDN data center a few miles away from the main campus.
In addition to providing businesses in the Sioux Falls region with broadband internet and cybersecurity services, SDN serves as a telecommunications hub for independent phone companies across South Dakota. Independent telecoms connected their networks and created SDN in 1989 to provide better, long-distance phone services to customers.
In its heyday, more than 1 million phone calls a day passed through the old Nortel supernode at SDN. Service to member companies never went down, and service to customers was never compromised. The old switching equipment continued to work up until this fall when it was decommissioned and removed.
We first told you about plans for the upgrade in 2015. Work progressed significantly in 2016 and was completed this year.
"It wasn't a reliability issue. It was more of a future capability issue," Zoerb said. "The long-term advantage of the new platform is that our members will benefit from expandability. It's state of the art."
Zoerb was among several team members who worked on the conversion project for months.
Advances in technology increasingly are blurring old lines of departmental responsibility. It did in this case. But rather than create conflict, installation challenges brought staff members closer together, Haskins said. They focused on getting the job done.
"It was really cool," Haskins said. "They just did it."
Employees joke that the freed-up space in the data center has created room for a ping-pong or foosball table. There's probably room for both. There might be room for a pool table, too.
But in this era of growth and rapid change in telecommunications technology, uses for the secure space could emerge quickly. So predictions on how the space might be used in the future might be premature.
---
The slideshow below documents the process of removing the switch. It started in July when Zoerb and Shawn Mack turned off all of the equipment and pulled fuses to the devices. Next, internal crews cut and pulled the inactive cables to prepare the equipment and frames for its removal. Finally, a team out of Mitchell pieced it out for parts and recycling in a matter of weeks.