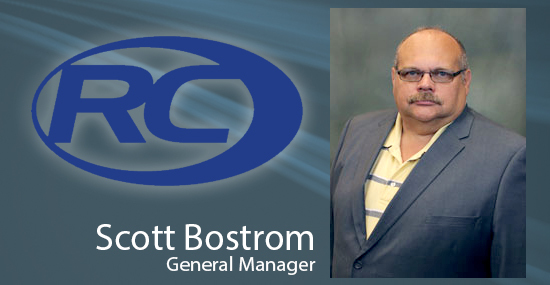 RC Technologies is a big economic force in small town.
The telecommunications cooperative is the largest employer in New Effington, a community of fewer than 250 residents in northeastern South Dakota. RC has 18 employees – 16 full-timers and two part-timers – but five of them work out of a satellite office in Wilmot.
New Effington no longer has a school, but it has a grain elevator, bank, grocery store, restaurant and bars. However, none of those businesses have more employees than RC, which makes the co-op a very important part of the local economy.
It's based in rural area, about 70 miles from the regional hubs of Fargo, N.D. and Watertown, S.D.
Wilmot and New Effington are in Roberts County, the northeastern-most county in South Dakota. The county borders North Dakota and Minnesota. The telecommunications company has been serving customers in the area for 60 years.
"It got started when a group of farmers wanted to get phone service to New Effington and Claire City," said Scott Bostrom, who has worked for the company for 28 years. He's been the general manager since 2010.
Today, the co-op offers high-quality voice, video and data services to customers in two parts of Roberts County and in parts of neighboring counties.
RC's operations include 1,560 voice customers in phone exchanges in New Effington, Claire City, Veblen, Peever, Wilmot, and Summit.
In addition, RC provides wireless services in the rural Watertown and Big Stone Lake areas, and it is expanding that offering. Service capacity currently is being expanded in the Kranzburg area east of Watertown with the rollout of LTE, a high-speed wireless standard for phone and data service. Similar structural improvement is planned in the Milbank area.
Meanwhile, RC also plans to replace all of its cooper lines with fiber within the next five years to better serve existing and future customers. About 13 percent of the customer base is served by fiber so far.
Providing better, faster internet will allow RC to offer customers additional services. Services such as good, home-security systems could become available in the future.
"So many different applications are going to become available. We need to be able to provide some of those applications," Bostrom said.
The communications industry has changed substantially since the late 1990s and the introduction of Internet services, which continue to bring change, he said.
"Since 1999, it's never been quiet. Before that, it was just telephone service. Once we started offering the Internet, it's been challenging at times to keep up with the pace," Bostrom said.
RC is one of the 17 independent phones companies in South Dakota that own and unite through Sioux Falls-based SDN Communications to improve telecommunications services throughout South Dakota and the region. Member companies serve 80 percent of the South Dakota's geography and part of North Dakota.
The SDN network recently expanded by partnering with six independent companies in southern Minnesota and one in northern Iowa.
RC Technologies got its current name on Jan. 1, 2015, when the Roberts County Telephone Cooperative Association merged with two subsidiary businesses. RC is governed by a seven-member Board of Directors headed by President Robert Meyer.
Sara Broz, sales and marketing manager for RC, said the company stresses its local roots and expertise as well as personal service.
"We really like to instill in people that we're the company that's been around since 1956, and we're local," she said. "We live here and use the same services that other people do."
Get to know SDN's member companies through these blogs.