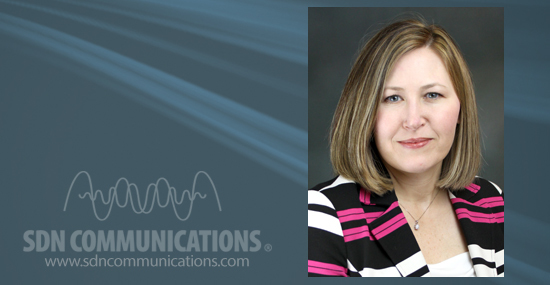 Nancy Johnson brings 15 years of legal experience and a fresh geographic perspective to her duties with SDN Communications.
Johnson started in April as the vice president of legal and in-house counsel for SDN in Sioux Falls. She moved from her home state of Oklahoma to South Dakota to take the job.
"It's been great," she says. "People are about the same. The land is about the same. South Dakota is a lot like Oklahoma."
Johnson was looking for legal work in South Dakota so she could join her husband in Corson where he farms and ranches. Jarrod Johnson used to be South Dakota's state commissioner of school and public lands. The two met at a conference a few years ago when she was the general counsel for the Oklahoma Commissioners of the Land Office. She's the step-mother to his two children and gave birth to their son in September.
Nancy Johnson, 42, grew up in Ada, Okla. Her mother was an English teacher, and her father was a large-animal veterinarian who raised cattle and horses. So she feels right at home on a farm and cattle ranch in the Sioux Falls area.
"It's nice to be back, to be able to go outside and relax," she says.
She went to East Central University in Oklahoma and graduated from law school at the University of Oklahoma in 1999. She's worked in several areas of the law, which helped her get noticed by SDN.
"The fact that I had a couple of years of experience in telecommunications helped," she says.
Johnson's resume includes about a year with the Pontotoc County District Attorney Office in Ada and five years as an assistant attorney general with the state of Oklahoma. She also worked for a few months in private practice and for several years in various legal positions with the Oklahoma State Regents for Higher Education and for the University of Oklahoma.
Her five years with the State Regents included a stint as general counsel for OneNet, which provides Internet and networking services to government agencies across Oklahoma.
At SDN, Johnson will take over for Bill Heaston, who carries the slightly different title of vice president of legal and regulatory. Heaston plans to retire – or at least semi-retire – some time within the next year. He plans to move to Omaha so that he can spend more time with his children and grandchildren.
Heaston expects Johnson to do a great job as his successor.
"She'll do well. She's bright and she's eager," Heaston says. "She should do very well."
National legal issues such as net neutrality will continue to unfold in the future, Heaston says, but SDN's focus is likely to remain on effective broadband deployment and providing secure ways for businesses and institutions to quickly transport and store electronic data.
"Bill has been great. He's been a good mentor," Johnson says.
Her duties will include working with outside legal counsel in Pierre and Washington, D.C., to track regulatory issues and provide advice to CEO Mark Shlanta and SDN's Board of Directors. Her responsibilities also will include tasks such as drafting contracts and policies for the company.
"As technology grows, the legal issues get more complex. Technology changes so quickly. Regulations have to adapt, which causes complications," Johnson says.
"I think we're doing well right now. It's a good time for the transition. It gives me time to learn what SDN is all about and how to move it forward," she says.