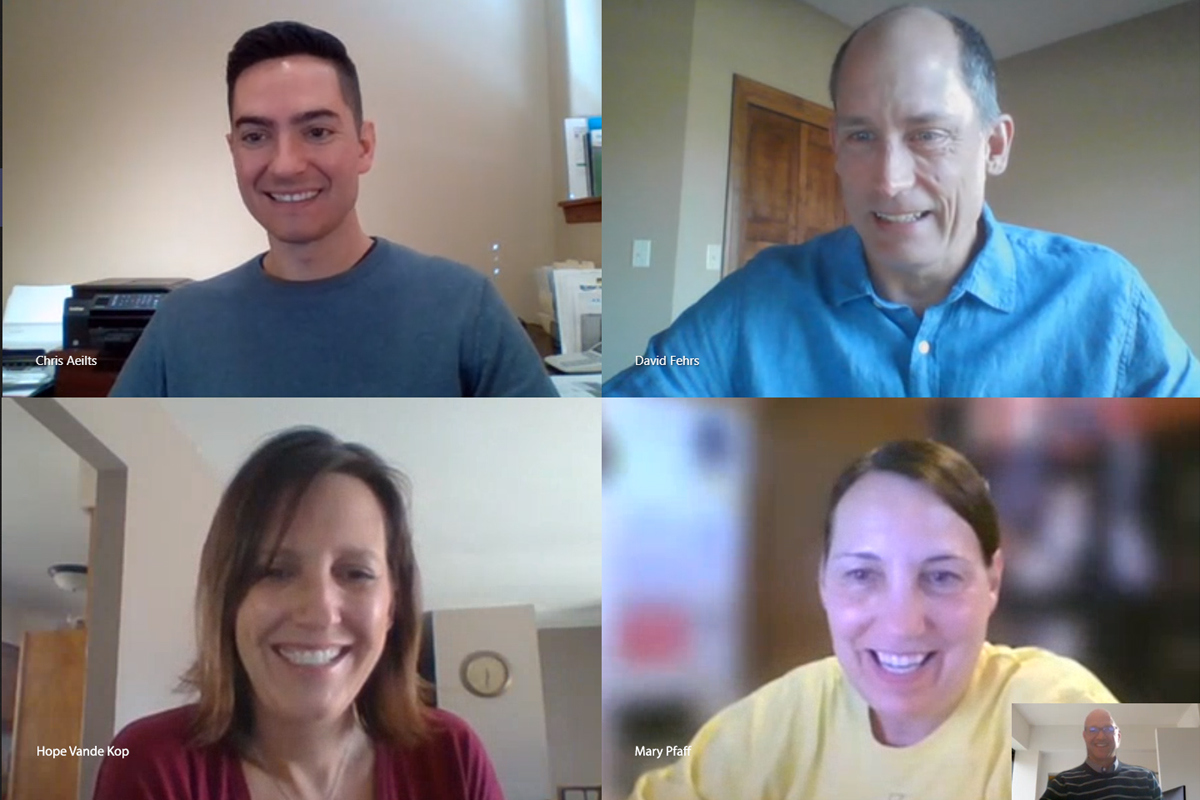 Chris Aeilts was only half-joking when he boiled down his suggestions for good, video conferencing etiquette to a single, catchy sentence: "Wear pants, prepare for good video, and audio is king," he said.

Then he elaborated on what he meant.
"Wearing pants means more than wearing pants. It means thinking about dressing appropriately for the situation you'll be in for the conference call. Think about your company's culture, and specifically your department's culture," said Aeilts, who is a tech-savvy sales engineer at SDN Communications in Sioux Falls.
He means, for example, you probably shouldn't wear a baseball cap, hooded sweatshirt and sweat pants to a video meeting with a potential client, unless that's how the client dresses and prefers that you dress.
"Act like you're in the room with them. Don't act like you're sitting in your house, feeling comfortable and invisible because you're not in the board room," he suggests.
With a lot of people working from their homes these days because of the COVID-19 pandemic, video conferencing is enjoying a major surge in popularity. This was a great time to talk to Aeilts about some of the technical as well as social aspects of video conferencing technology.
There is no shortage of options. Numerous free and paid conferencing products are available for business and personal use.
Zoom Video Communications' teleconferencing software, also known as Zoom, is one of the most popular and yet controversial services that's booming in use. It suffered some widely-publicized privacy and security issues. So, users should take precautions, such as making sure that security settings are property enabled.
Some other video chatting and conferencing options include:
There are many others. Specifications such as participation limits, moderator control features, and services costs vary widely.
"Try before you buy. A lot of services have a free option. Trial it. See what works for your team," Aeilts suggests.
While mention of these platforms is not an endorsement, the company happens to use Microsoft Teams, which works well, Aeilts said. He recently participated in a video conference with more than 115 other SDN employees. He also participates regularly in small video meetings with SDN colleagues and customers.
To be efficient and effective, standard meeting etiquette generally should prevail in conferences and meetings, Aeilts said.
"Meet in a normal manner. That's what video conferencing allows us to do. It allows us to see each other and each other's body language. It allows us to share documents, just like we're sitting in a meeting room together," he said.
Demonstrate courtesy. Don't talk over other people, and don't eat lunch during the meeting, unless everyone also has been invited to eat. Meeting participants must keep in mind at all times that a camera might be focused on them, whether they realize it or not, Aeilts said.
"We almost need to put a little better foot forward when we're on camera. You don't know when people are looking at you. That's a challenge," he said.
Also, realize that noises such as paper shuffling, typing or moving in your chair can be picked up by your microphone and possibly distract the group. If you can, keep the mic close to you or your mouth and put it on mute when you're not speaking. Buying a headset might be a good investment.
Consider your background, too. Make sure there isn't anything inappropriate or distracting behind you.
"Point your camera intentionally," Aeilts said.
If possible, have the camera pointed away from a door in case someone else or a pet unexpectedly enters the room. Position lights or your light source in front of your face, if possible. Don't have the camera pointed directly at a bright light, such as a window because that will cloud the picture.
Position the camera so that your head fills the frame and is not awkwardly cropped. A supplemental webcam might be a good investment for flexibility, too.
Video conferencing technology has been available for several years, but until recently it probably wasn't relied on as heavily to bridge distances between people. Now it's more widely embraced because in many cases, social distancing guidelines don't allow groups of people to meet in person.
Aeilts wonders if video conferencing will continue to be commonly used in the future when people no longer have to worry as much social distancing. That's a good question. We probably should keep learning to use the technology better, just in case.
SDN is a leader in providing business internet, private networking and cloud connectivity to businesses and organizations in communities such as Sioux Falls, Rapid City, Worthington, and the surrounding areas.