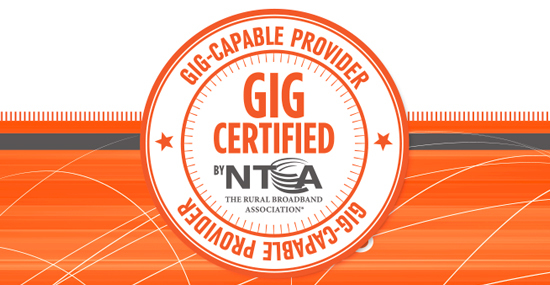 ---
Even by the standards of South Dakota, one of the most rural states in the nation, the unincorporated communities of Gann Valley and Academy are small places. The combined population of the two country neighborhoods in southcentral South Dakota might total a few dozen people, at best.
Yet, residents of the two communities and some other rural areas in South Dakota have access to state-of-the-art, high-speed, broadband technology.
Kimball-based Midstate Communications, which provides internet, telephone, TV, and other communications services to 11 exchanges, provides fiber connectivity to every home and business it serves. Having the fiber in place allows Midstate to offer a gigabit of service to each of its customers.
NTCA - The Rural Broadband Association certified Midstate's network, proving it's a Gig-Capable Provider. And the company is proud to offer such a high level of service to all of its customers, said Chad Mutziger, marketing manager for Midstate.
"We've always been very forward-looking and tried to provide our customers with the most state-of-the-art service. This certification speaks to that," Mutziger said. "We take the world right to their doorstep. What they do with it is up to them."
In addition to Kimball, Academy and Gann Valley, Midstate serves the communities of Fort Thompson, Chamberlain, Oacoma, Pukwana, White Lake, Stickney, Platte, Geddes, New Holland, and Delmont. The company has approximately 5,600 access lines.
Midstate completed installing fiber to all of its customers in 2017. Its certification as a Gig-Capable Provider – and the promotional value that comes with it – became official last October.
A gigabit, or gig, is a data measurement typically used to describe how fast information can be moved per second. One gigabit equals a 1,000 megabits. Just a few years ago, the Federal Communications Commission considered any service above 15 Mbps to be "advanced."
A gig is more capability than most residential users need or would use. Experts have compared it to using a fire hose when a garden hose would suffice. But it's nice to have such a high level of availability for possible future needs.
Multiple organizations predict households will have an average 50 connected devices by 2020 – up from 10 in 2016. The growing demand to stream videos on individual, connected devices and the increase in video quality will also require increased bandwidth for smooth, buffer-free experiences.
NTCA - The Rural Broad Association lists six SDN Communications member companies as gig-certified:
For certification, NTCA requires applicants to be members of the organization in good standing. Applicants also must be able to prove that one-gig technology is available in 95 percent of an exchange or census block.
Seeking gig certification is voluntary. Some companies without certification also are capable of providing one-gig service, said Greg Dean, director of industry relations for the South Dakota Telecommunications Association.
In addition to Midstate, members of the SDTA that offer fiber connectivity throughout their entire service include:
In addition to being SDTA members, they too are all SDN member companies.
"I think the vast majority of our members would be able to provide gig services. They either currently provide it or could provide if requested by one or more of their customers," Dean said.
Customers will demand increasingly more broadband speed and capacity in the future, and telecommunications in South Dakota are providing it now, Dean said.
"The true, untold story is the work a lot of these companies are doing. They're bringing state-of-the-art broadband services to all parts of South Dakota – urban, small town, rural and very rural," Dean said. "It's extraordinary."