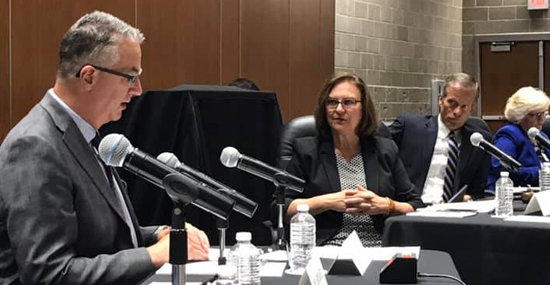 ---
One of the keys to expanding connectivity in the nation is to first determine where people have access to high-speed fiber connectivity and where it doesn't exist. That was one of the messages local and national telecommunications experts shared at a recent U.S. Senate subcommittee hearing in Sioux Falls.
Mark Shlanta, CEO of SDN Communications, testified at the hearing on September 5th. Commissioner Brendan Carr of the Federal Communications Commission also was among other local, regional and national witnesses to testify.
U.S. Sen. John Thune, R-S.D., chairs the Senate Subcommittee on Communications Technology, Innovation, and the Internet and called for the hearing. It examined some of the impressive innovations that high-speed broadband services bring to rural America in sectors such as agriculture, education, health care, and small business.
The hearing also highlighted the need to extend reliable broadband service to rural America.
When opening the hearing at the Southeast Technical Institute, Thune noted that legislative and administrative efforts are underway at the federal level to upgrade mapping information. He also pointed out that rural telecoms in South Dakota are leaders in providing high-quality services to customers.
"Having reliable connectivity and infrastructure in place throughout all parts of the country presents new opportunities beyond streaming your favorite TV show without buffering," Thune said. "For many businesses, access to reliable broadband services means tapping into markets that have been ­– before – unreachable. It means new educational opportunities for students and educators in rural areas, and so much more."
SDN and its 17 member companies in South Dakota serve about 80 percent of the state's geography and about a third of its population, Shlanta said.
"We're not talking about the population centers. Yet our companies aggressively combat the digital divide," Shlanta said. "By the end of 2021, there will be 93 percent fiber to the home, farm, ranch, and businesses in their service areas."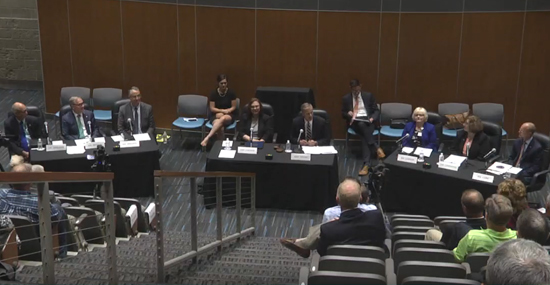 During the past five years, SDN member-owner companies have invested more than $500,000 in infrastructure.
Six of the eight Connect South Dakota Grants that Gov. Kristi Noem's administration recently awarded went to companies affiliated with SDN. The Noem administration awarded a total of $5 million in grants to help companies build infrastructure in unserved and underserved areas.
Shlanta says SDN and its member companies have also been aggressive in applying for federal grants to help improve services in rural areas.
"Fiber-based networks are the solution to a comprehensive broadband infrastructure needed to support the innovations we seek in the field of telehealth, e-commerce, online education and precision agriculture," he testified.
Carr, who serves on an important regulatory board, has traveled across South Dakota and is impressed with the ways businesses and others productively use connectivity.
"When you give them a fighting chance with broadband connectivity, it's so impressive what happens," he said.
Carr said federal efforts are being made to close the digital divide. The fight will continue until businesses and people in parts of rural America that remain underserved have access to services similar to those in urban areas, he said.
Sioux Falls-based Avera eCARE, a national leader in telemedicine services, is among the business organizations that depend on good connectivity in rural areas. Avera eCARE delivers telemedicine services to more than 300 locations in South Dakota, North Dakota, Minnesota, Iowa, and Nebraska. eCARE services also reach into Montana, Wyoming and Kansas.
Agricultural technology is another area where South Dakota has demonstrated national leadership. South Dakota State University in Brookings recently launched the nation's first, degree-granting precision agriculture program.
Dr. Michael Adelaine, vice president for technology and security at SDSU, pointed out that the average cornfield offers more potential data to process than the Library of Congress. For agriculture to make effective use of such electronic information, data must be able to flow freely and quickly between farms and data sources in the cloud, he said.
Craig Snyder, CEO of VIKOR Teleconstruction in Sioux Falls, said limited worker availability is the biggest bottleneck to his company in building large communications towers.
"We need more workforce," he said.
Dr. Jose-Marie Griffiths is the president of Dakota State University in Madison, an institution that is helping the region and nation by training those needed technology workers. For its overall economic benefit, the nation must decide whether to provide equal broadband access across the country or largely abandon rural America to resources such as slow smartphones and library parking lots, Griffiths said.
"Broadband connectivity is critical to the United States' ability to continue to lead in this era of innovation," she said.
You can watch a recording of the hearing below.
SDN Communications is a regional leader in providing broadband connectivity and cybersecurity services to businesses in communities such as Sioux Falls, Rapid City, Worthington, and the surrounding areas.