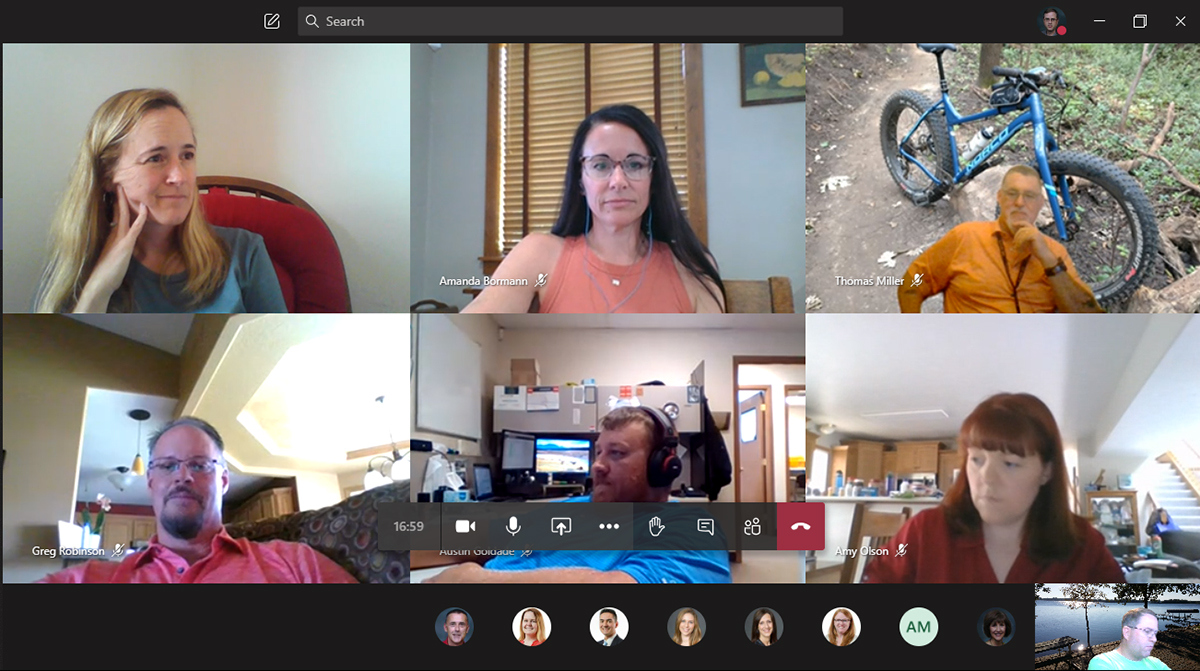 For employees of SDN Communications, working from home has had only one, big drawback.
"Employees miss interacting with other employees," said Amy Preator, human resources director at SDN.
Most SDN employees have been working from their homes since March 19, when COVID-19 was beginning to spread across the Upper Midwest.
"We were able to quickly transition to a work-from-home status because we already had so many procedures in place," Preator said. "The transition for SDN has gone extremely well and very smoothly."
Even before the pandemic, employees had laptops they could take home to access files necessary to do their jobs. Microsoft Teams software already was available for video conferencing. And, of course, most employees had their own cellphones, which they could also use to communicate.
SDN employs about 140 people, including interns. Most of them are based in Sioux Falls, but several work out of other communities in South Dakota or Minnesota. During recent months, approximately 80 to 90 percent of the company's employees have been working from their homes all or a majority of the time, Preator said.

"Our goal is to keep employees off-site if they don't need to be there. That's for everyone's protection," she said.
Some employees have had to keep working at company facilities, however. Members of operations teams have continued to work on-site because their work is essential to maintaining vital, broadband connectivity and related telecommunications services for SDN customers.
For example, team members have kept the company's Network Operations Center and Network Surveillance Center running smoothly 24 hours a day, every day.
The pandemic has interrupted one practice at SDN: hiring. The normal procedure for interviewing candidates for job openings has been temporarily suspended, Preator said.
"We'd prefer to meet with candidates in person. So we put our hiring process on hold for right now," she said.

To help existing employees who miss their workplace and colleagues, SDN recently hosted an event in which workers drove through a company parking lot and were given a goodie bag containing items such as toilet paper, snacks and a beverage koozie. It also had an entertaining crossword puzzle (the answers were the names of SDN employees) and a thank-you note from the company.
A phase to partially reopen company buildings began June 22. Preator and managers established a rotating schedule to allow employees to return to their desks briefly to perform a task or pick up information. Advance permission is required, however.
They have not determined when employees from all departments will fully return to the office, Preator said.
An executive team that includes CEO Mark Shlanta, Preator and several other company managers are monitoring the pandemic daily, including factors such as relevant government guidelines.
So, the degree to which SDN might have employees working from home in the future is not known yet, either.
Judging from some national studies, employees tend to like working from home. In addition, the practice can save companies money. However, situations can vary widely from one company to the next.
Some businesses have not sent any of their employees home since the start of the pandemic. Some companies have had to close entirely.
Preator said she doesn't know how working from home has gone over with other businesses.
SDN is a leader in providing business internet, private networking and cloud connectivity to businesses and organizations in communities such as Sioux Falls, Rapid City, Worthington, and the surrounding areas.