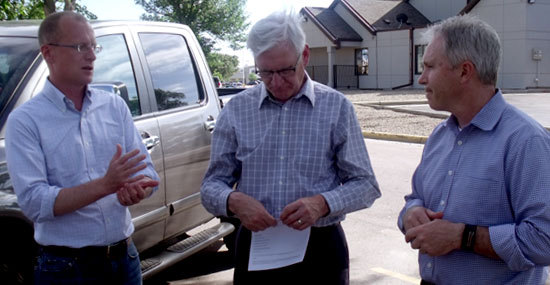 Pictured: Brendan Carr | Mike Cooper | Mark Cotter
---
South Dakota telecommunications leaders and community officials recently had a good, home-field opportunity to express their ideas about key, unfolding issues to the Federal Communications Commission, which regulates radio, television, wire, satellite, and cable communications in the United States.
FCC Commissioner Brendan Carr spent two days in Sioux Falls during a multistate, information-gathering field trip.
President Trump nominated the former general counsel of the FCC to serve as a commissioner of the agency in June 2017. The U.S. Senate unanimously confirmed his appointment and he took office two months later. There are five members of the FCC, which is an independent government agency that Congress oversees.
Its role includes:
Promoting competition, innovation and investment in broadband services and facilities.
Supporting the nation's economy by ensuring an appropriately competitive framework for communications.
Encouraging the highest and best use of the wireless spectrum.
Carr's visit to Sioux Falls on May 31 and June 1 was at least second time in the past year that an FCC commissioner had officially visited South Dakota. FCC Chairman Ajit Pai visited western South Dakota in June 2017.
Carr's stops in Sioux Falls included a meeting at SDN Communications, where he met with telecom executives from around the state. He also checked out a new small cell pole on the campus of the Empire Mail and visited Sioux Falls Tower and Communications. He attended a groundbreaking ceremony for a new headquarters at Sioux Falls Tower, which is among the local companies expected to play key roles in the coming deployment of 5G.
5G communications technology, which is still being developed, was among the major topics that Carr addressed.
"We're looking a lot at state and local deployment issues," Carr said during his stop on the mall campus, where SDN recently installed two small cell poles for Verizon. The poles, which stand 35 feet high, improve wireless broadband coverage in a busy area. Small cell poles feed electronic traffic into bigger towers.
"We try to get out of D.C. as much as we can to see what the challenges are to getting more broadband to more Americans," Carr said.
---
Related: Learn more about Small Cells
---
Among the local officials who visited with him at the mall stop were Mike Cooper, Sioux Falls' director of planning and building services, and Mark Cotter, the city's director of public works. They discussed the increasing need for infrastructure to accommodate rising demands and advancements in technology.
Representatives of Verizon and U.S. Sen. John Thune's office also attended the pole tour.
Carr said that roughly 300,000 communications towers of various sizes currently exist in the United States, and that the total will have to increase 10 to 100 times to effectively accommodate 5G technology. 5G, which is still at least two years away from early deployment, will be faster and have greater capability to serve connected, mobile devices than current 4G or LTE technology.
Cooper mentioned that the city would like to keep new poles aesthetically pleasing. Perhaps some sites, such as street light sites, could be retrofitted to accommodate short poles, he said.
A common issue with new infrastructure in many local jurisdictions is setting fair, regulatory costs related to the permitting process. Cotter said infrastructure such as communications poles serve the public, so local governments should not view permitting and construction of towers as money-making opportunities.
Carr seemed to like what he heard from the Sioux Falls officials.
"We have to find ways to champion rural areas," he said. "We'd love to find ways to work with you and hold you up as a good example."
Earlier in his tour, Carr had what SDN CEO Mark Shlanta said was a productive meeting with telecom managers from across South Dakota. They discussed issues such as broadband deployment, school connectivity and telehealth.
"We talked a lot about what we do at SDN to provide synergies and reduce the operating costs of the telephone companies, so those savings can be passed on to rural customers," Shlanta said.
SDN is a leading, regional provider of broadband connectivity and cybersecurity services for businesses. The company is owned 17 independent telephone companies that serve residents and businesses across the state.