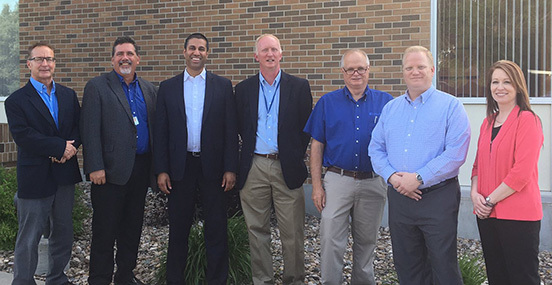 The new chairman of the Federal Communications Commission Ajit Pai recently made a multistate tour of rural America which included a few stops in South Dakota.
This visit was potentially significant because the FCC is responsible for implementing and enforcing the nation's communications laws, including regulation of interstate communications by radio, television, wire, satellite, and cable in the United States and U.S. territories. It is an independent U.S. government agency that is overseen by Congress.
The FCC controls a federal Universal Service Fund, which provides funding to help offset the high cost of deploying voice and broadband services in sparsely populated areas. The FCC also has other regulatory authority that can affect the telecommunications industry. So, it was encouraging that Pai took a week to explore issues in the Upper Midwest.
Pai visited Golden West Telecommunications Cooperative in Wall when in South Dakota. Pai and Nicholas Degani, senior counsel for the FCC, meet with Gold West CEO Denny Law and other leaders of the cooperative met for about an hour and a half on June 8.
"We had the opportunity to share Golden West's background with Chairman Pai, and share our successes and challenges. We had what I thought was an excellent discussion," Law said.
Golden West is a prime example of good, modern telecom with daunting responsibilities. The 101-year-old cooperative's service area includes about 25,000 square miles of countryside, small towns, and American Indian reservations.
Its service area stretches across much of southern South Dakota, and from the Pine Ridge area in the southwestern part of the state to the Faith area in the northwest.
Golden West also is one of the 17 independent telephone companies in South Dakota that own SDN Communications in Sioux Falls. SDN member companies' networks serve about 80 percent of the geography of South Dakota. In addition to leading Golden West, Law serves on SDN's nine-member Board of Managers.
Pai also met with leaders of the Rosebud Sioux Tribe and participated in a roundtable discussion in Rapid City while in South Dakota.
U.S. Sen. John Thune of South Dakota thanked Pai for visiting the state and for holding a discussion with telecommunications stakeholders at a Chamber of Commerce event in Rapid City.
Thune chairs the Senate Committee on Commerce, Science, and Transportation. He issued a statement saying that he looks forward to working with Pai on initiatives that could improve connectivity for people in every part of South Dakota.
"I appreciate his understanding and perspective of rural America," Law said. "I greatly appreciated the chairman making Wall, South Dakota a stop on his trip."
Pai's biography on the FCC website indicates that he understands the importance of good, broadband connectivity to all Americans. The Internet has created a phenomenon he has called the "democratization of entrepreneurship."
Growing up in rural Kansas, Pai is familiar with challenges related to providing good telecommunications services to Americans in sparsely populated parts of the United States. He was designated the chairman of the FCC by President Trump in January 2017.
He previously served as a commissioner with the FCC. He initially was appointed to the FCC by President Obama in May 2012.
Consumers benefit more from competition than regulation, according to Pai. He and the FCC need to make sure that current rules reflect modern realities. Pai's trip to rural America should help in that endeavor.
He made several stops in other states as well, as he traveled between Wisconsin and Wyoming.