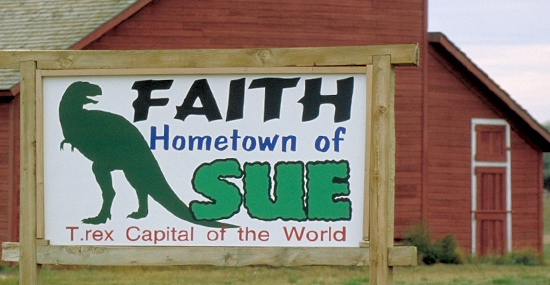 The small town of Faith might be best known as the former home of SUE, the Tyrannosaurus rex. A fossil hunter discovered the creature's skeletal remains near the community in 1990.
Catherine Bach, the actress who played Daisy Duke in the TV series "The Dukes of Hazzard," also spent part of her youth in the area.
Among Faith's other claims to fame is the Faith Municipal Telephone Company, the smallest phone company based in South Dakota. It's also probably one of the smallest in the nation, says Richard Coit, executive director of the South Dakota Telecommunications Association.
Faith Municipal Telephone is among the 17 independent phone companies in South Dakota that own Sioux Falls-based SDN Communications. SDN provides broadband connectivity and related telecommunications services to business and institutions in the region.
The telephone company is different than most SDN member companies. It's one of three city-owned member companies. The other two are in the larger towns of Beresford and Brookings.
Faith Municipal provides telephone and Internet services to residents and businesses in a town of 421 people in sparsely populated northwestern South Dakota. The community itself is in Meade County, roughly 100 miles from the county seat of Sturgis.
"We are 125 miles northeast of Rapid City and 125 miles northwest of Pierre, so we are a very rural community," says Debbie Brown, city finance officer.
The Faith Livestock sale barn is an important business because ranching is big in the area. The town also has an enclosed mall, called the Prairie Oasis Mall, on Main Street. The entire community promotes itself as a prairie oasis.
Faith is unique, says Calvin Chapman, a minister at the Faith Church of Christ and a member of the City Council. Residents tend to fill multiple roles and help each other out, he says.
"We're out here kind of by ourselves. It's a long way to services," Chapman says. "We are a very independent little community, pretty self-contained, because we have to be."
In addition to having its own phone company, Faith also provides residents with electric, water, sewer and garbage services.
The town was named after Faith Rockefeller, the daughter of an investor in the railroad that founded the community. Established in 1910, Faith's first telephone switchboard was in operation by 1920.
Bell Telephone gave the city a manual switchboard in 1952 and in 1966 city voters approved a $29,000 bond issue to buy new central office equipment. In recent years, Faith has leased switching services from Golden West Telecommunications, which is also an SDN member.
Five city employees, including Brown, assist with the phone business. However, none of them works exclusively for the telecommunications company. They help other departments, too.
After moving to Faith from Belle Fourche in 2000, Chapman began lobbying for improved Internet service.
"I would stop down at the city office and check progress reports. They got a little tired of me, I think," he says, chuckling at the memory.
Chapman says good Internet service is immensely important to rural communities. They sometimes lack the easy access to information and services that people in more urban areas routinely enjoy.
He joined the City Council two years ago and is pleased with the improvements to the town's telecommunications infrastructure over the past decade or so. A fiber optic ring now connects government institutions and key businesses.
"We've had some major step-ups with our Internet and its speed," Chapman says. "I am very, very satisfied with our Internet service. For a town of under 500, we have a good system."
Stay connected with SDN by signing up to recieve this blog to your email. Just use the button below to subscribe or change your preferences.