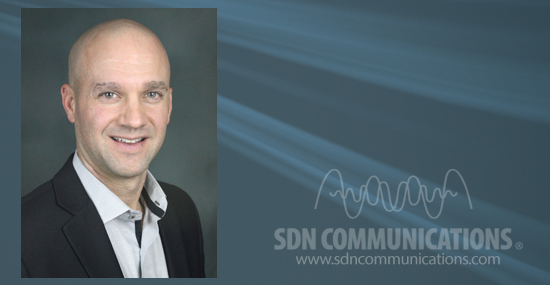 Independent telecommunications companies that span southern Minnesota have successfully linked their networks to expand their reach and make more broadband services available to businesses in the region.
They're now all part of South Dakota-based SDN Communications' multistate network. That enhances the service potential of the Minnesota companies' network even more.
SDN is the managing partner of the project, which was announced in 2014, and installed new fiber where needed. The enhanced network is ready for businesses in the area and now has an experienced, Minnesota-based telecom sales executive to work with them. He's someone who knows the industry well.
Ryan Dutton joined SDN's sales team in early November as an account executive. He works out of his hometown of Blue Earth, Minn., and calls on businesses throughout southern Minnesota.
Dutton occasionally worked in the past on projects for SDN and its member companies in South Dakota, so he was previously familiar with the company. He has admired SDN for years.
"It's extremely well run. They continue to have consistent growth," he says. "When you talk with people around the country about SDN, it's always positive connotations that come up. I just feel really fortunate to be working with them."
Dutton reports to Ryan Punt, SDN's vice president of sales.
"What Ryan brings to southern Minnesota and SDN is relationships and knowledge of our industry," Punt says. "With those elements, we're very happy to have him onboard."
For the previous 11 years, Dutton worked out of Blue Earth for Cronin Communications, a consulting firm based in Washington, D.C., that serves independent telecommunications companies around the nation. He was director of market research and training for Cronin from 2005 to 2013 and was the executive director from 2013 until he left the company.
Before working for Cronin, he worked in Blue Earth for about eight years in marketing and sales positions for BEVCOMM, one of the partner companies in the southern Minnesota network. Dutton's wife, Arlette, is the chief financial officer at BEVCOMM.
Dutton even worked for BEVCOMM before attending the University of St. Thomas in St. Paul where he earned a degree in marketing management.
"I grew up in telecom. It's the only thing I know," Dutton says. "I have a pretty extensive network of people who I know in southern Minnesota from growing up and living here. I hope to leverage those relationships on behalf of the network."
He also has national contacts he hopes will work to the advantage of SDN and its customers.
Dutton will help businesses in fields such as banking, health care and agriculture, as well as governmental units, take advantage of the expanded connections, reliability and security that SDN can provide.
"The biggest advantage is they can interface with one provider to get all of their locations on a reliable, fast, redundant network that is completely scalable," he says.
Dutton will also work with national carriers who use SDN's network at the wholesale level to move calls and data for their customers.
In addition to BEVCOMM and SDN, partners in SMB network are:
SDN's new market area extends across southern Minnesota from South Dakota to Wisconsin and from the southern Twin Cities metropolitan area to northern Iowa. Future expansion of the network is expected to tie communities in northern Iowa directly into the network.
Dutton serves a large area, but he probably won't have to travel as much nationally as he did in his prior job. He looks forward to spending more nights with his family.
He and his wife have two daughters and a son who range in age from 6 to 14. Following their kids' activities is one of the couple's greatest joys.
He also enjoys sports-related activities.
"If there's a sport and you keep score, I've probably tried it, not necessarily well, but I've probably tried it," he says, jokingly.

Call Ryan Dutton at 507-526-5605.