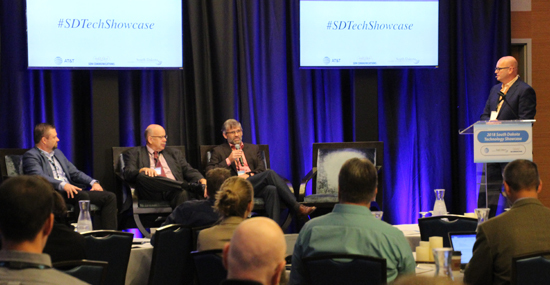 ---
Biomedical technologies being developed in South Dakota will impact the world, says Rich Naser, president of the USD Discovery District in Sioux Falls.
The Discovery District is a high-tech research park beginning to take shape in northwestern Sioux Falls, next to the University Center. Naser and the founders of three biomedical companies with ties to the Discovery District and a neighboring research facility were among the featured speakers Sept. 25 at the third annual South Dakota Technology Showcase in Sioux Falls.
The Discovery District is creating a collaborative environment for researchers, students, faculty, innovators, and entrepreneurs, Naser said.
"The idea is to commercialize new technologies – technologies that not only impact our region but impact the world," he said.
Last year, the Technology Showcase focused on advances at the national level – products such as driverless cars and unmanned aircraft – that have a future in the state. This year the focus shifted to technologies currently being created or used in South Dakota. The presentations were exciting as well as informative.
In addition to advances in biomedical devices and treatments, speakers talked about world-class scientific research taking place at the Sanford Underground Research Facility in Lead, S.D., and how Daktronics of Brookings is leveraging LED technology to sell high-quality display boards around the globe.
Speakers also talked about the spread and increasing importance of fast, reliable and secure broadband connectivity, public safety innovations and how technology is being used to help manage cities.
The free, half-day conference was presented by AT&T, the South Dakota Chamber of Commerce & Industry and SDN Communications. About 100 people were treated to special insights on how technology is transforming everyday life and stimulating the economy.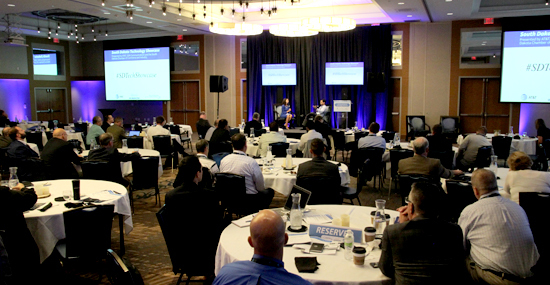 Among other topics, the founders of three biomedical companies who spoke on the panel moderated by Naser highlighted some of the strengths and challenges facing South Dakota on the technology front.
Dr. Dan Engebretson of Tailored Medical Devices, which is developing products to treat blocked arteries in legs, said that one workforce-related challenge is simply that "nobody knows that we have these cool things happening." That might be keeping students from developing an interest in such work, he said.
"Whatever we can do to help increase the awareness of these sorts of opportunities can help solve that problem," said Engebretson, who also chairs USD's Department of Biomedical Engineering.
A related challenge will be keeping the state's talented graduates in South Dakota, said Dr. Ron Utecht of Alumend, which is owned by Avera and is testing a unique treatment for peripheral vascular disease.
"We do have a great workforce," he said. "One of the challenges we're going to have in the future is to keep that talent here."
Dr. Eddie Sullivan, president and CEO of SAB Biotherapeutics, said institutional investors are beginning to pay attention to what's happening in South Dakota. His company is a clinical-stage, biopharmaceutical company developing human antibody therapeutics to treat diseases ranging from diabetes to cancer. The company moved its operations to South Dakota from Massachusetts and Kansas.
"I will tell you that places like San Jose, New York and Boston are taking notice there is innovation happening in the middle of the country, and that it's not just flyover country," Sullivan said.
The state is building a world-class infrastructure for scientific commercialization, but there is still a lot of work to do, he said.
"I am excited to be part of it. We could be just another company in Boston, Massachusetts, or we could be part of something that I think is really amazing. That's why I appreciate being here," Sullivan said.
SAB Biotherapeutics and Alumend will be the anchor tenants in a laboratory, office and manufacturing building planned at the Discovery District. Alumend is currently based in the USD Graduate Education and Research Center, or GEAR Center, on the University Center campus. SAB Biotherapeutics is currently based in Sanford Research. Tailored Medical Devices is also based in the GEAR Center.
---
Watch each of the presentations starting with the Welcome from Sioux Falls Mayor Paul Ten Haken through the YouTube video playlist below.