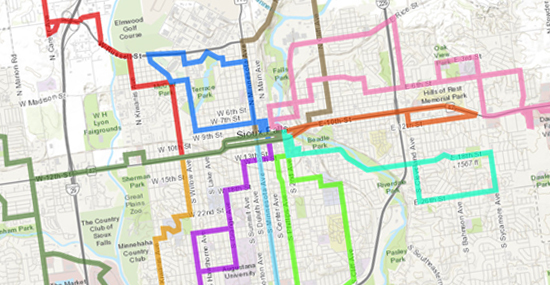 ---
Sioux Falls might discard its current system of running buses on regularly scheduled routes. A team of city employees is exploring ways to make public transportation more responsive to riders, and they're counting on data and technology to help them create a better and more efficient system.
A concept under consideration essentially would create an Uber-like system for buses, said Jason Reisdorfer, director of innovation and technology for the city. He oversees the transit study group.
"It's just taking a really old problem and looking at it in a different way," Reisdorfer said.
One vision that has emerged from the group is a system in which buses would travel a few, fixed routes around the city. Meantime, smaller vehicles would operate in the quadrants of the community, picking up riders on demand and taking them to stops along the fixed route.
It will be interesting to see what kind of new system emerges.
Reisdorfer was one of several speakers at the 2019 South Dakota Technology Showcase, which was held Sept. 26 at the Sioux Falls Convention Center. The annual conference is an opportunity for business and technology leaders in the region to keep up with innovations at the local and national level.
The half-day conference was presented by AT&T, SDN Communications and the South Dakota Chamber of Commerce & Industry.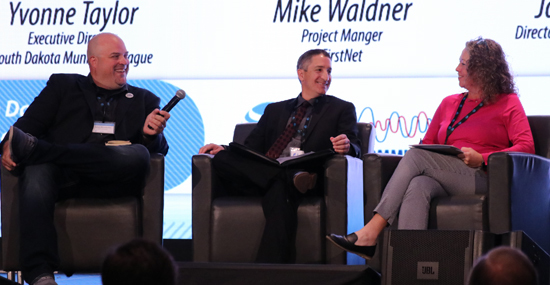 Reisdorfer was on a panel that that discussed "Smart Cities in Action." In addition to briefly discussing possible transit system changes, he mentioned that the city expects to place computer nodes on utility poles to help the city collect data on subjects such as mosquitos and gunshot noises. Immense amounts of data potentially will be available.
"Harvesting it and knowing what to do with it will be the key," he said.
Mike Waldner also spoke on the panel about smart cities. In addition to being the project manager for the state's emerging FirstNet first-responder system, Waldner serves on the Madison Board of Commissioners. He's also worked in information technology and taught at Dakota State University.
Waldner encouraged communities to take advantage of public expertise to help solve problems.
"We need to tap more and more into our universities," he said.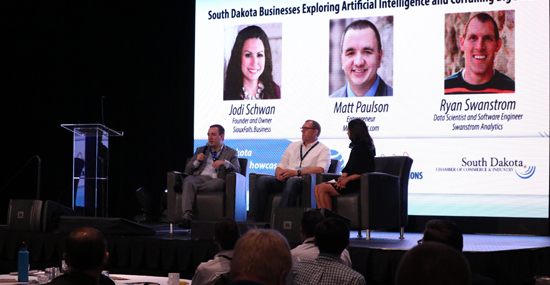 Another panel discussion focused on South Dakota businesses that understand artificial intelligence and know-how to make productive use of computer-collected data. The discussion featured Matt Paulson with MarketBeat.com. The site publishes investment newsletters for more than 1.1 million subscribers. It also featured Ryan Swanstrom of Swanstrom Analytics.
Swanstrom is a data scientist and software engineer with experience assisting companies such as Microsoft and Wells Fargo. He recently formed his own local business to help companies in the region develop strategies to use data.
For example, Swanstrom says businesses could potentially use data to automate making decisions in order to quickly take responsive action. It's not very productive to convene a meeting of executives in two or three days to determine how to respond to something that happened two or three seconds ago, he said.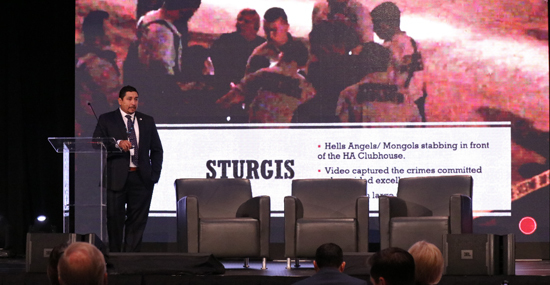 Dan Byron, a special agent and major case manager with the South Dakota Division of Criminal Investigation, gave an interesting presentation about the use of technology in law enforcement.
The DCI and other law enforcement agencies make extensive use of strategically placed surveillance cameras during events such as the Sturgis Motorcycle Rally and other South Dakota events that attract large crowds. Images picked up by cameras are monitored in a central location.
One of the biggest potential problems during the annual rally, which attracts hundreds of thousands of bikers to Sturgis, is the possibility of outlaw gangs getting in fights with each other, Byron said. Typically, gang members won't talk to the police, even when they are the victims of an attack, so cameras placed throughout the town can help identify suspects, Byron said.
"Pretty much every corner of Sturgis is covered (by cameras), and they're running 24/7," Byron said.
This year's Technology Showcase produced a lot of insightful and fascinating material – too much for one column. I'll recap highlights from some of the other presentations in a future blog.
Watch the presentations in the playlist below.
SDN Communications is a regional leader in providing broadband connectivity and cybersecurity services to businesses in communities such as Sioux Falls, Rapid City, Worthington, and the surrounding areas.