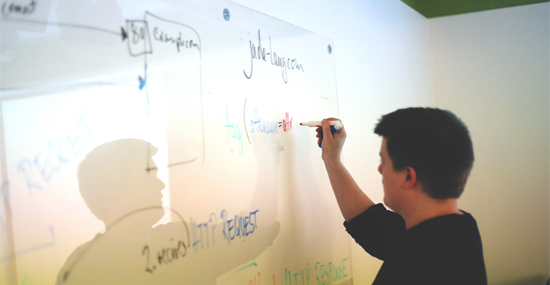 Most human resource executives will tell you that investing in employee training is a worthwhile business expense.
Developing workers internally can help a company on multiple fronts. Good training can increase employee productivity and promote worker satisfaction. It also can enhance the appeal of the company, which is useful in attracting new employees.
Good training and other forms of worker development can save a company money in the long run by helping keep the business relevant and efficient, and by reducing employee turnover.
Ongoing training is especially important for companies in high-tech fields, including SDN Communications. SDN is the premier provider of broadband connectivity and related telecommunications services for businesses in the Sioux Falls region. It's also a company that places heavy emphasis on employee training and development.
"Having educated employees obviously makes for better customer service and more engaged employees," says Amy Preator, director of human resources for SDN.
The importance that SDN puts on employee training and development is most recently evident in the fact that it has a region-leading eight employees certified by the Metro Ethernet Forum (MEF) as Carrier Ethernet Certified Professionals. And the total is expected to increase.
The MEF is a global, nonprofit, industrial consortium of telecommunications service providers, major carriers, equipment vendors and other companies with an interest in Metro Ethernet.
Ethernet is a dominant, standardized, networking protocol that has existed in the telecommunications industry for decades. SDN has offered it for 10 years. SDN's networking equipment recently earned MEF Carrier Ethernet 2.0 certification, which is the newest and highest standard in the industry.
SDN employees also are encouraged to pursue relevant training and certifications in dozens of other areas, including from product vendors such as Cisco or Microsoft.
Employees are encouraged to get certified in their specialties, says Russ Claussen, director of technical operations at SDN.
"I think it makes the customer feel more at ease to know the employees are certified. It means they have been tested and are competent to work on their products," he says.
Training is a slightly different concept. Preator divides in-house training offered by SDN into four primary categories:
Safety
Investment and financial education
Wellness education
Professional development
Preator's department organizes multiple sessions each year on safety, finances and wellness. Professional development refers to training that employees seek off-site.
The company also offers regular, in-house sessions designed to inform its 180 employees about the company's products and services. For example, in one recent session, a sales engineer explained the basics of computer networking for the benefit of employees who work in other areas.
Employees are required to attend at least five training sessions a year. They also can take advantage of a generous tuition-reimbursement program. SDN will reimburse an employee up to $5,250 per year for tuition expenses at an accredited institution.
Speaking from my prior experience working in the constantly evolving media industry, I realize that some employees don't take training opportunities seriously. But they tend to be workers who have maxed out their job potential or likely will be moving on.
The flip side is that good employees at companies that lack good training opportunities are likely to be short-termers. Good employees shouldn't be taken for granted and left to stagnate, grow frustrated or quit. Employers should give workers regular opportunities to refine their skills and expand their knowledge base. Employee efforts to learn should be demonstrably appreciated, too.
Companies that recognize the value of good training and development tend to be the leaders in their industries. SDN is among them.
In addition to being the regional leader in business connectivity, SDN is a great place to work. For more information about the company, visit the About Us section of the SDN website. If the company sounds appealing, check out their current job openings to see if they have one for you.