---
Developing a good, emergency management plan is critical to the survival and future well-being of businesses of all sizes. But a plan is worthless if it isn't updated regularly, made accessible throughout an organization and followed in times of need.
A carefully drafted and maintained plan can reduce chaos during a crisis, save lives, and initially guide an organization's post-disaster recovery efforts.
"It is a major challenge to keep your plan updated, but that plan is critical to your ability to keep your organization – and most importantly, your people – alive," according to Bob Mellinger, founder and CEO of Attainium Corp. The Arizona-based company assists organizations with services such as business continuity planning and on-site training exercises.
Mellinger recently led employees of SDN Communications and SDN's member companies through a tabletop training exercise. The drills presented emergency scenarios that the participants worked through in groups.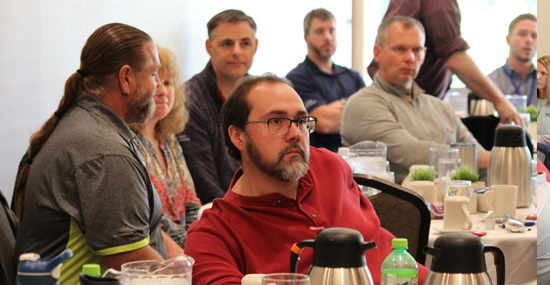 I witnessed the second day of training, which included representatives of member companies from across South Dakota. Significantly, the exercise brought attention to possible gaps in some companies' business continuity/disaster recovery plans, or BCDR plans.
The make-believe disaster in the exercise that I watched focused on an imaginary company named Sioux-Tel, which was based along a railroad track in northeastern Sioux Falls. The 65-year-old company with 17 employees specialized in providing advanced telecommunications products, including fiber-optic connectivity.
In the drill, details unfolded slowly, beginning with reports of internet outages on a hot July day. The bad news culminated with reports that a train carrying chlorine gas had derailed and exploded. The damage included the destruction of Sioux-Tel's four huts, which are shelters that protect important network equipment.
In a training exercise the prior day, a group of SDN employees had to deal with an imaginary flu epidemic that killed some people, including the CEO. (Again, we stress - imaginary.)
The train derailment scenario centered on a company similar in size and operations to some SDN member companies. A representative of one of the real-life companies participating in the training pointed out that a fire disaster in a small town could significantly weaken the telecom's ability to deal with problems because several staff members are volunteer firefighters.
A similar challenge could arise if key staff members who serve in the military were suddenly called to active duty.
Possible staffing challenges during emergencies presented side issues that even organizers of the training exercise hadn't considered in advance. That's part of the value of these exercises.
Going through emergency training exercises helps identify and fill gaps in disaster plans, said Brian Oyen, a project manager at SDN. He's one of three executives who share responsibility for maintaining SDN's BCDR plan.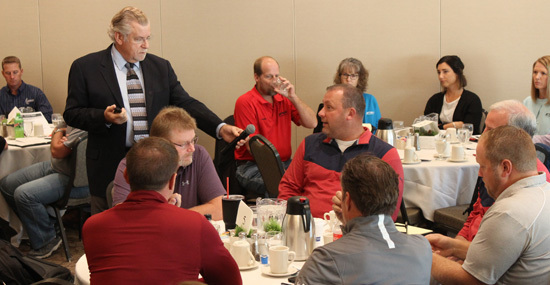 As Mellinger noted, a professional football team would not prepare for a game without a good playbook. Similarly, a good organization needs well-thought-out plans to operate, Mellinger said.
Communicating with employees in advance of a disaster is an extremely important element of planning, too.
"People need to know what other people are going to do rather than just wing it," he said.
Companies' priorities can vary before a disaster and shift during the experience. That said, Mellinger's initial priorities would be:
1 – Protecting the safety and security of people.
2 – Effectively communicating internally and externally.
3 ­– Getting the company back into operation.
Mellinger conducts about 40 training exercises a year. One of the most consistent problems he sees is that people tend to make assumptions about what will happen based on limited information or past experiences, and that can lead to a faulty course of action.
Good planning cannot prevent errors in human judgment, but it can provide a process for decision-making and increase the chances that an organization will survive a disaster.
---
SDN Communications is a regional leader in providing broadband connectivity and cybersecurity services to businesses in communities such as Sioux Falls, Rapid City, Worthington, and the surrounding areas. SDN member companies serve much of rural South Dakota with internet, telephone, TV and other telecommunications services.