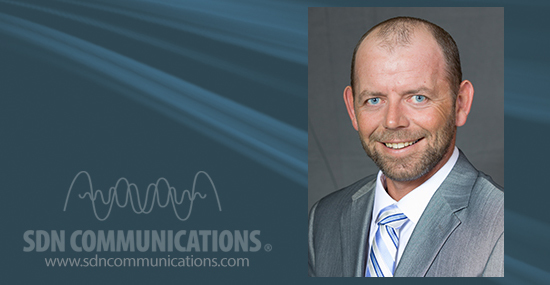 J.J. Anderson grew up in his family's road construction business, so he's no stranger to hard work.
He learned at an early age how to operate heavy equipment. Moving dirt and building fences were great experiences, despite the long work days, he says. But he eventually decided he wanted to do something else for a living.
He found a good place for his interests and skills with SDN Communications as a wholesale carrier relations executive at the company's headquarters in Sioux Falls.
As part of the wholesale services team, Anderson works with SDN's member companies as well as regional and national carriers.
"It's a growing part of our business. It's fast-paced. It's challenging," Anderson says. "There's no lull in the action. There's constant work. It's definitely not boring."
Anderson graduated from high school in Webster, S.D., in 1995 before moving to Fargo. He worked in construction there for about two years because his girlfriend and future wife, Leslie, was attending college in the area.
He shifted into construction sales and in early 2000, took a job with TDS Telecom selling phone lines and long-distance service.
"The Internet wasn't a big deal yet," Anderson says.
In 2002, he moved to Rapid City when Leslie got a job there with the federal government, and he looked to get back into telecommunications.
"I saw where the industry was going. I was successful at it in Fargo. I figured I could be successful in Rapid City," he says.
About that time, SDN wanted to expand its presence in western South Dakota. Anderson talked to SDN and was hired in March 2003.
Initially, he worked out of an office at Golden West Technologies, a subsidiary of Golden West Telecommunications, which is one of SDN's 17 member companies.
"It was great," he says. "It's a challenging market. At the beginning, we didn't have a lot of infrastructure there."
But as SDN built up its fiber optic network and its customer base in western South Dakota, "people started taking notice of who we were," he says.
He transferred to Sioux Falls in October 2010 and became a regional wholesale account executive and two years later became a wholesale carrier relations executive.
"Of course, we rely on the whole company to implement products for the customers," he says.
The telecommunications industry is always changing, Anderson says. When he started in the field 14 years ago, a lot of businesses could operate with a phone line, he says. Now, with the Internet, some businesses don't even have a traditional phone.
SDN strives to promptly serve clients who want to add bandwidth or need a related telecommunications service, Anderson says.
"The staff at SDN does a great job of keeping up with what's coming next," he says.
Anderson and his wife live on an acreage near Valley Springs with their two dogs. He commutes 26 miles to work but doesn't mind.
"It's worth not having the hustle and bustle of the city around. It's very relaxing," he says.
He and his wife enjoy traveling and especially like to visit a warm-weather location during the winter months. Anderson also enjoys riding a motorcycle, hunting and fishing.
Email J.J. Anderson or call him directly at 605-978-1092.