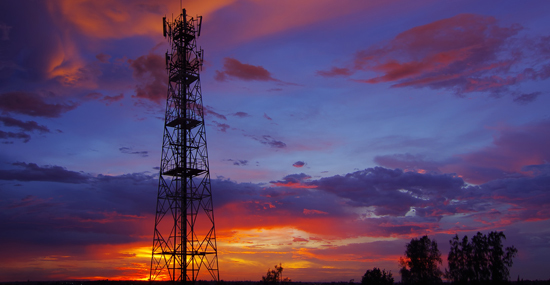 ---
It's a good time to be in the telecommunications infrastructure business, according to Jennifer Fritzsche. She analyzes national telecom issues and says tens of billions of dollars of new infrastructure will be necessary to prepare the United States for 5G, the next generation of wireless communications technology.
That's a lot of macro towers, small cell poles, broadband fiber, and related equipment.
5G is being designed globally to make wireless services faster, more reliable and hopefully more secure.
Although full-fledged 5G service is years away from most U.S. cities, early signs of development are becoming evident. Wireless carriers have launched 5G service in parts of major cities. In smaller cities, including Sioux Falls, small cell poles are increasingly evident. The poles help improve existing levels of 4G communications technology, and eventually, they could be used to support 5G transmissions.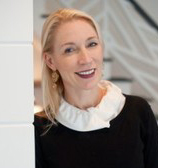 "We believe 5G is going to require a whole other round of spending. In the baseball analogy, we believe we're maybe in the early part of the second inning, with lots of the game left to be played," said Fritzsche. She's the managing director for communications infrastructure and telecom services for Wells Fargo Securities in Chicago.
Fritzsche will give the keynote speech at this year's South Dakota Technology Showcase, which is scheduled from 8 a.m. to 1 p.m. on Sept. 26 at the Sioux Falls Convention Center.
Registration for the half-day conference is open. Space will be limited, so if you're interested in attending and learning more about innovations planned or in use in South Dakota and beyond, claim your spot now. The cost is $30. Lunch will be provided.

Fritzsche will present a Wall Street perspective about the wireless infrastructure sector, which she's analyzed for more than 20 years. In addition to talking about the coming of 5G and infrastructure needs, she'll discuss the competitive strategies of major wireless carriers and issues involving the wireless spectrum.
She expects to also cover the national ramifications of the pending merger of T-Mobile and Sprint. T-Mobile and Sprint are the third- and fourth-largest wireless carriers in the United States; Verizon and AT&T are the biggest. The U.S. Justice Department has approved the T-Mobile-Sprint merger but a group of states is challenging it, Fritzsche said.
Differences in service levels available in some urban and rural areas of the nation also are expected to be a topic. 5G, for example, is likely to arrive in more densely populated urban areas before it spreads to parts of rural America.
"The digital divide is very topical right now in Washington, and it probably will be a major part of the election cycle," Fritzsche said.
Although the keynote presentation will be national in scope, much of the conference's focus will be on what's happening on the technology front in South Dakota.
Attendees will also hear from speakers from Raven Aerostar Technical Solutions, Dakota State University and SDN Communications. Mark Shlanta, CEO of SDN, will talk about why fiber optics still matter.
In addition, panels of local experts will discuss smart cities and how some South Dakota businesses are exploring artificial intelligence and corralling big data. Panelists will include representatives of MarketBeat.com, Farmers Business Network, Unify Consulting, FirstNet, and the city of Sioux Falls.
The Technology Showcase is presented by AT&T, SDN Communications, and the South Dakota Chamber of Commerce and Industry.
SDN Communications is a regional leader in providing broadband connectivity and cybersecurity services to businesses in communities such as Sioux Falls, Rapid City, Worthington and the surrounding areas.
---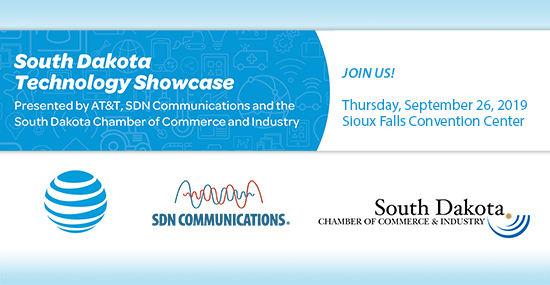 South Dakota Technology Showcase
Thursday, September 26, 2019
8:00 AM – 1:30 PM CDT
Sioux Falls Convention Center
Cost: $30*

AGENDA (updated):
Panel Discussion: South Dakota Smart Cities in Action
Moderated by Yvonne Taylor, South Dakota Municipal League
Mike Waldner, FirstNet Project Manager
Jason Reisdorfer, City of Sioux Falls
True Crime & True Tech from Sturgis
Dan Byron, Division of Criminal Investigation
Panel Discussion: South Dakota Businesses Exploring Artificial Intelligence and Corralling Big Data
Moderated by Jodi Schwan, SiouxFalls.Business
Matt Paulsen, MarketBeat
Ryan Swanstrom, Unify Consulting
Lighter-Than-Air Innovation: Stratospheric Balloons, Radar Sensors & Aerostats
Sean Turgeon, Raven Aerostar
Why Fiber Optics Still Matter
Mark Shlanta, SDN Communications
Connected for Life: Educational, Economic and Community Development
Dr. José-Marie Griffiths, Dakota State University
KEYNOTE PRESENTATION:
National Industry Trends – A Look Into The Future
Jennifer Fritzsche, WellsFargo
*Ticket sales are being donated to the CybHER® program to empower, motivate and educate girls in cybersecurity.