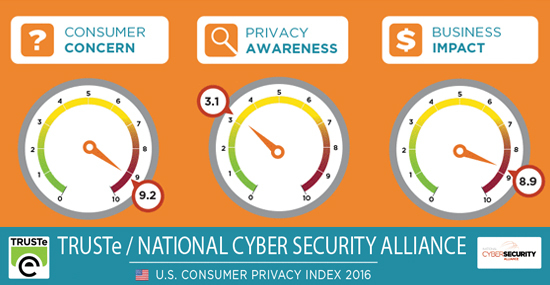 A whopping 92 percent of U.S. Internet users worry about online privacy, and 89 percent say they avoid companies that don't protect their privacy.
Those are among the attention-grabbing numbers in the 2016 U.S. Consumer Privacy Index published by TRUSTe, a data privacy management company, and the National Cyber Security Alliance.
A high level of public concern about privacy is understandable, considering the growing number and severity of security breaches at major companies in the United States. Many companies that have been successfully hacked probably haven't even discovered the breach yet.
Businesses – especially those that cater directly to consumers – should be aware of growing public fears about consumer privacy and take steps to improve the protection of information entrusted to them. Then, they can reassure and comfort customers.
Data for the 2016 TRUSTEe / NCSA survey was collected in late December of 2015. Some of findings in the index are contradictory, which underscores the complexity of challenges.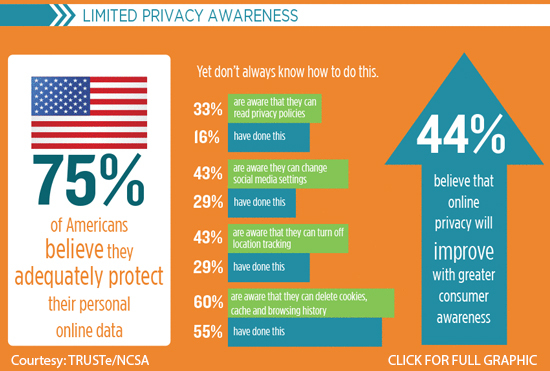 Three-fourths of Americans believe they adequately protect their personal data, for example, but only 16 percent have read privacy policies for online programs and only 29 percent have turned off location tracking applications.
Thirty-two percent think protecting personal information is too complex, and 38 percent say clear procedures for removing information would increase their trust in businesses.
Instilling confidence in consumers is a big job, but taking care of their own computer networks is an obvious place for businesses to start.
Companies also should be transparent to customers in how they collect and use personal information, she said.
There isn't much authoritative guidance available from the government about how businesses should protect consumer privacy because there isn't consensus on how to do it.
The National Institute of Standards and Technology (NIST) led the development of a voluntary framework to help businesses improve their cybersecurity practices and, therefore, better protect the nation's critical infrastructure.
The NIST Cybersecurity Framework incorporated suggestions from industry, government and academia to create a protection process for industries in fields such as financial services, electric utilities and telecommunications to follow in developing their own strategies.
However, NIST hasn't been able to reach a consensus with affected industries about how privacy should be protected.
Regardless, a big part of the burden will continue to fall on consumers themselves. That, in turn, will affect the companies with which consumers choose to do business.
Advances such as the continuing development of smart products that fall into the Internet of Things (IOT) realm are making life better for people, but they're increasing security challenges for manufacturers and their consumers.
StaySafeOnline.org, which is powered by the NCSA, notes that usernames and passwords are not enough to protect email, banking or social media accounts.
StaySafeOnline offers numerous suggestions to help people fight and respond to cybercrime. I've shared a few below:
Have a separate and strong password for every Internet account that you have.
Write down your passwords and store them securely away from your computer.
Set privacy and security settings on websites to your level of comfort.
Lock down your login. Fortify your accounts by enabling the strongest authentication tools available.
Businesses looking for help in improving their cybersecurity can get help from Sioux Falls-based SDN, the region's leading provider of broadband connectivity and related cybersecurity services. To continue to get advice, receive this blog in a weekly email by checking the box and filling out the form below. Don't worry, your information is secure with SDN.