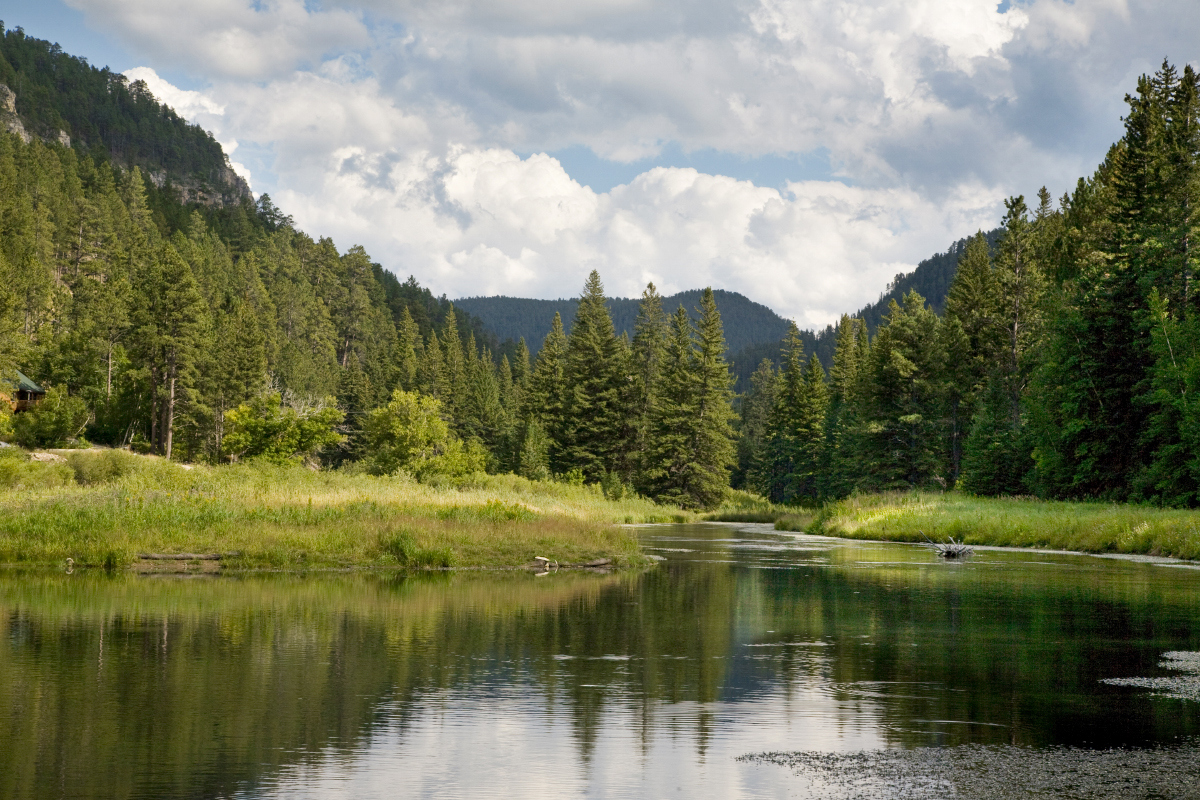 On the west edge of Rapid City near Canyon Lake, SD Highway 44 begins its climb into the Black Hills National Forest.
Bighorn sheep gather along the highway in the fall, attracting locals and visitors who snap photos and watch the males butt horns in a show of dominance. The highway winds past Cleghorn Springs State Fish Hatchery, countless trailheads and eventually Johnson Siding as it makes its way toward US Highway 385 - the scenic drive connecting Hill City and Custer to Lead/Deadwood.
Anyone who has traveled highways 44 and 385, or anyone who lives in the area, knows all too well that internet and cell service is tenuous there. Connectivity drifts in and out based on driving location. For some homeowners, it's nonexistent. For businesses or potential business owners, the lack of connectivity can be a dealbreaker.
But that's about to change.
Come spring 2022, this same route will become the starting point of two SDN Communications ReConnect fiber projects, massive undertakings managed by FARR Technologies, a South Dakota company with extensive telecommunications expertise.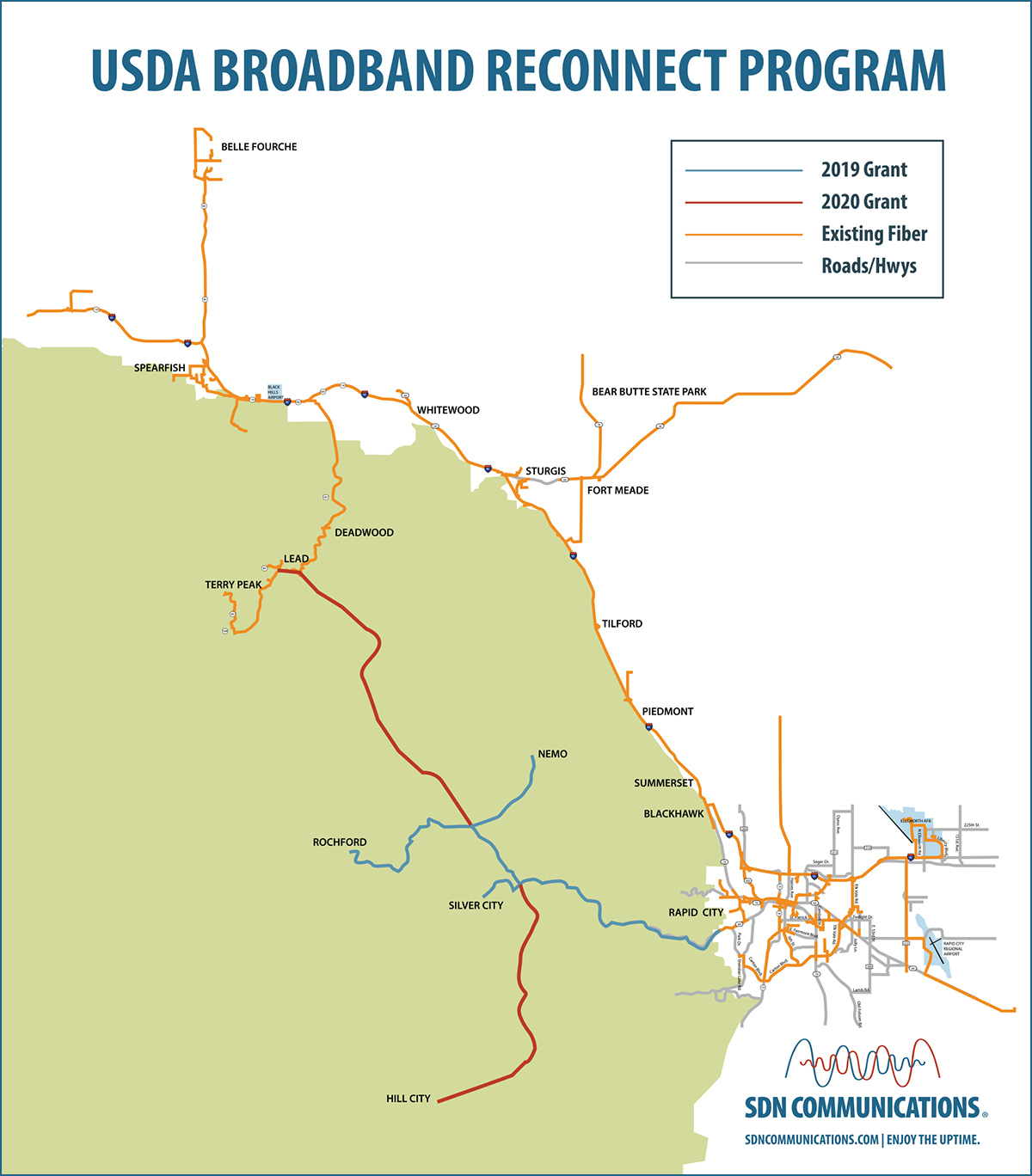 ReConnect 1, shown in blue, involves laying fiber along the stretch of Highway 44 from Rapid CIty to Highway 385 before branching off to Nemo, Rochford and Silver City. ReConnect 2, shown in red, travels along Highway 385, connecting Lead and Hill City. The two projects require 85 miles of fiber, eleven monopoles and $12 million in construction ($9 million from the federal government and $3 million from SDN).
The project will make high-speed internet and cell service available to five Black Hills communities - Silver City, Nemo, Rochford, Hill City and Lead/Deadwood - as well as the surrounding areas.
"Once complete, ReConnect will connect the Black Hills in a way it's never been before. It's exciting," says Steve Angerhofer, a founder and partner of FARR.
FARR Technologies has managed projects for SDN before, but this may be one of the most challenging, both for forest management and geographical reasons. Obtaining permits from the U.S. Forest Service and other agencies required public input and time. The wait for permits pushed the start date of ReConnect 1 from the original fall 2021 to spring 2022.
As for the geological challenges ‒ it's about the rocks.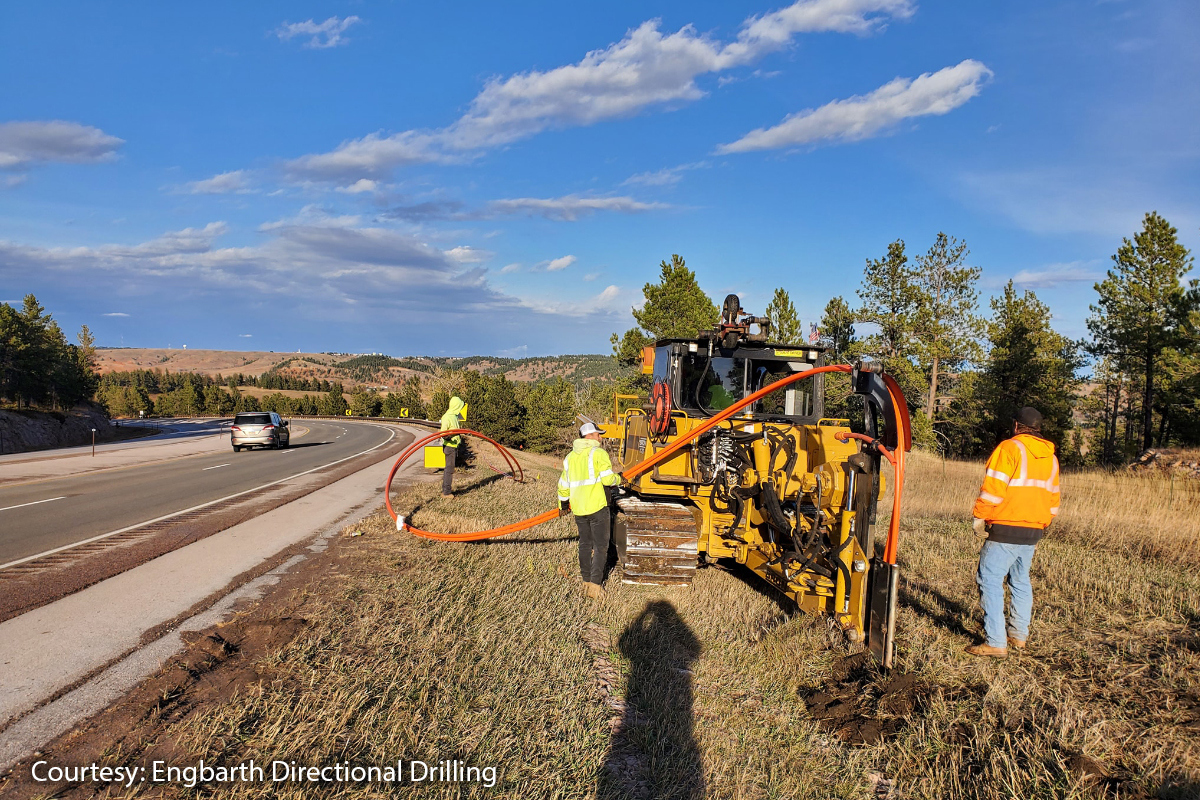 Angerhofer explains that contractors will bury the SDN fiber 36 inches underground in trenches dug by a blade, as shown above.
"The blade goes down 36 inches and pulls the duct behind it," he said.
When approaching a road or culvert, the fiber is laid by boring underground and pulling the fiber through. But either way, FARR expects to face challenges from the rocky terrain, similar to the photo below from another project east of the Black Hills.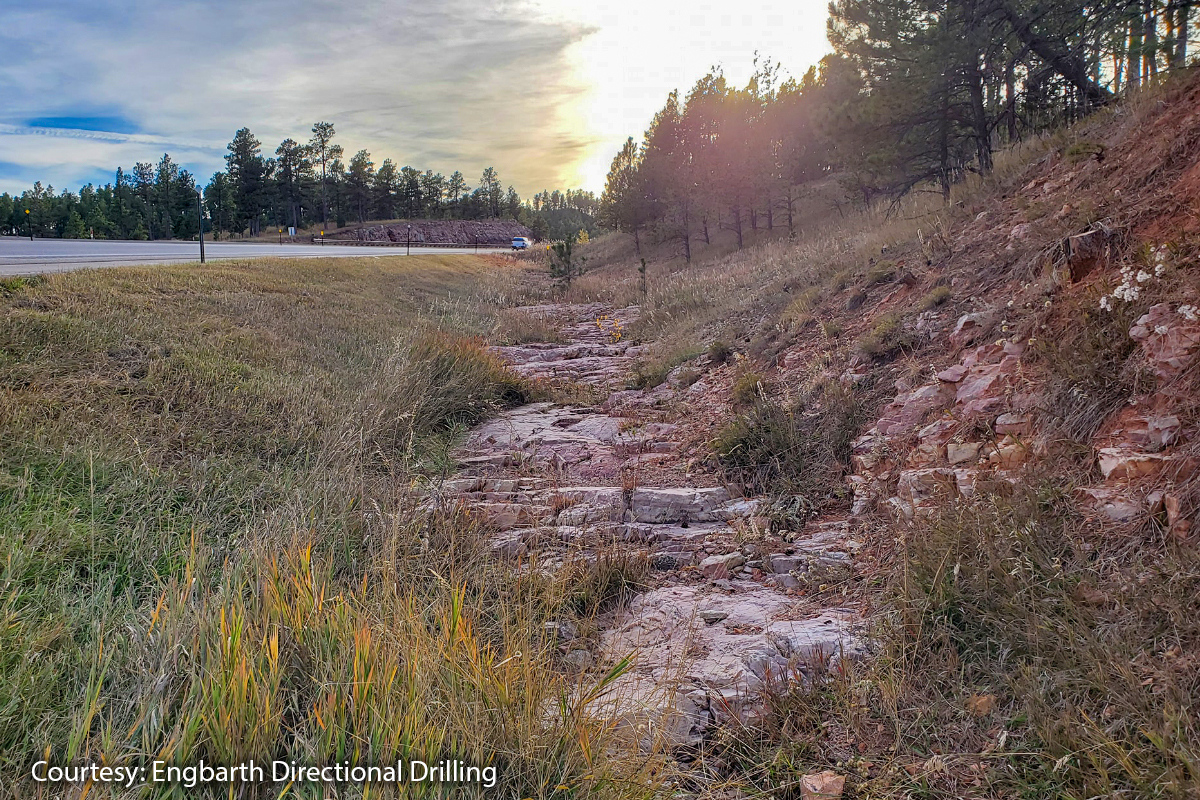 "People are always surprised by the rock and I tell them, 'They didn't carve Mount Rushmore out there for nothing,'" he says. "We may have to bring in a giant blade to saw through rock."
As you can guess, none of this will be cheap. The estimated cost of laying the fiber is now at $100,000 per mile.
The existing fiber that runs through Rapid City ends in the Chapel Lane area along Highway 44. ReConnect 1 will connect into that existing fiber and begin the journey toward 385.
FARR hopes the chosen contractor will lay anywhere from three to 10 miles a day, "depending on terrain." The goal - to have all fiber laid for Reconnect 1 by summer 2022 with three monopoles installed by the end of 2022.
Angerhofer said the excitement around ReConnect is as much about safety as it is about connectivity. "The thing that concerns me … and this actually happened to me and one of my employees … We were outside of Deadwood and they'd received eight inches of snow. And we got stuck."
His employee had on only cowboy boots and not much for warm clothes. Angerhofer had his winter gear in the vehicle. Fortunately, the pair were able to free the vehicle, but it didn't have to turn out that way.
"The problem is we're 10 miles up in the hills and there's no service … It's a public safety issue. I've lived that experience out there."
While FARR can safely say that construction will begin in the spring, it's more difficult to give a definitive date.
"It depends on what the spring looks like," he said.
But once the frost lifts, the journey toward a connected Black Hills will be underway.
"It's going to be a gamechanger for the Black Hills," he says. "From a safety perspective, from a business perspective, from a homeowner perspective, it's really going to simplify life for a lot of people."
People with property in the Black Hills or interest in the ReConnect projects can receive updates by subscribing to SDN Communications' ReConnect Newsletter using the form below.
SDN Communications is a leader in providing business internet, private networking and cloud connectivity to businesses and organizations in communities such as Sioux Falls, Rapid City, Worthington, and the surrounding areas.