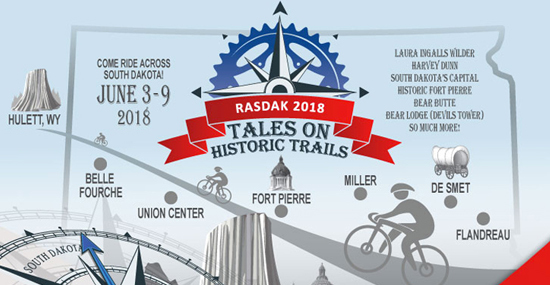 ---
Serious bicycle riders in South Dakota are in for a series of treats June 2-9.
RASDak 2018, the sixth annual Ride Across South Dakota, will be held that week. Bike riders will see and experience scenic, friendly nooks and crannies across the middle of the state. "Tales on historic Trails," is the slogan for the ride from Sioux Falls to Hulett, Wyo.
So far, approximately 175 people have registered to ride part or all of the one-way journey that touches both ends of South Dakota and totals nearly 500 miles.
Among the riders will be Sioux Falls business leader Bob Thimjon, who has ridden in at least parts of the five prior RASDaks. In the past, he's had to cut out for an occasional business meeting. But he hopes to participate in the full ride this year.
Thimjon is the president and CEO of the Ramkota Companies, and the chairman of the Sioux Falls Development Foundation. He's also the treasurer of RASDak and this year, his 19-year-old nephew will join him.
The ride attracts roughly 150 to 220 participants, so riders get an opportunity to talk to everyone, Thimjon said. "It's a gorgeous ride, and the people are friendly," he said.
The ride officially begins Sunday, June 3, in Flandreau, but early starters can take off from Sioux Falls on Saturday, June 2. That route takes riders along the Big Sioux River through Baltic, Dell Rapids, Trent, and Eagan. If they want to touch the Minnesota border, there's also an optional 15-mile extension to accomplish that before reaching Flandreau where they'll spend the night near the Royal River Casino
The ride ends Friday, June 8, near Devil's Tower National Monument in Wyoming. Riders will be bussed back to their starting point.
Participants can choose to take part in daily legs or in the entire ride. Along the way, they'll camp outside or sleep inside public buildings in host communities.
Other overnight stops include De Smet, Miller, Fort Pierre, Union Center, Belle Fourche and, finally, Hulett. Riders will be treated to community hospitality and interesting sights at shorter stops along the route.
De Smet, for example, was the childhood home Laura Ingalls Wilder, an author of popular series of books for children. Fort Pierre is the home of home of the Casey Tibbs South Dakota Rodeo Center.
"One of the joys of RASDak is introducing people to places they ordinarily wouldn't even know about," said Kasey Abbott, the volunteer president and tour director of RASDak. Abbott, a riding enthusiast, is the majority owner of Direct Digital Control Inc., a regional business that automates commercial buildings.
The longest stretch of the ride will take bikers 94 miles from Fort Pierre to Union Center, a small, unincorporated village in Meade County. Union Center is the smallest overnight stop for riders, but during a prior ride it also proved to be one of the most popular, Abbott said.
Bathroom and shower accommodations will be provided at schools and parks along the tour route. Support vehicles will accompany riders to help in case of bike breakdowns or in case riders need a break.
"Our No. 1 priority is safety. No. 2, we want to show people a great time," Abbott said.
SDN Communications is helping riders share their experiences along the route on their mobile devices. As an event sponsor, SDN will help deliver Wi-Fi connectivity and battery recharging services for the riders' mobile devices. This is SDN's first year as a RASDak sponsor.
The company saw a need to help riders stay connected and fully enjoy the ride, said Jake VanDewater, director of network operations at SDN. Directly or indirectly, nearly everyone in South Dakota who connects to the internet or makes a wireless call is an SDN customer, points out VanDewater, who is also a riding enthusiast.
Sioux Falls-based SDN is a premier, regional provider of broadband connectivity and cybersecurity services for businesses. The company is owned by 17 independent telecommunications companies that cover most of South Dakota. The ride will take participants through eight of their coverage areas.
Ride details are available at the RASDak website. The ride is nearing capacity for full-week riders, but there is still time to register. Just click the "registration" link at the top of ride homepage.
The cost is $200 for the full tour or $50 per day. Bus service from Hulett back to Sioux Falls will be provided the final Saturday at a cost of $100.
In addition to SDN, RASDak sponsors include Spoke-n-Sport Bikes, AARP South Dakota, South Dakota Beef Industry Council, Harlan's Bike & Tour and UDrive Technologies.