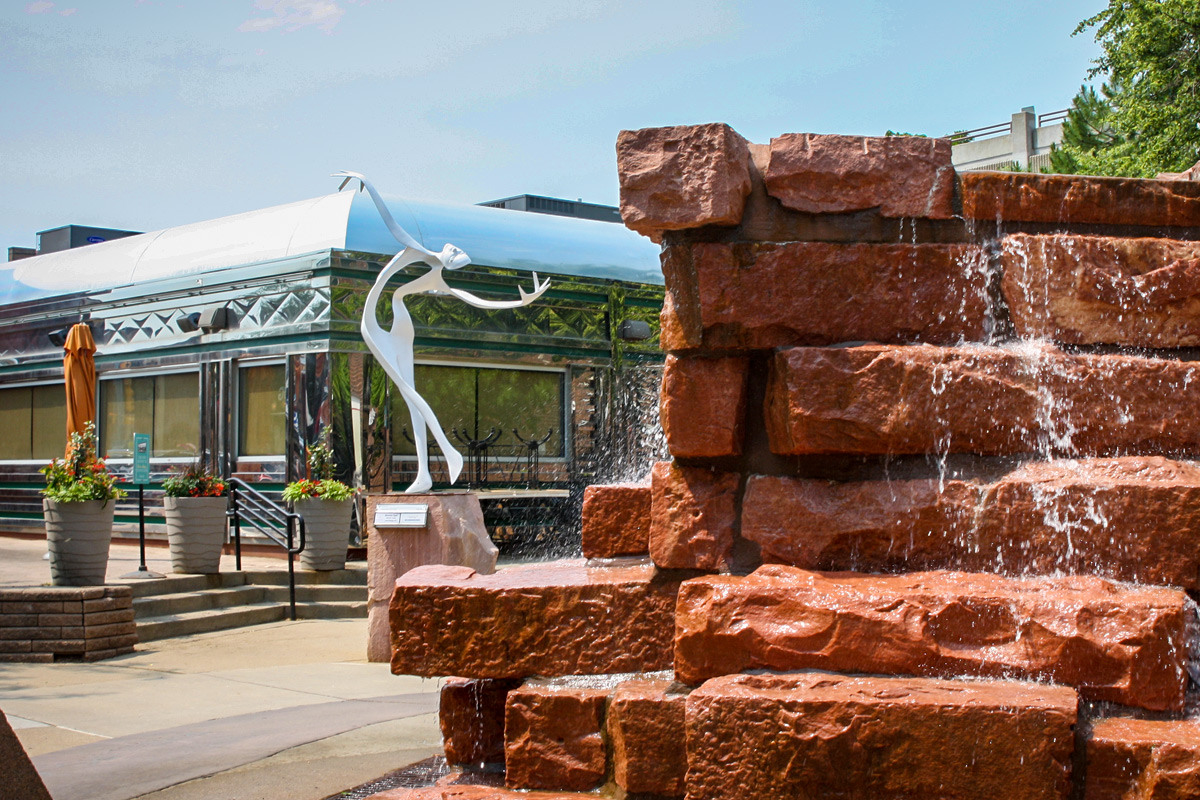 Having worked in Downtown Sioux Falls for nearly two decades, I can remember when the addition of SculptureWalk helped transform Phillips Avenue 18 years ago. The collection of year-round outdoor displays is the brainchild of businessman Jim Clark, who served as the non-profit's director until he retired this year.

Since its inception in 2003, volunteers have placed 903 sculptures downtown and a total 1,050 throughout all of Sioux Falls. Local and national artists have featured everything from animals to abstract art which can be found tucked into the local landscaping or stretched across the Big Sioux River.
This year, there are 62.
Every year as the number of installations increased, I watched visitors and locals alike make time to gaze at the whimsical pieces and then bring my kids to do the same.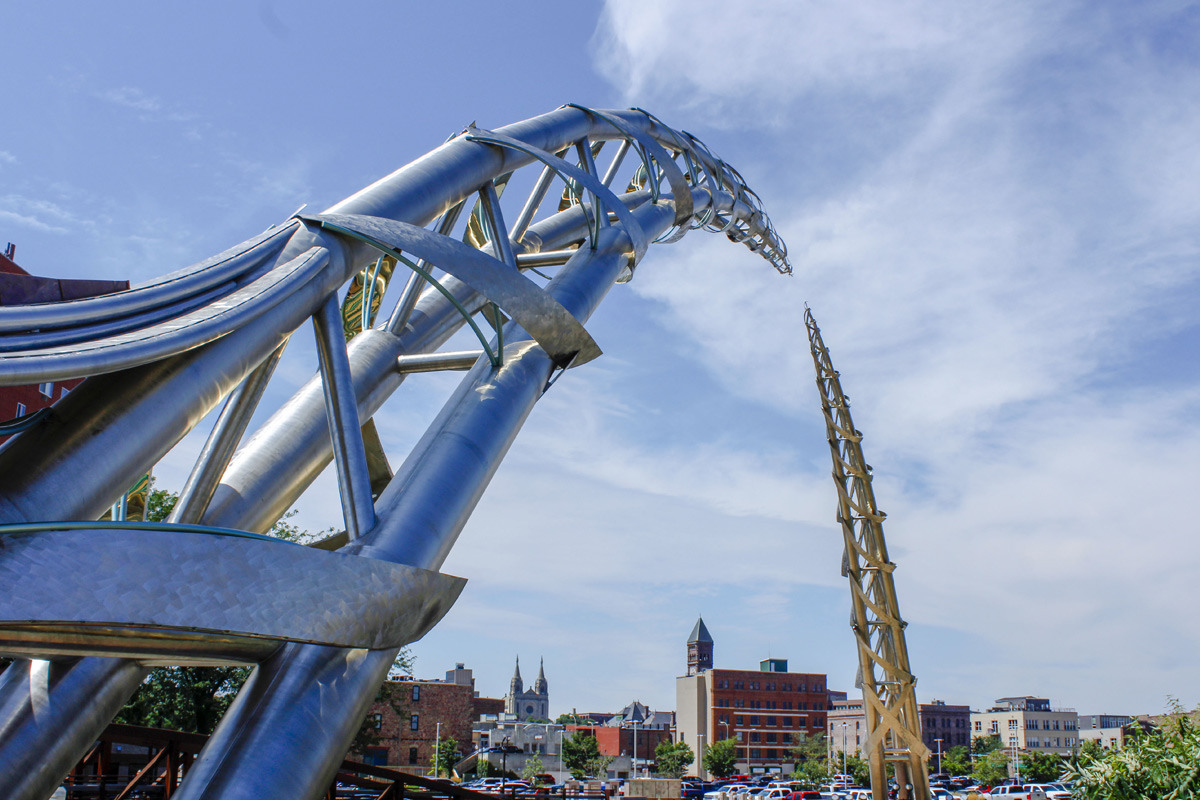 It makes for an afternoon of exploring and riding the Sioux Falls Trolley, essentially becoming local tourists as we soak in the sun and the artistic pizzazz. To top it off, one of the best things about experiencing art with kids is seeing their wonderment.

"They made that out of forks!"
"I can play this one!"
"Take my picture next to this dog!"
I tried to recapture some of that magic recently with my now-preteen son and daughter – keeping in mind that dragging kids this age to do anything mom wants to do can induce the occasional eye roll.
It was a hot morning, so we stuck to the displays along Phillips Avenue but also contributed to the arts-related economic impact — some lunch (smoothies, breakfast sandwiches and protein bowls at Agua Fresh) – while discussing our favorite sculptures.
Now imagine a similar outing being repeated by thousands of others throughout the summer and you'll see how Clark's dream not only helped elevate art in the community, it's had an economic impact on the city.
The Sioux Falls Arts Council and Americans for the Arts found between 2010 and 2015, the local nonprofit arts and culture sector's impact on the economy increased from $35 million to $105 million per year. That's an increase from $21.57 per person to $30.35.

Local businesses sponsor pieces, help cover the costs of cash prize awards for the artists and support the program through in-kind donations. This year SDN Communications sponsored the carbon fiber sculpture "Mountain Spell" by Harold Linke of Oregon.

While you'll find it at just 1400 feet above sea level between 9th and 10th Streets on Phillips Avenue, Linke invites spectators to "feel the freedom and charm of a warm mountain summer day when the only thing to do is lean back and soak in the sun and magic."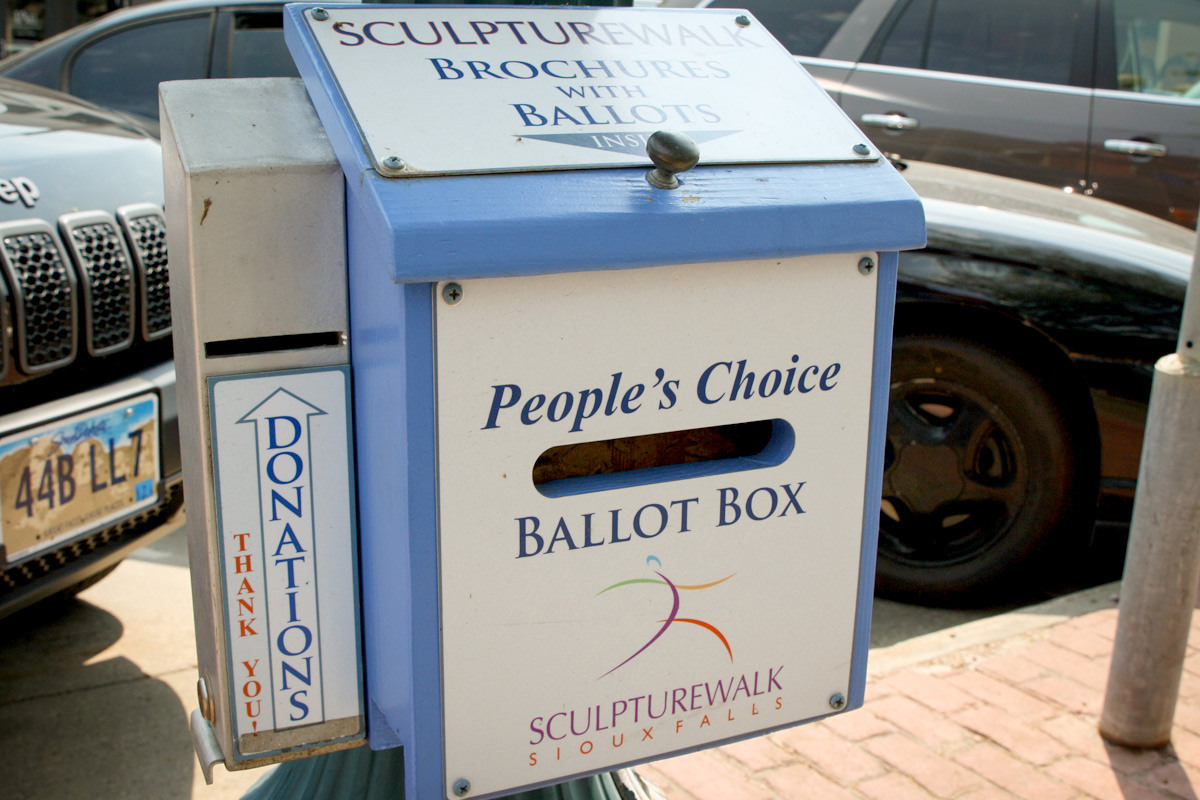 Brochures in boxes marked "SculptureWalk" attached to historic light posts along Phillips Avenue include a map, photos and the People's Choice ballot.

Last year's People's Choice winner, "Jake on Bass," featured a dog playing the bass guitar. The City of Sioux Falls purchased the piece from artist Scott Schlag of Hartford and made it part of the permanent collection.

Some of our 2021 favorites —

"We Can Do It!" by local artists Lee Leuning and Sherri Treeby, featuring a girl modeled after Rosie the Riveter standing atop a globe

"Bing" by artist Dale Lewis of Hastings, Minnesota, is a giant dragon made of steel and stainless steel

"Fallen Stars" by Jeff Davis of Woodbine, Iowa, which is a large guitar composed of metal and farm scrap
"Narrow Escape" by Gary Hovey and Jim Perrine of New Knoxville, Ohio, featuring birds escaping from a fox (and yes, this one is made out of forks)

We debated our favorites, made our choice and placed our ballot it in the box.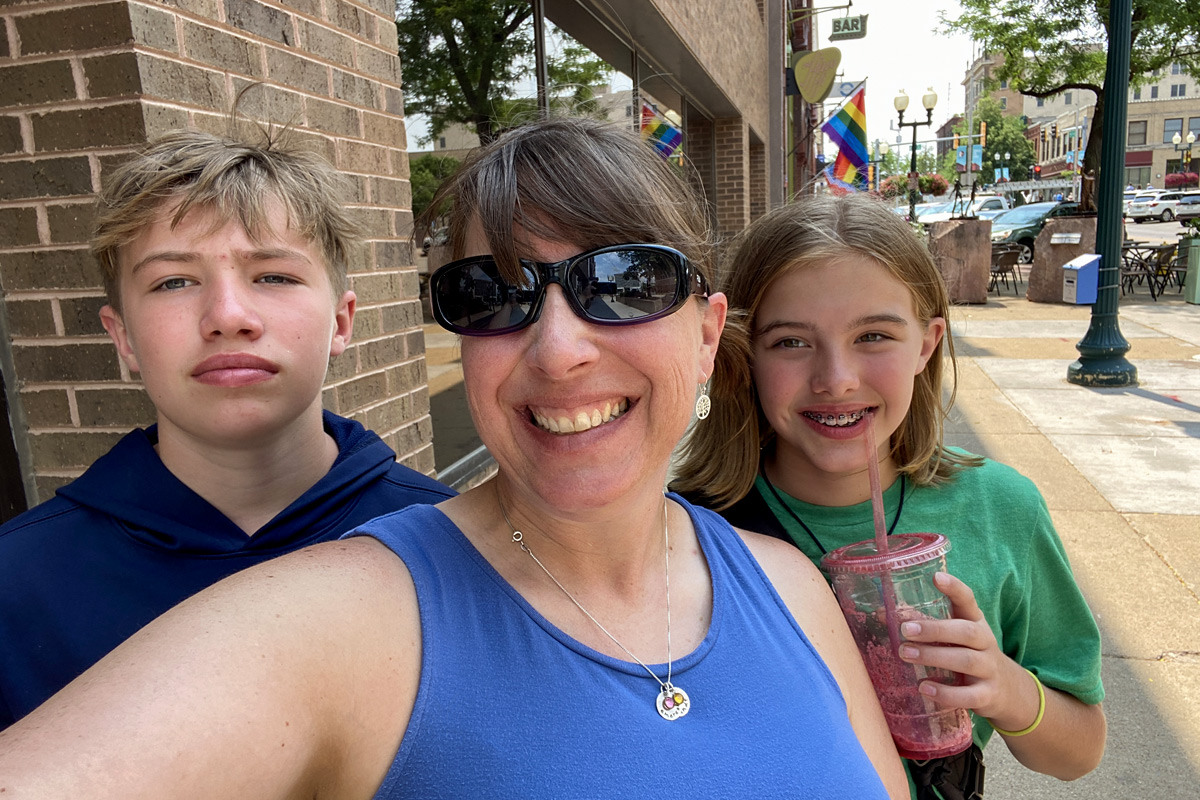 Then, a request for a family selfie — there's the eyeroll – to document the quality time spent with my kiddos — priceless. Sadly, we were too full for midday ice cream.

You can see photos of the sculptures on the 2021 walk at sculpturewalksiouxfalls.com as well as those from previous years. The call for 2022 sculptures is now open. Artists can submit applications through October 1.