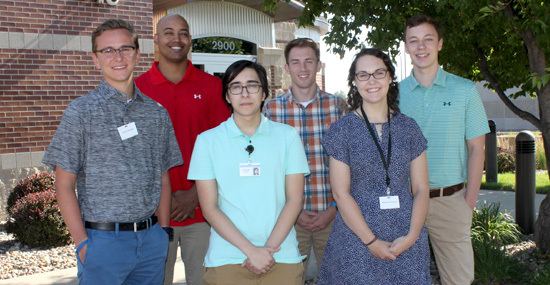 SDN Communications has an impressive record of developing some of its own skilled workers
With jobs openings relatively plentiful in the Sioux Falls area, finding good workers can be challenging, especially for companies in specialized areas such as telecommunications. A good internship program has helped expose SDN to promising students, several of whom have landed internships and been groomed into good, full-time employees.
Attracting and retaining good workers also involves providing a good corporate environment, one that includes good benefits, of course. Providing ongoing training opportunities to help keep employees engaged also helps retain workers.
But establishing and maintaining a good internship program also can help a company build a good workforce, and SDN takes pride in its internship program, says Amy Preator, director of human resources.
SDN has built up its internship program in recent years, and the efforts have paid off, she says. Six current SDN staffers are former interns. In addition, SDN also currently employs six interns.
The interns are paid, and they do real work, not just menial tasks. Company executives and department supervisors work hard to make the experience beneficial for the students as well as the company.
"We've always had really high-caliber interns, and we appreciate having them," Preator says.
SDN has had at least four interns each of the past several years, and several of them went on to earn full-time jobs with SDN.
"We feel very strongly about establishing relationships with schools in the area. We've had really good luck with growing our own employees," Preator says.
This summer's crew of interns includes five college students and one recent high school graduate. Following is a list of the active interns. Also listed is the department in which each intern works and the school from which the intern came.
Conor Grevlos (Marketing). Dakota State University in Madison.
Danial Madson (Managed Services). New Technology High School in Sioux Falls.
Justin Charnell (Marketing). South Dakota State University in Brookings.
Brianna Schreurs (Marketing). South Dakota State University in Brookings.
Jared Jaton (Accounting). Iowa State University in Ames.
Alex Derr (Network Operations). Dakota State University in Madison.
Most of the interns that SDN hires are college students. However, in recent months the company expanded its internship program to the high school level by hiring Madson, who recently graduated from New Tech High. He plans to attend college in the fall.
Schreurs is among the five college students currently interning at SDN. She will be a sophomore at SDSU this fall. The Milbank, S.D. high school graduate is studying advertising.
Interviewing well with members of the marketing staff at an internship fair hosted by the SDSU Department of Journalism and Mass Communication helped Schreurs land her internship. She started working at SDN in mid-May and probably will work until mid-August.
"It's going well. It's a learning experience, but it's lots of fun. I really like it," she says.
Schreurs has worked on visual materials to be used at an SDN golf tournament, for example, and she has helped with infographics designed to expand awareness of cyber threats such as ransomware and phishing attacks.
"It's cool to know the stuff you're doing will actually be used," she says.
SDN, which employs 160 people, is the premier provider of broadband connectivity, cybersecurity services and related telecommunications solutions for businesses in the Sioux Falls region.
For more information about internships at SDN, contact Human Resources Director Amy Preator at amy.preator@sdncommunications.com. For more information about job openings at the company, see www.sdncommunications.com/careers.