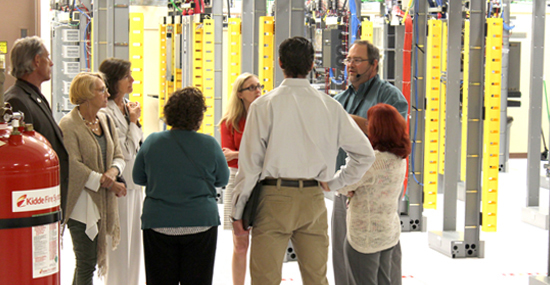 Some Minnehaha County officials recently toured SDN Communications' Data Center in rural Sioux Falls, and they were impressed by the locked-down, high-security facility.
The 25,000-square-foot, bunker-like Data Center just northwest of Sioux Falls provides secure space for servers and other equipment so that SDN and some of its clients can back up their valuable electronic information.
Two groups of officials – about 15 in all - toured the Data Center in recent weeks. As noted by Vernon Brown, SDN's vice president of marketing and community relations, the Data Center's development represents Minnehaha County's first successful TIF project.
TIF stands for tax increment financing. That's a legal tool that allows local governments to divert expected increases in future tax revenue generated by a development to elements of the project that benefit the public.
"It's been a successful project, and we wanted to show you what we've done," Brown told visitors to the center.
The Data Center opened in late 2011. Since the creation of the TIF in 2010, employment at SDN has increased by about 30 employees to 160 workers, excluding interns. The figure also excludes the possible employment growth of SDN clients served by the Data Center.
Protecting information is what the Data Center is all about. It was built beyond the area's 500-year flood plain but is close to Interstates 90 and 29. The windowless walls, which are made of foot-thick, precast concrete, were built to withstand wind speeds exceeding 200 miles an hour. Access to the building is limited, and the structure is under remote surveillance 24 hours a day.
To help ensure continued operations, the Data Center has redundant power feeds. The equipment operates in a temperature-controlled environment. Interestingly, South Dakota's potential for cold weather is plus for data centers because equipment within the buildings give off so much heat the interiors have to be cooled.
The multimillion-dollar Data Center was built to serve a backup location for SDN and client businesses to store servers and other equipment. If SDN's main data center in Sioux Falls was damaged in a natural disaster, for example, it would allow the company to keep storing and processing information.
Gerald Beninga, vice chairman of the Minnehaha County Commission, was among the officials who were pleased with what they saw on the tour.
"Frankly, I was very impressed," Beninga said. "They provide a very unique service with a huge responsibility for the information systems we use in our businesses and personal life."
Beninga says the county made a great move to encourage rural development when it created the TIF district for the project.
"SDN has done an awesome job putting all of the pieces together," he said.
Commissioner Dick Kelly said he generally questions government use of TIFs to encourage development. However, he was "extremely impressed" by how the SDN's TIF project came together.
"The value of SDN to the whole state of South Dakota is huge," Kelly said. "It's providing a resource to us. And as this city grows, we're going to have more and more need for this kind of facility."
Indeed, SDN executives already are discussing possibly developing additional data centers on the company's 66-acre tract of rural property.
Marc Feinstein, a former state legislator and candidate for the County Commission, said that in terms of cybersecurity, SDN obviously has done its homework from both an environmental and structural standpoint.
"It's just fascinating, considering the way the world has grown into the digital age. SDN has been able to be right on top of it," he said.
County Commissioner Jean Bender joked after a tour that she only understood about a hundredth of what she'd seen and heard but she does understand it importance.
"It was fascinating," she said. "It felt like I was in a high-tech movie."