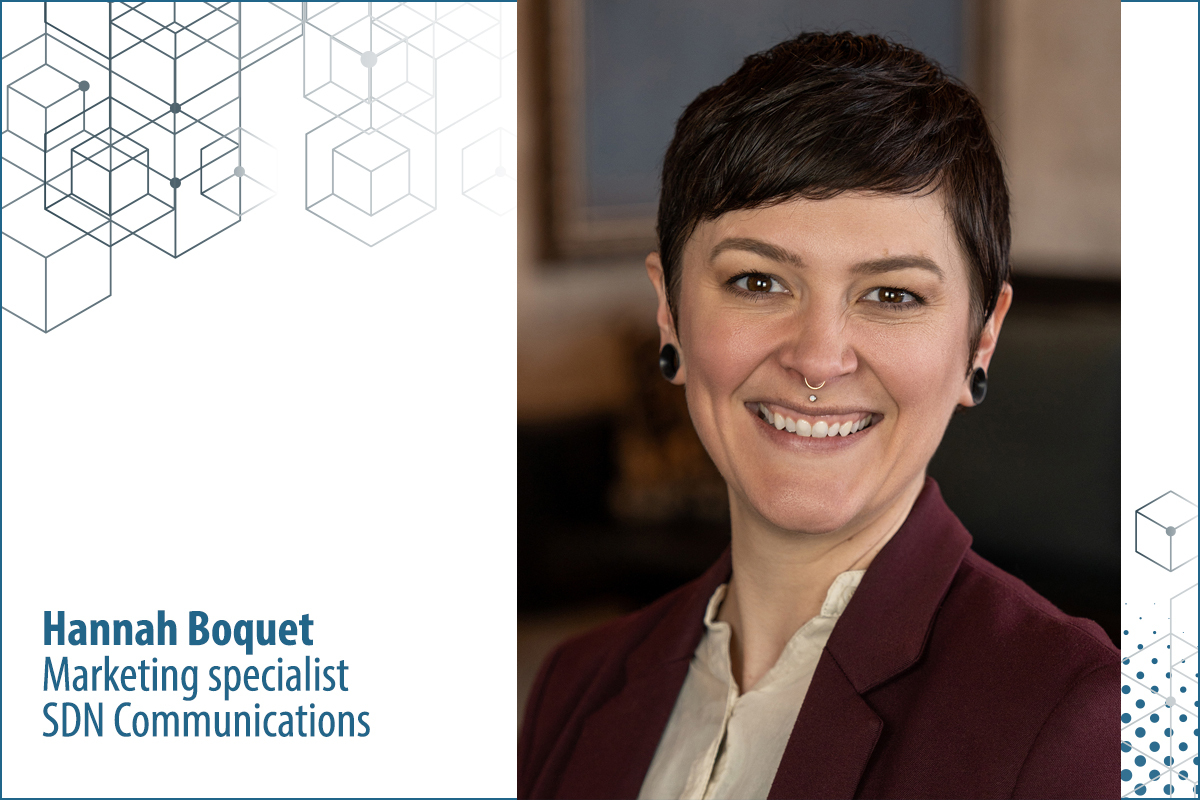 This week's Up-and-Comer on SiouxFalls.Business is Hannah Boquet, a marketing specialist at SDN Communications.

Name: Hannah Boquet
Age: 38
Hometown: Luverne, Minnesota
What brought you to Sioux Falls?
While I grew up all over the Midwest, I moved to Sioux Falls for college. After looking all over the country at colleges, I ended up basing my decision on the desire to be close to my baby sister.
What keeps you in Sioux Falls?
I have met incredible people through my years in Sioux Falls and those people are what keep me here. The people of Sioux Falls are genuinely kind, welcoming and accepting. I love the variety of people who live in Sioux Falls and that no matter where I go, there are people I know. Personally, I love to spend time on the bike trails and rock climbing in our neighboring communities. The prairies in this area are gorgeous. Additionally, there are numerous opportunities for professional growth and giving back to tap into here.
What's your favorite thing about your job?
I love that my career within SDN is wildly diverse, and I especially love that I can tap into my diverse superpowers and nourish those. The team at SDN sees not just what my title is, but where I want to grow and gives me opportunities to expand and continue to grow there. While I love working on events, design and cartography projects, my favorite part of my job is collaborating with my team. It's phenomenal to work in an organization where your voice is valued and your ideas can help grow the overall vision.
How did you get connected to your industry?
I started in marketing because a business I worked in noticed I had a knack for design and innovative ideas. They asked me if I would start working on marketing projects for them in addition to my regular role. I was eager to learn and grow, so naturally I embraced the opportunity. A few years later, I took my first full-time marketing position. Over the past 15 years I've worked in marketing for local businesses and my own business. Telecommunications is a newer venture for me and has been another exciting challenge. I have loved learning about the way SDN and our member companies connect our state from end to end. It's fun to be part of something this important.
Describe SDN Communications in three words.
Culture. Innovation. Connection.
What is something someone might be surprised to learn about you?
People are surprised when I tell them that I once won a radio contest in Sioux Falls for hula-hooping. Especially when I tell them how long I hooped for! The story is pretty funny. I started hula hooping against someone else, but their hoop broke. So, the radio DJ asked me to just hula-hoop as long as I could. I hooped for two straight hours before I had to go into work for the day. Unsurprisingly, no one showed up to challenge my record time. Ultimately, I was crowned the winner and dubbed "Hooping Crane Hannah."
What's your favorite way to give back to your community?
Supporting women and mothers has always been a passion of mine. A few years ago, I started a Facebook group called The Village that, with the help of a great friend and fellow admin, has grown to over 20,000 mostly local women. I am incredibly proud of the supportive and encouraging environment this is and delighted with the way it has helped women in our community.
What's one business you'd like to see in Sioux Falls that isn't here now?
In the cities there is a crafting bar where you can choose a craft to work on (wood working, leather working, concrete pouring, painting, macrame, etc.) while you have fancy drinks. I would be elated for there to be something like this in Sioux Falls. In my opinion, it's a perfect first date.
If you had $1 million to start a business, what kind of business would it be?
This is a tough question because I want to do everything. If I try hard, I can narrow it down to the top two. It would either be a business focusing on esports or a furniture building and woodworking community workshop.