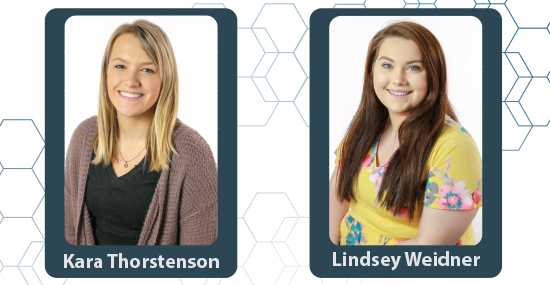 ---
SDN's two summer marketing interns, Kara Thorstenson and Lindsey Weidner, reflected on their time here with the company. Thorstenson is a public relations major at South Dakota State University. She is a junior and plans to graduate in December 2020. Weidner is a graphic design major at Dakota State University. She is starting her senior year and will graduate in May 2020
---
Kara Thorstenson
In February I received a phone call from Vernon Brown offering me a temporary job as a marketing intern. Telecommunications didn't sound very interesting to me, but I knew I needed the internship credit. I started accepted and started in mid-May, not really knowing what the summer would bring.
I'm studying public relations at SDSU but am not sure yet what I want to do for a career. Knowing this, my supervisors, Nikki Gronli and Andrea Leesch, gave me a variety of opportunities. This made my internship unique and helped me figure out what I like and don't like. I received the opportunity to network and meet with other agencies around town, along with a variety of hands-on work.
Before this internship, I had a basic knowledge of design but working with Gronli has allowed me to improve immensely. She is truly a professional in her career. In addition, Leesch helped me improve my skills in photography, video, writing and editing. She gave me the opportunity to edit blog posts, post on social media, take photos, and shoot and edit a video.
I couldn't believe the amount of trust that Gronli and Leesch gave me. They handed projects to Lindsey Weidner, the other marketing intern, and I to work on. We would bring our ideas to the table and receive constructive criticism. Having someone check over my work was extremely helpful and truly helped me improve in my skillset.
I also enjoyed getting to know the people in the office. One time someone told me I needed to be shy and awkward like the other interns, but I guess that's the beauty of this internship. I feel comfortable and confident in the environment. Everyone is so welcoming and encouraging. People always say that coworkers can make it or break it for a job, and in this instance, my coworkers made it a great experience.
My favorite part of the internship was feeling like a real employee and not just being an extra body who gets people coffee. In fact, I never did that; I received real responsibilities. I loved seeing the artwork I created come back from the printers and put into the hands of other people. This internship made me feel as though the work I do matters.
Overall, I'm thankful for the experience and opportunity SDN Communications gave me. It was a great internship with a lot of hands-on experience and growth to make me feel prepared for the future. I'm excited to use the skills attained in my future career.
---
Lindsey Weidner
As my first internship, I wasn't sure what to expect working in a professional environment. My first day working with SDN Communications was a blast, even though it ended with a flat tire.
Now that I'm at the end of the internship, I realize I've learned so much about what I want as a career and the opportunities SDN offers. I quickly learned the involvement the company has with volunteering in the community. It's a great way to get the employees involved and build connections in Sioux Falls. SDN has "adopted" an elementary school in the area, Garfield Elementary. I had the opportunity to help with their Field Day in May. It was great to be able to help kids enjoy their final days of school before the summer break.
Walking into this job I wasn't sure what I wanted to do after college, but I knew it had to be with marketing. As I spent time with SDN, I found that I liked working with the marketing team as an in-house designer. With everything I've learned I feel I'm a "jack-of-all-trades" with the various marketing skills I acquired. Throughout the internship, I toured several printing companies and ad agencies. It was a great experience and provided many opportunities for me in the future.
My experience at SDN Communications was one I will never forget. I improved my skills as a graphic designer and learned more about marketing. It was a great company to work for as my first internship. The employees were friendly and always happy to help the interns (especially with the printer). My supervisors were the most helpful by showing me the transition to a professional workplace and how to apply my knowledge to the brand standards. I want to thank my supervisors and everyone for the great opportunity to work at SDN Communications and the connections I've built over the course of my internship.
---
SDN accepts applications for summer interns every year between January and April. Keep an eye on our Careers Page for opportunities during that time.