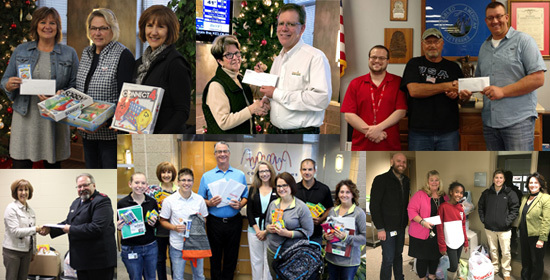 The two Ronald McDonald Houses in Sioux Falls have a heartwarming role. They help keep families close by providing temporary shelter for more than 1,000 families a year. The guests are members of families with children who are seriously ill or injured and need to receive care at either Sanford or Avera McKennan hospitals in Sioux Falls.
Ronald McDonald Houses are help families from out of town who can't afford extended stays at hotels and lack options for room and board. The houses allow guests to stay close to where their children are receiving care. They stay at little or no cost. Even food is also provided.
"So, their only worry is to make sure their child is healing and getting better," said Shannon Dougherty, media marketing director for the charity.
Social workers at the two hospitals refer prospective guests to the houses, Dougherty said.
The Ronald McDonald House Charities of South Dakota is one of the most recent nonprofit organizations to be assisted financially by employees of SDN Communications. Other charitable organizations that SDN employees have helped recently with fund drives were the Boys & Girls Clubs of the Sioux Empire, Feeding South Dakota and the Salvation Army.
In all, at least 13 organizations and institutions benefited during 2017 from the funding efforts of SDN employees. They causes were:
Hayward Elementary School ($495). A public school in Sioux Falls.
St. Baldrick's Foundation ($329). An effort that raises money to help fund research into children's cancer.
Junior Achievement of South Dakota ($500). An organization that runs educational programs to help young people develop competitive skills and personal confidence.
Avera Race Against Breast Cancer ($1,100). A run and walk that benefits cancer survivors and their families.
Loads of Love ($630). A program that helps transition young individuals in foster care to independent living by providing products such as clothes-washing supplies, towels, blankets and hygiene products.
Disabled American Veterans ($490). An organization that assists U.S. military veterans.
Project SOS ($1,647). SOS is short for Supply Our Students. The program through The Banquet distributes backpacks filled with school supplies to children.
Sioux Empire United Way ($46,500). An organization that helps fund more than 80 programs that serve approximately a third of the community's residents.
Garfield Elementary School ($154). A public school in Sioux Falls.
Salvation Army ($225). The group provides shelter and other services for needy people.
Feeding South Dakota ($390). An organization that provides food for hungry South Dakotans.
Boys & Girls Clubs of the Sioux Empire ($286). Clubs that provide a variety of preschool and afterschool activities for kids.
Ronald McDonald Houses ($440).
The company's 160 employees contributed more than $53,000 in cash to charitable causes in the Sioux Falls area during 2017. That comes out to about $332 a piece. However, it also doesn't include the value of food, toys, personal hygiene products, and other essentials they collected with the donations month after month.
"Our employees always make us proud in how they give back to the community," said Vernon Brown, vice president of marketing and community relations for SDN. "Our workforce average age is on the younger side, but their maturity in recognizing a need and stepping up to that need impresses us and the organizations that benefit."
SDN makes a special effort to support charitable organizations during the holiday season. But keep in mind that organizations have year-round needs and deserve community support.
The official vision of the Ronald McDonald Houses states that by changing a child's life, you can change a family and a community and ultimately the world. Something similar could be said for supporting almost any of the other wonderful charitable organizations and institutions in the Sioux Falls area that help people.
SDN Communications is a premier provider of broadband connectivity, cybersecurity services and other telecommunications solutions to businesses and institutions in the Sioux Falls region.