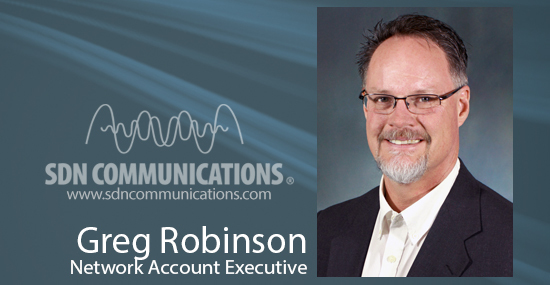 ---
Greg Robinson jokes that he's living proof that old dogs can be taught new tricks. He is SDN Communications new network account executive in Rapid City.
Actually, Robinson has been helping people and businesses in Rapid City in various professional positions for 28 years. So he knows the Rapid City area and its people well.
Before joining SDN in April, he worked for insurance and food distribution businesses. He also worked in the clergy and even put in a stint in telecommunications.
So, offering customers good, broadband connectivity and cybersecurity services really isn't that big of a career change for him.
"Whether you're helping people in everyday ways or helping their businesses function better, you're helping people," he said.
He's enjoying his new job.
"I'm still learning the ins and outs of the technology, but it's been fun," he said. "I'm so impressed with SDN's onboarding process and how they facilitate learning. They do it well."
Like jobs in many modern businesses, opportunities and challenges in telecommunications are evolving, which means employees always must be learning to keep up with technology. His adaptability to new career opportunities is a good sign on that front.
Robinson was born and raised in eastern Montana. Then he moved to Bismarck, N.D., and attended the University of Mary for a year. He also met with wife, Sue, in Bismarck. They've been married 29 years now and have two children who are in their 20s. Their daughter, Desirae Allen, is a clinical nurse in Rapid City. Their son, Ashton, is a junior at South Dakota State University.
Rapid City is a fitting place for Robinson to have made a home because away from work, he enjoys hunting, fishing and hiking.
"I just love the outdoors," he said.
He moved from Bismarck to Rapid City in 1990 to become a sales manager for Combined Insurance. After working there for about six years, he became a territory manager for KFM, a food-brokerage company.
In 2000, he became a youth pastor. As an ordained minister with the Assemblies of God, he went on to serve several local churches in various capacities. He also taught and coached at Rapid City Christian School. Although he still occasionally speaks at churches, he was ready to get back into the business world in late 2017.
In early 2018, he took advantage of an opportunity to join SDN.
"I'm excited to be part of the SDN family," he said. "I've had a really good reception."
Robinson is very well known in the Rapid City area and is highly respected. He covers an extensive sales territory for Sioux Falls-based SDN. His market area essentially includes all of western South Dakota, plus the capital city of Pierre, which is on the east side of the Missouri River.
When the need arises, he'll work with SDN member companies in the region to help meet customers' needs. "We're partners. We have one goal in mind," he said.
His mentor on technical matters is Scott Oyen, who is among other SDN staff members based in Rapid City.
A lot of business people who Robinson's talked to so far have questions about cybersecurity, which is a growing concern in nearly every type of industry. Cybersecurity solutions also are a specialty of SDN.
Businesses in the Rapid City area that would like to consult with Robinson may call him directly at 605-978-7140.