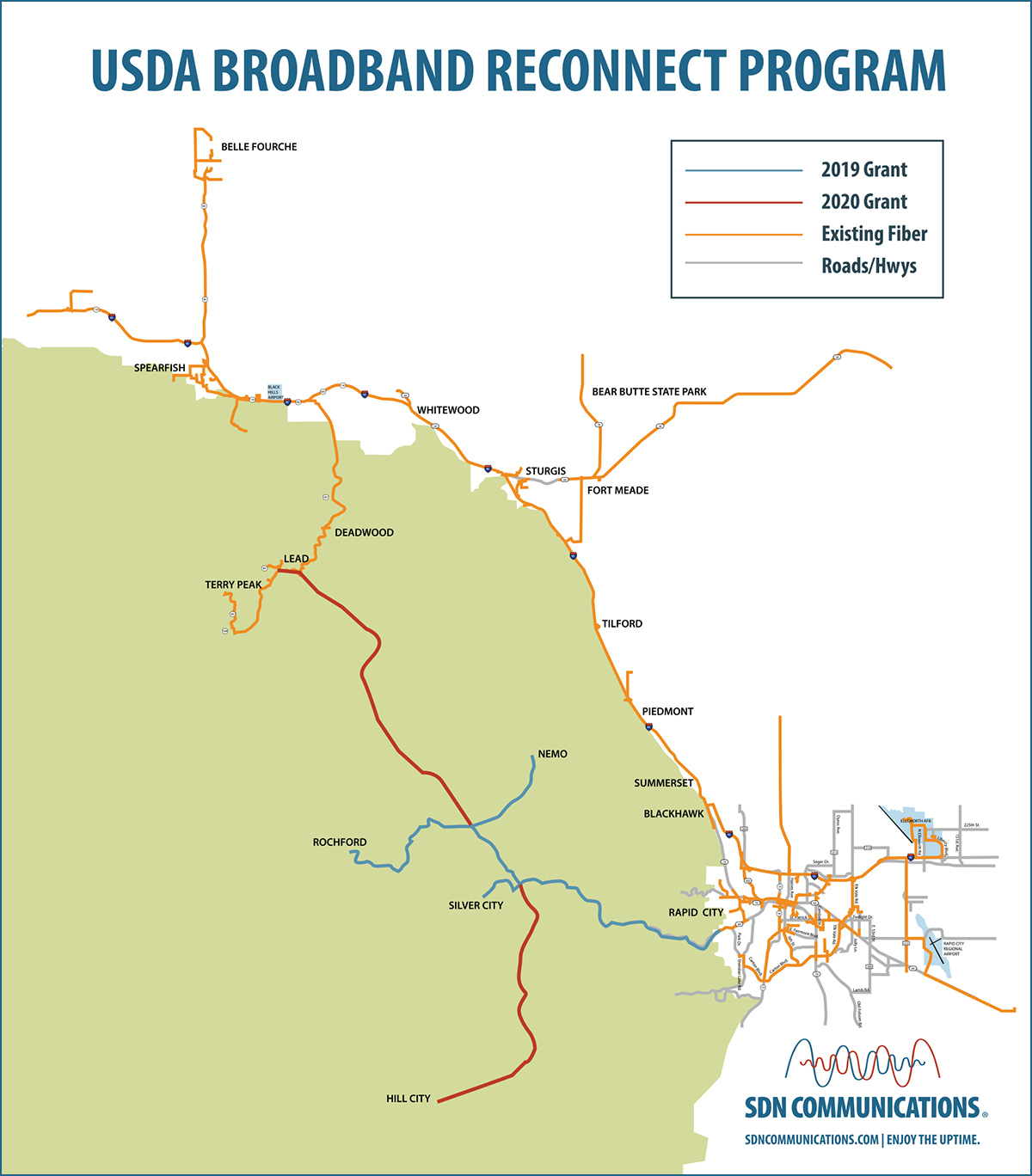 SDN Communications is excited to be a step closer to delivering high-speed broadband service to Nemo, Rochford, Silver City, and along Highway 385, thanks to the U.S. Department of Agriculture's (USDA) ReConnect grants.
As you recall, the USDA awarded SDN two grants in 2020. Unfortunately, getting approval from the U.S. Forest Service (USFS) has taken much longer than we anticipated. This USFS notice, which residents should have received in the mail, seeks public comment.
This will be a critical step in getting USFS approval for starting construction yet this year. Even a few negative comments could delay or stop the project.
That is why, if this project affects you, I humbly ask you to file supportive comments with the USFS by June 30. The USFS asks for comments specific to SDN's proposed 120-foot monopoles necessary to deliver fixed wireless broadband. I encourage you to expand your comments to WHY you need internet access.

Areas of impact that are worth mentioning:
Public safety – SDN is in conversation with mobile carriers that might place equipment on the same poles to extend/improve mobile phone coverage in the Black Hills.
Economic development – Homes, ranches, stand-alone businesses, tourism attractions, and campgrounds will all benefit from internet connectivity.
Education – COVID-19 taught us the value of remote learning.
Telehealth – "House calls" via the internet have become commonplace for those with access.
Quality of life – Ironically, even the attached USFS form references emailing comments, which is impossible without good connectivity. Streaming movies, video chats with family/friends and smart home technology are all out of reach without a good connection.
These are just ideas to help you frame your comments. Most importantly, we want you to register your support in your own words with your own unique stories to impact USFS's decision on allowing construction.
As the USFS notice indicates, you can write them on the form provided, or, if possible, you can email your comments to the USFS at this address with "SDN Tower Construction Project" as the subject.
If you are so inclined, please CC your comments to our Vice President of Community Relations at reconnect@sdncommunications.com or mail a hard copy to:
Vernon Brown
SDN Communications
2900 W. 10th St.
Sioux Falls, SD 57104.
You can also direct any questions to Vernon through the above email.
The two USDA ReConnect projects are huge builds: 85 miles of fiber optics, eleven towers, and a $12.4 million investment. The approval process has been daunting; the construction will be equally challenging in the difficult Black Hills landscape, but SDN is committed to delivering on this promise.
We hope you will commit to supporting our efforts by filing supportive comments with the USFS.
Sincerely,
Mark Shlanta
CEO