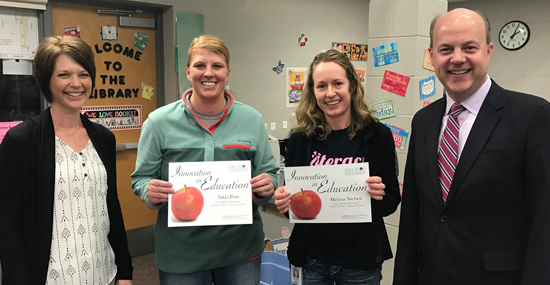 SDN Communications and its member companies across South Dakota take pride in their civic involvement and support of local charities.
The success of independent telecommunications companies is tied to the economic well-being and quality of amenities in the communities they serve, so it's natural for telecoms and their employees to be engaged with worthwhile, local organizations. This time of year, support for educational organizations is especially timely.
In Sioux Falls, the home base of SDN, the Sioux Falls Public Schools Education Foundation is a nonprofit of growing stature. It is an organization that SDN has proudly supported for years.
The Education Foundation's mission is to enhance educational opportunities and promote achievement among all students by supporting academic projects and activities not funded by tax dollars.
The organization pursues its mission primarily by collecting donations from businesses and individuals, and redistributing the funds in the form of grants to teachers for innovative educational projects.
"We're part of the community. What the Sioux Falls Public Schools do is educate the next generation of the community," says Vernon Brown, vice president of marketing and community relations at SDN. "We feel a strong obligation to assist with that. Tax dollars don't cover all the needs."
SDN contributes $6,000 a year to the Education Foundation. In addition, Brown volunteers time to the organization. He is currently the vice chair of the Education Foundation.
Other current officers of Education Foundation represent other prominent companies in Sioux Falls that also are significant donors. Board members also include several past and present teachers and school administrators.
Stephanie Gongopoulos, who currently chairs the Education Foundation Board, is executive vice president of cultural development at The First National Bank in Sioux Falls. Jackie Dumansky, treasurer, is a senior compliance officer with First PREMIER Bank. Catherine Dekkenga, secretary, is an architect with Architecture Incorporated.
The Education Foundation's signature event, the annual Innovation in Education Breakfast, was held recently. Gongopoulos reported to the community education, civic and business leaders who attended that the organizations had funded 21 Innovation in Education Grants in 2017. Those grants, which are designed to help teachers pay for creative educational efforts, totaled $40,000 for the past school year.
The organization also funded 60 $100 grants to help first-time teachers buy classroom supplies. The amount of Helping Hand grants will be increased to $200 for the coming school year.
At the breakfast, Brown had the duty of introducing an executive from another business that generously supports the Education Foundation: Jay Huizenga, general manager of KELOLAND-TV.
Brown also told a story about Karen Saxvik, a former teacher in the Sioux Falls district. Ms. Saxvik, who passed away in 2015, left the proceeds from an insurance policy to the Education Foundation.
Brown recalled accompanying Beth Boyers, one of Ms. Saxvik's daughters, to an elementary school to present a check for a reading project (pictured above).
"There was nothing more touching than watching her mother live through the program she was gifting," Brown said.
The Education Foundation has many other business and individual supporters, and they are growing in number.
Recent additions to the donor list that have made significant contributions to the Education Foundation include the Independent Insurance Agents of Sioux Falls ($10,000) and the Mary Chilton DAR Foundation ($15,000).
The Education Foundation welcomes smaller donations, too, of course. There are multiple ways people can give.
For more information about the nonprofit's programs in Sioux Falls, check out the Education Foundation's website. Businesses and individuals with questions about donation options may contact the organization or call the Sioux Falls Area Community Foundation at 605-336-7055.
SDN is a premier regional provider of broadband connectivity, cybersecurity services and other telecommunications solutions for businesses and institutions. Continue to learn more about the company and its services by subscribing to this blog. Just use the button below.