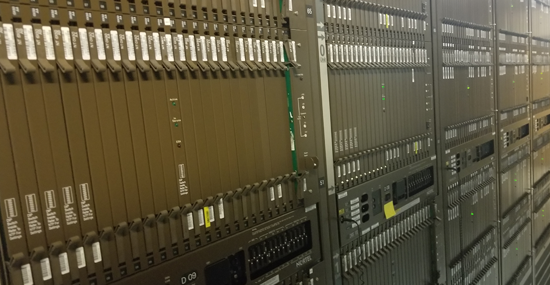 New switching equipment being phased into use at SDN Communications will significantly enhance the quality and flexibility of telecommunications services that member companies in the region and national carriers can provide their clients.
"The equipment is all installed and configured. We're in the process of moving the members and the carriers over," says Russ Claussen, director of network engineering for Sioux Falls-based SDN.
"We're scheduled to be done by the end of this year, so we're probably three-fourths of the way through the project," Claussen says.
Switching equipment originally was installed in a data center during the 1990s to improve long-distance phone services offered by SDN member companies. The switch connected the phone lines from independent telecoms in South Dakota to national carriers.
The sleek, new equipment that is being deployed uses software to enhance the transmission of data on private IP connections.
"It offers a lot more features," Claussen says. "It offers so much more than all the equipment we're replacing."
SDN is replacing its old equipment with a softswitch from Sonus Networks Inc., a prominent high-tech company based in Massachusetts that supplies SiP, or Session initiation Protocol, communications equipment.
The upgrade in equipment reflects an advancement in electronic transport methods from TDM to IP technology.
The new equipment will take up a lot less space than the old switching equipment, so power and cooling expenses will be reduced, Claussen says.
The upgrade is a striking visual reminder of how the tools of technology continue to get better yet, in many cases, smaller.
SDN's old switching equipment occupies five, 24-foot-long rows of computer cabinetry in a data center on SDN's main campus in central Sioux Falls. The new equipment occupies two six-foot-long rows of cabinetry. One row is the data center on the main campus, and one row is in an SDN data center northwest of Sioux Falls.
The split deployment of the new equipment helps protect the continuity of company and client business operations in case of a natural disaster or some other business disruption.
SDN specializes in providing broadband connectivity, cybersecurity services, and related telecommunications services to businesses and other organizations that serve the region. The company's robust network crisscrosses South Dakota and reaches into several other states.
SDN also serves as a hub for the companies that own it. SDN got started in 1989 when independent telephone companies across South Dakota connected their networks to provide better long-distance phone options for their customers.
Since then, SDN and its owner companies, also known as member companies, have evolved and grown to offer a wider range telecommunications services. In addition to phone services, SDN's 17 member companies provide Internet, TV and a variety of other telecommunications services to businesses and residences. Member companies serve about 80 percent of the geography of South Dakota.
SDN's network recently expanded across southern Minnesota, too, with the creation of a partnership with six independent telecoms in Minnesota and one in Iowa.
Planning for the switching upgrade in South Dakota began in 2013, and Installation of new equipment started in late 2014. Work advanced significantly during 2016.
The project is just one of many networking upgrades underway throughout SDN's service area.
SDN member companies in South Dakota also are upgrading switching equipment on their ends, too, Claussen says. "They're all in the process of moving over to our new platform," he says.
For more information about SDN, its member companies, and their services, see www.sdncommunications.com.