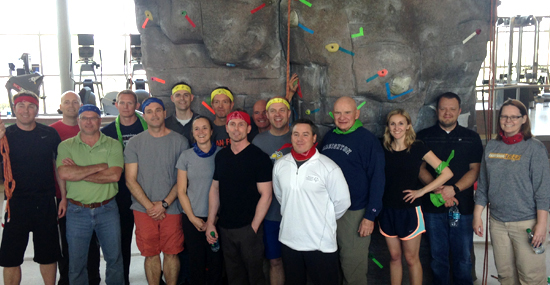 Good leadership training is a way for companies to strengthen their workforce for the benefit of employees as well as the employer.
Providing training from outside experts is a development tool that SDN Communications has used for the past three years. Nineteen SDN employees – mostly managers – currently are taking a training course called Leadership U, short for Leadership University.
Sioux Falls business veterans Lisa Brouwer and Paul Ritter provide the business coaching through a consulting service called Elev8 Coaching. They facilitated training last year to SDN executives and are now training additional managers.
"We really make an effort to invest in our employees, and training is one of the best ways to do that," said Amy Preator, human resources director at SDN.
Most of the 19 training participants in Leadership U supervise other employees.
"We chose people who are very good at what they do. We want to help them grow and further improve what they do," Preator said. "We want to make them better managers."
The SDN employees participating in training this year are divided into two groups. Each group had its first, four-hour training session in September and will continue to meet about monthly for eight sessions, which will end in May.
The training sessions will cover eight primary topics. Examples include strategic planning, productivity and building relationships. Each training session strongly emphasizes group discussion.
"We really want them to take one or more of the eight areas we're discussing and apply that information to their professional development," Ritter said.
Companies that provide such training can benefit from increased employee loyalty and reduced turnover, he said. Providing training can also help companies identify possible problem areas developing within the organization.
Ritter and Brouwer also meet for about an hour each month with SDN executives to summarize how the training sessions are going and identify areas the company might want to address.
Scot Peskey, warehouse and installation supervisor, is among the SDN employees participating in the training. He supervises a team of employees who install equipment for customers.
He sees it as both a great learning experience for some participants and a refresher for others.
"You get out of it what you put into it, like anything in school," Peskey said.
For Peskey, it will complement the degree in business management he recently earned from the University of Sioux Falls as well the management experience he has from other companies.
"It's great that companies such as SDN recognize the value that this can bring, not only to a person's personal and professional life but to the company as a whole," Peskey said.
Cal Moriarty, a service design supervisor, is also taking part in the training. He manages employees who design communications systems for customers.
In addition to new information that comes out in the training, participants benefit by getting together with some of their peers to compare and discuss management strategies.
"It's nice to get everyone's opinion and philosophy on managing people," Moriarty said. "You can learn a little from each person's method of doing things."
Providing opportunities for professional development to its 160-member workforce helps SDN retain its status as the premier regional provider of broadband connectivity and cybersecurity services for businesses and institutions.