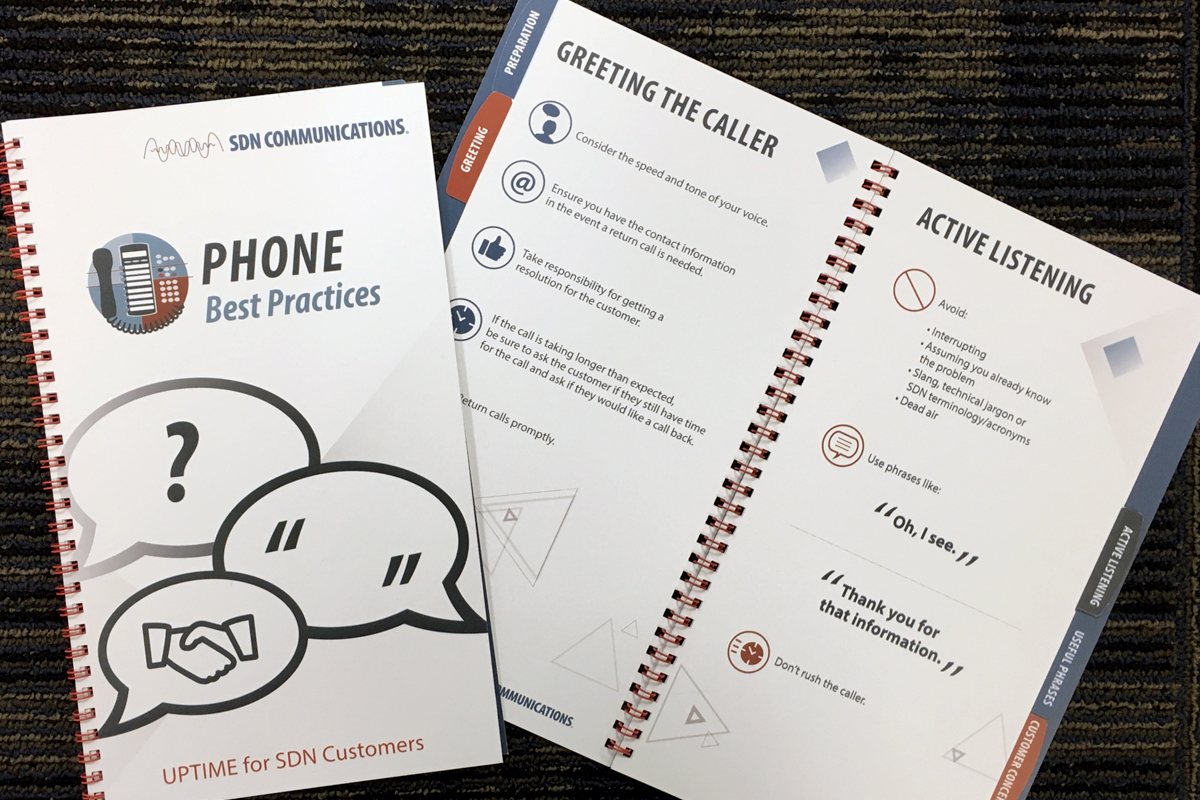 SDN Communications is a haven of high-tech expertise. The staff of the Sioux Falls-based company includes dozens of experienced experts in broadband connectivity and computer networking.
Softer skills, such as dealing with external and internal customers in respectful and productive ways, also are highly valued by SDN, said Brenda Lynch, a project manager with the company.
Lynch said she's amazed by how compassionately and responsibly staff members communicate with external customers, business partners and each other on a daily basis.
However, company personnel and processes change, and best practices evolve. So communication practices have to be regularly updated and refined to guarantee that customers receive high-level experiences.
With that in mind, SDN recently put together a Phone Best Practices guidebook and plans to conduct related training sessions for all of its employees in 2020. The etiquette booklet covers everything from being prepared for customer calls (be ready to take notes, for example) to responding positively ("Thank you for bringing this to our attention.") Employees are encouraged to apologize if needed.
The booklet also encourages employees to ask callers if they mind being put on hold or would prefer to be called back. By the end of a conversation, an employee is expected to be assured that the caller's issue has been resolved or that a plan is in place to resolve the issue.
The new guidebook is easy to read. It's divided into sections about preparation, greeting, active listening, useful phrases, customer concerns and phone usage. If needed, the booklet can be used as a resource while an employee is talking on the phone.
SDN's Customer Experience Committee determined the content of the book, and Nikki Gronli of the company's marketing staff-led design efforts, Lynch said. Lynch will be leading upcoming training sessions about phone etiquette.
SDN uses surveys to help assess the company's effectiveness in satisfying customers. Past surveys have produced good results, said Theron McChesney, SDN's business intelligence, research and analytics supervisor.

For help with its most recent survey, SDN switched to Gallup Inc., a national company that provides analytics and management consulting to businesses. The Gallup questioning method – called a customer engagement survey – drills deeper into responses than past surveys, McChesney said. The narrowed focus could help SDN identify ways to improve customer interaction even more.
"We always knew we had good numbers. This gives us information on how to get better," he said.
The Gallup survey for SDN was conducted in June and July of 2019. One of the key questions that customers were asked is whether SDN always delivers on its promises. Respondents gave SDN high marks on the question; in fact, the company finished in the 85th percentile of all surveyed companies.
"That's the key finding," McChesney said.
Answers to other questions also reflected positively on SDN. Overall, SDN customers appear to be highly engaged or at least content, McChesney said. They don't express a high degree of dissatisfaction.
SDN can take comfort in the Gallup findings. But as McChesney and Lynch point out, the challenge of keeping customers engaged and satisfied can never end.
So, customers and business partners can be reassured knowing that serving them well remains a priority at SDN.
SDN Communications is a leader in providing business internet, private networking and cloud connectivity to businesses and organizations in communities such as Sioux Falls, Rapid City, Worthington and the surrounding areas.