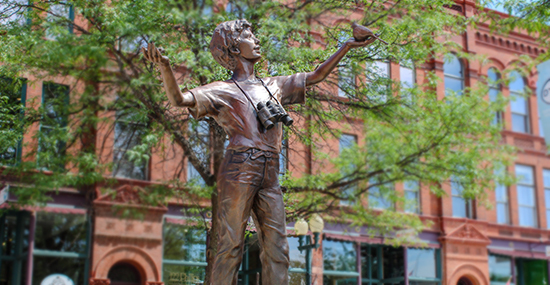 ---
Julie McKay and Karen Nagel have been among the tens of thousands of people who have checked out the 2019 edition of SculptureWalk in downtown Sioux Falls.
"In the Mystic Forest," which sits invitingly along Phillips Avenue, near the Phillips Avenue Diner, is among sculptures that caught their attention. The bronze artwork created by Bobbie Carlyle of Loveland, Colo., depicts a boy standing on a tree stump, surrounded by creatures, including a fairy and elf.
"I think it's beautiful. It's calming," said Nagel, who is from Mandan, N.D. "I love all the detail that you see – like the frog and the birds." There's also a cat.
Nagel's sightseeing colleague, Julie McKay of Sioux Falls, agreed. "It's just a really fun, whimsical sculpture," she said.
SDN Communications, a longtime supporter of the SculptureWalk program, is the site sponsor for "In the Mystic Forest."
Carlyle appreciates the company's sponsorship. Carlyle, who is well known in the art community, has participated in SculptureWalk for several years. Such programs help artists get exposure to sell their work, she said.
"In the Mystic Forest," which stands 6-foot, 5 inches tall, is for sale for $46,000.
The sculpture started as a memorial to a woman who had lost her fiance, who was a bird enthusiast, Carlyle said. "I decided to make it a fun piece. The forest comes alive with a young boy," she said.
The boy, envisioned to be 10 or 11 years old, has binoculars around his neck and birds in his extended hands. Carlyle's granddaughter served as a model for a fairy that is part of the piece, and her grandson depicts an elf sitting on her cat.
Art has been an interest to her since attending high school in the 1960s. She recalls having access denied to a drafting class in high school in Las Angeles because she was a girl. She jokes about it taking 25 years to earn a degree at Brigham Young University but takes pride in finishing college before her oldest son.
Her sculpture is one of 59 borrowed pieces of artwork on display in the downtown area this viewing season. Dozens of other permanent sculptures are also displayed.
Sioux Falls marketer Jeff Hanson, who is an ambassador for SculptureWalk, said Carlyle is well known in the national art community. "She's a big name," he said.
SculptureWalk in Sioux Falls promotes itself as the largest annual exhibit of public sculptures in the world. Artists loan their sculptures to the program for a year.
The renewed displays annually bring nearly 300,000 visitors to Sioux Falls, Hanson said. That translates to the annual economic impact of more than $10 million on the local economy, he said.
"A big part of what makes SculptureWalk great is when businesses and civic leaders have a sense of community that extends past their board room and the fence in their backyard. SDN has a great history of embodying that belief," Hanson said.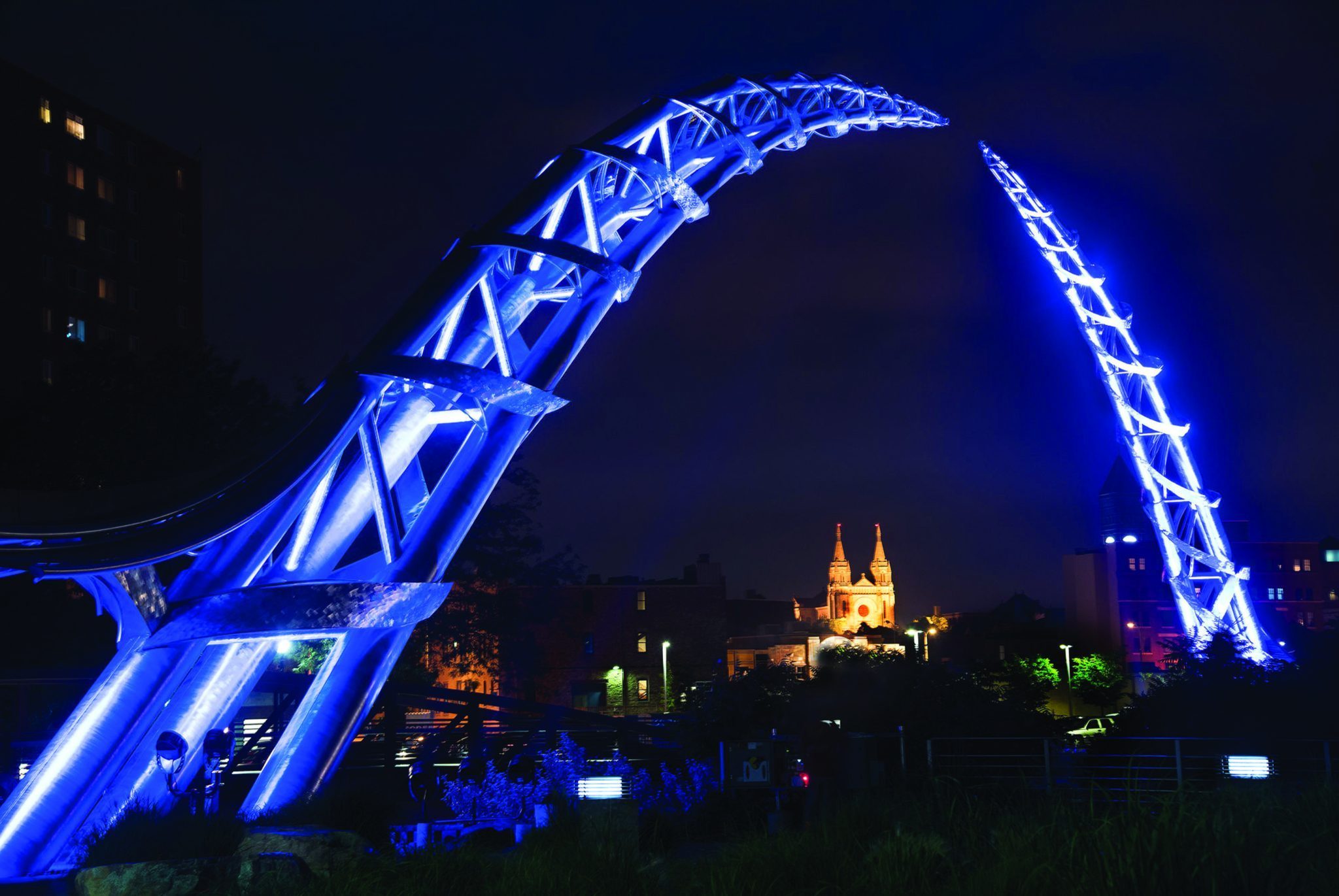 New attractions this year also include the "Arc of Dreams," which will serve as a permanent capstone to the SculptureWalk program. The "Arc" is a stainless steel sculpture that spans across the Big Sioux River. An 18-foot gap between the two sides represents the leap of faith that dreamers take.
"The Statue of David," a full-scale casting of Michelangelo's famous sculpture, also is permanently displayed in the downtown area, in Fawick Park. The city owns David, however.
This is the 16th year for SculptureWalk in Sioux Falls. People who view the current displays can cast a ballot before the end of September on the People's Choice winner. Ballots that double as free informational brochures about programs are available along the display route.
SDN Communications is a regional leader in providing broadband connectivity and cybersecurity services to businesses in communities such as Sioux Falls, Rapid City, Worthington and the surrounding areas.