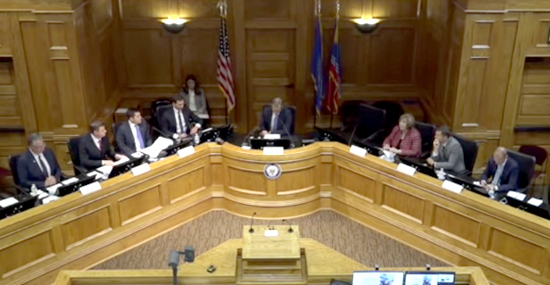 ---
With 5G technology, the world is on the cusp of significant changes in the way people live, work and play, according to a national Verizon executive and local experts in telecommunications.
"The Fourth Industrial Revolution is blurring the lines between the physical and digital worlds. Everything that can be connected will be," said Robert Fisher, Verizon's senior vice president of federal government relations.
Fisher was among the national and regional experts who testified about the global race to 5G at a U.S. Senate Committee field hearing held Oct. 12 in Sioux Falls. The hearing was convened for the Committee on Commerce, Science, and Transportation, which Sen. John Thune, R-S.D., chairs.
Mark Shlanta, CEO of SDN Communications in Sioux Falls, was among the expert witnesses who provided oral and written testimony for the subcommittee.
Other witnesses included:
Commissioner Brendan Carr of the Federal Communications Commission
Sioux Falls Mayor Paul TenHaken
Dr. Jose'-Marie Griffiths, president of Dakota State University
Justin Forde, senior director of government relations for Midcontinent Communications
5G, the fifth generation of mobile communications technology, has the potential for 1,000 times greater capacity and 20 times faster download speeds than today's 4G technology, Fisher said.
It's no wonder that the United States is racing China, South Korea and other countries for the economic advantages that will come with being the first nation to substantially deploy 5G. The winner is expected to gain millions of jobs and hundreds of billions of dollars in economic growth.
The United States is in the race, but victory is not guaranteed. In fact, research by the Cellular Telecommunications Industry Association has indicated China has the lead.
Additional infrastructure, including thousands of small cell poles, will have to be added around the United States to accommodate 5G. One challenge is that some communities view the installation of towers, poles and the underground fiber that connects them as revenue opportunities rather than as a local communications service or tool for national economic advancement.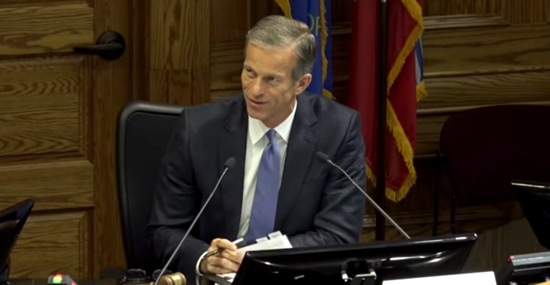 Thune pointed out that some countries don't contend with the same degree of infrastructure regulation that companies in some U.S. localities do. That doesn't appear to be a big problem in South Dakota, Thune said, but "there are areas of the country that make it very hard."
TenHaken said Sioux Falls looks at the development of 5G as an economic development tool rather than as a revenue generator. But the city wants fair and reasonable compensation for staff time to review applications, plus easement fees that cover inflationary costs for locating equipment on city property, he said.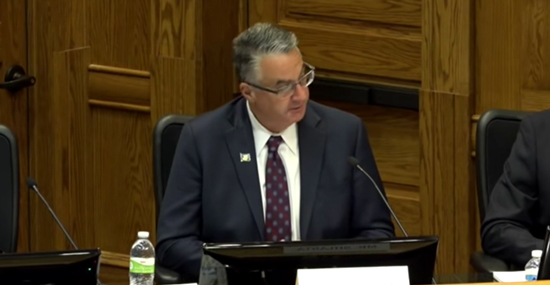 Shlanta, speaking for SDN and its network of member companies around South Dakota, thanked federal officials for taking a "lighter regulatory touch" and for encouraging local governments to act promptly on infrastructure matters.
"In the past, it could take months, and in some cases, the regulatory expenses exceeded $25,000 per pole. That does not include the monthly fees to cities, campuses or other property owners," Shlanta said.
"I encourage continued streamlining. However, I also believe the federal and state governments should find balance for local control," he said.
Shlanta also reminded the committee that network security will be critical as the nation advances faster wireless services.
"5G will expand the Internet of Things and the IoT devices we will all use, but network security should not be overlooked," he said.
Greg Dean, director of industry relations for the South Dakota Telecommunications Association, said after the hearing that if communities throw up too many roadblocks to the development of 5G infrastructure, providers will move on to other localities.
"It's kind of like water; it will find its easiest way downstream," he said.
Griffiths and other local officials would like to see South Dakota become a test area for 5G technology. The state has the characteristics and resources to make it an ideal project site, Griffiths said.
She, too, expressed concerns about cybersecurity and need to train more cybersecurity experts.
"The U.S. is presently seriously under-resourced in cybersecurity professionals. The vast majority of the cybersecurity professionals we do have are over-extended working to mitigate and remediate existing internet attacks," she said.
Meanwhile, the international race to deploy 5G continues and is beginning to create new opportunities and challenges.
Fisher noted that on Oct. 1, Verizon launched 5G home service in four cities: Houston, Indianapolis, Los Angeles, and Sacramento. The company plans to rapidly expand its home service and launch 5G mobile service in 2019 and beyond.
"The economic and social impacts of this next generation (of technology) will be transformative," he said.
---
The hearing was recorded. We've cued up Shlanta's testimony in the video below.
---
Related Media:
SiouxFalls.Business: 5G wireless for Sioux Falls? U.S. Senate committee explores possibility
Argus Leader: 'The race to 5G has begun': Hearing led by Sen. Thune touts possibilities of technology in Sioux Falls