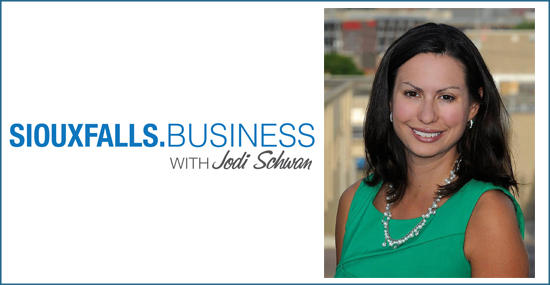 Jodi Schwan uncovers the biggest business news in Sioux Falls. She covers it prolifically, from bar openings to multi-million dollar deals, and she delivers the news first, accurately and without sensation.
Those traits define her brand. So, when she recently decided to pioneer her own online news product under her name, I told her without hesitation that SDN Communications wanted to be a partner in it. She launches siouxfalls.business with Jodi Schwan today.
I like to tell people I knew Jodi before her first story assignment in the fall of 2000. Even as a first-day television intern assigned to tag along with me on a story, she left an indelible impression.
She was a fresh-faced intern from Cleveland; I was a decade into my reporting career here in my home state. The story we were chasing: a mountain lion sighting in the James River Valley north of Yankton.
On that day, and like any since, Jodi had an insatiable curiosity about the world around her. I'll never forget the wonderment on her face as we trekked across two counties to eventually find a willing interviewee – a Hutchinson County farmer harvesting soybeans. The farmer hadn't seen a mountain lion; the city girl had never seen a farmer, let alone a combine or soybeans.
Jodi dressed the part for her first day on the job. Trouble was the business suit and heels better suited a day in the newsroom than traipsing through a fertile farm field. She didn't care. Time has proven she prefers the hard field work of reporting anyway.
We never did find a mountain lion witness that day, but our ride back to Sioux Falls spawned a steady stream of farming questions from her. The Arlington farm boy in me enjoyed telling her about the industry in which I grew up. She listened intently, all the while carefully rolling soybeans between her fingers like they were gems. Years later Jodi told me she saved those few grains in a special place. They reminded her of her first, naïve days in South Dakota.
How far she's come: a time broadcasting the daily news, a term moving the agenda at city hall, a return to news, and now a personal apex by entering the entrepreneurial world of digital media.
Her path demonstrates why we should always embrace interns and young energy. In fact, SDN's content in the launch of siouxfalls.business with Jodi Schwan is prophetic in the sense that it's about the value of interns for workforce development. I've experienced dozens of interns in my days at SDN and as a reporter, but none has turned out more impactful to the Sioux Falls market than Jodi. I'm proud of my friend who has matured into a savvy businesswoman and community leader. Start visiting her site today. I promise she'll keep it interesting.