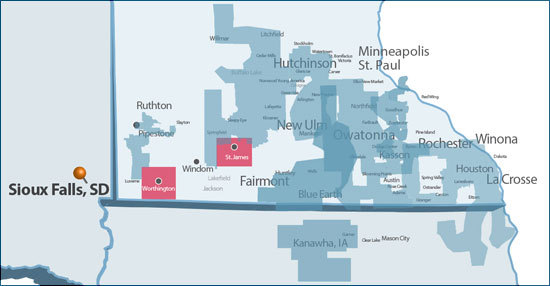 ---
November 26, 2018
SIOUX FALLS, SD – SDN Communications has added two broadband partners to its Minnesota network, which will improve business broadband reach into two counties of that state – Nobles and Watonwan.
Christensen Communications Company of Madelia, Minn. and Lismore Cooperative Telephone of Lismore, Minn. agreed to interconnect their networks to six other southern Minnesota telephone companies, an Iowa provider and SDN, which has 45,000 miles of fiber in South Dakota with its 17 owner companies, the independent telephone companies of South Dakota.
SDN's partnership with the Minnesota and Iowa companies started four years ago. That interconnected network covers much of the southern third of Minnesota.
SDN CEO Mark Shlanta says Christensen Communications and Lismore Telephone add value to the growing broadband network. "These are strong independent telephone companies providing great services and value in their communities. In joining this network SDN manages, they become something bigger with more reach and they fill coverage gaps for this partner network."
"This is a paradigm shift for us," says Brent Christensen, vice president and Chief Operating Officer of his family-owned company. "Our customers used to be just local and didn't have to connect to areas outside our service territory. Now more of them are multi-location businesses with sites outside our footprint. Connecting into this network gives us the reach to better serve those multi-location businesses, making us more regional."
Lismore Coop Board President Darwin Veld says, "We've been aggressive in fiber-to-the home builds in our territory, and now connecting our advanced network into this partner network is good for our coop and also our customers and businesses."
Shlanta says banks are a good example of an industry that benefits when independent telephone companies interconnect networks. "Banks have a home office and branch locations into other territories and need to share electronic data among all locations. When they can do that on one provider network, such as SDN and its partners, it not only becomes more affordable but easier for their IT staff to manage."
Large carriers, such as AT&T, Verizon and other wireless providers, similarly look for regional network providers who can carry data traffic long distances on one, interconnected network.
The other Minnesota and Iowa based network partners (and headquarters) include:
AcenTek (Houston, MN)
BEVCOMM (Blue Earth, MN)
Communications 1 Network (Kanawha, IA)
Jaguar Communications (Le Sueur, MN)
KMTelecom (Kasson, MN)
Nuvera (New Ulm, MN)
Woodstock Communications (Ruthton, MN)
About Christensen Communications Company – CCC can trace its roots back to 1903 when 48 local citizens formed the Madelia Telephone Company. It was these citizens who approached C.S. Christensen Sr., then owner of the local flour mill, and asked him to purchase 25 percent of the original stock. Over the years the Christensen family acquired more telephone company stock and today Everett M. Christensen totally owns the company. Today the local exchange carrier provides phone and broadband to business consumers in a 20-square-mile territory including the communities of Madelia, LaSalle and St. James, Minn. Learn more at www.chriscomco.net
About Lismore Cooperative Telephone Company – Lismore Coop serves Nobles County citizens and businesses with advanced services, including Voice over Internet Protocol (VoIP) phone service, broadband internet and wireless internet. Its service territory covers Adrian, Bigelow, Ellsworth, Lismore, Rushmore, and Worthington. Learn more at www.lismoretel.com
About SDN Communications – SDN is a coalition of South Dakota's independent telephone companies – cooperatives, family, municipal, and tribal-owned companies. They joined their independent networks in 1989 and created SDN as a hub to deliver long distance choice to the telephone companies' rural customer base. Today that same statewide fiber footprint allows file sharing and Internet traffic for business and government. Its network now reaches into eight states serving businesses in many sectors, but specializing in banking, health care, manufacturing, government, and education. SDN also offers cybersecurity managed services including routers, firewalls and remote network monitoring.